4 negotiation tactics for success in a Microsoft software agreement
A Microsoft software agreement requires skill and knowledge. Use these four Microsoft negotiation tactics to get the best discounts for a productivity suite.
Purchasing technology services isn't as simple as going to the store, filling up a cart and paying for the products. Instead, the process is more akin to a complex dance that requires skill, knowledge and improvisation.
Microsoft 365 services are no exception. With a variety of licensing options and subscription packages, it's easy for organizations to get confused about how to navigate a Microsoft 365 deal. Businesses should approach a Microsoft 365 purchase as a negotiation rather than a straightforward purchase.
Organizations can expect a discount of anywhere from 20% to 40% during a Microsoft agreement negotiation, depending on a variety of factors, said Steve Paradis, principal licensing specialist at ClearEdge Partners, an information services company in Needham, Mass., that focuses on IT deal negotiation.
These Microsoft negotiation tactics are especially useful for organizations that already have a Microsoft enterprise agreement in place and want to add or switch products, Paradis said. A company that has an Office 365 subscription, for example, may want to switch to a full Microsoft 365 suite, and negotiate pricing in the process.
IT, executives and sourcing teams must do their research to fully take advantage of Microsoft negotiation tactics. When everyone involved in the negotiation has a strong understanding of Microsoft's services, licenses and features, they are more likely to secure more discounts.
Perform an audit
IT staff should look holistically at their existing infrastructure and understand what they have, what they need and why they need it. Organizations that have some type of asset management software such as Snow or Flexera should use it; businesses that don't should perform their own mock audit to dig into user profiles and use cases, Paradis said.
Microsoft representatives often tell organizations to get that information from the Microsoft Assessment and Planning (MAP) toolkit.
"The MAP tool doesn't give them the details that they're looking for as it relates to this, because it will only tell you the last time that [Microsoft] launched a big product," Paradis said.
IT staff should also look at their existing security investments as it relates to the Enterprise Mobility + Security bundle, which includes security tools such as Advanced Threat Protection and Advanced Threat Analytics, to see where they could offset costs, he said. If an organization purchases a Microsoft 365 license that comes with a security suite, they could potentially drop current tools such as Symantec, McAfee or Kaspersky to save money in one area and reallocate to another.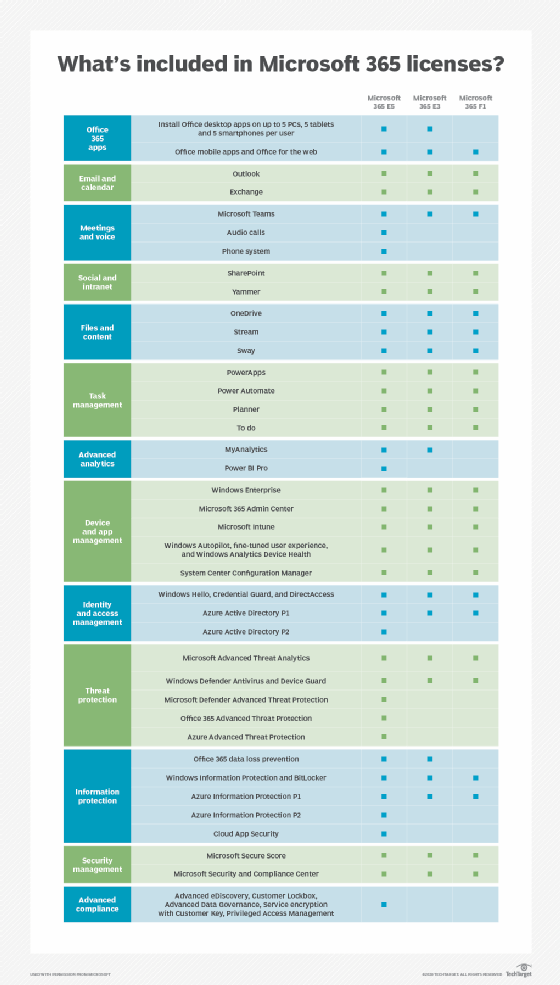 Don't overcommit
Before using Microsoft negotiation tactics, businesses need to understand their abilities to deploy and consume the product.
It's common for Microsoft to push its clients to purchase a Microsoft 365 bundle rather than an Office 365 license, but organizations first should ask themselves, "Is there a use case for that particular product in certain segments of the business?"
"If you're buying the Microsoft 365 bundle and you're only going to deploy Office 365, just because you get a 20% discount doesn't make it a good buy," Paradis said. "If you're going to deploy Windows OS because you want the additional features and functions that are included in Azure Active Directory ... then it makes sense."
For an organization that only needs one or two components of a Microsoft 365 suite, it's often better to make an a la carte purchase rather than a bundled suite, Paradis said.
The biggest risk of hidden costs occurs when organizations purchase additional products without an intention to use them. This is especially true with Microsoft 365, because the bundle is so robust, Paradis said.
"The majority of our client base only uses Exchange and SharePoint [within Office 365]," he said. "Maybe they've got Slack, and they're not going to use Microsoft Teams. Maybe they've got Webex, so they're not going to use Skype for Business."
Overcommitting is a significant issue, because it's very difficult for organizations to drop specific components that they don't use once they've committed to the bundle of products, Paradis said.
"The minute you start to drop products, Microsoft tends to make the discounting less to make it more compelling to buy the bundled suite," he said.
Understand Microsoft 365 subscription plans
Microsoft offers two major productivity suites for enterprise use: Office 365 and Microsoft 365. Office 365 is just one component of the Microsoft 365 bundle and includes productivity applications such as Outlook, Word, Excel and PowerPoint. Within Office 365, there are four licenses: Office 365 ProPlus, E1, E3 and E5.
Microsoft 365 includes much more, including the Windows operating system, Office 365 and the EMS security suite of products. Within Microsoft 365, there are multiple licenses: E3, E5 and F1.
Consider cloud
Cloud subscription services are Microsoft's bread and butter, so in a Microsoft software agreement negotiation, the company will naturally incentivize its clients to migrate to the cloud.
[Cloud] has to be there in order for a client to get a bigger discount.

Steve ParadisPrincipal licensing specialist, ClearEdge Partners
"[Cloud] has to be there in order for a client to get a bigger discount," Paradis said. "If an organization is staying on prem, it's highly unlikely that Microsoft would move above 15% from a discount perspective."
It is possible, however, for organizations to get discounts by committing to a cloud migration by a certain deadline.
"[Microsoft] will say, 'I'm going to give you this discount now, but you have to move [to cloud] in three years,'" Paradis said. "They'll put language in the agreement that outlines that."
Keep everyone aligned
Enterprise agreement negotiation involves a variety of roles and departments, and it's crucial that everyone is on the same page in regard to messaging for Microsoft negotiation tactics to work.
This can be challenging because different departments have different priorities, Paradis said. The IT department wants all the features and functions without worrying about cost. The sourcing team is concerned about the cost of everything and doesn't prioritize the features and functions. The goal of the executive team is often to satisfy IT, drive business initiatives and get the subscription at a good cost.
It's necessary to align those three departments and tell the same story collectively that will resonate with Microsoft.
About ClearEdge Partners
Founded by senior sales executives from large IT suppliers and informed by current market analytics, ClearEdge enables CIOs and their teams to make more competitive IT investments. By combining rigorous inspection and IT financial expertise, they identify risk and opportunity, align internal teams and maintain leverage throughout the lifecycle of supplier relationships. As a result, their clients maximize the value of their investments by unlocking millions of dollars from legacy spending and redirecting funds toward IT modernization, digital and cloud transformation with confidence and speed.