alphaspirit - Fotolia
Microsoft 365 E3 vs. Office 365 E3: What admins need to know
The rumors of Office 365's death have been greatly exaggerated. Microsoft still offers an Office 365 E3 plan, but how does it stack up to the Microsoft 365 E3 plan?
Administrators might be confused by recent changes to Microsoft's cloud collaboration platform, which seem to indicate Office 365 is now called Microsoft 365. This is not entirely true.
The Office 365 Enterprise plans still exist and have different pricing, licensing, services and management tools. So, for IT admins and Microsoft license buyers, knowing when to get Microsoft 365 and when to settle for Office 365 can add up to significant savings.
Amongst all Microsoft's online services, Office 365 remains one of the most popular. According to the company's earnings report from April, Microsoft said it had 258 million paid seats in Office 365. IT administrators recognize Office 365 offers critical services that allow them to transition to the cloud and remove the cost and maintenance associated with on-premises servers, including Exchange Server for email and SharePoint Server for collaboration.
Office 365 has been around since 2011, and in July 2017, Microsoft announced its Microsoft 365 product, which combines different sets of services including security and Windows 10 along with Office 365 services.
Microsoft 365 may be overkill, given that companies were already trying to fully adopt all the services that are part of Office 365 since there are so many of them. However, considering that security ranks near the top of the IT priority list, Microsoft 365 will certainly draw attention from organizations that want those added safety measures.
The following list of questions and answers will help address what each of the bundles has to offer and address some of the concerns that buyers may have when they are considering Microsoft 365 E3 vs. Office 365 E3 plan.
What is Microsoft 365?
Microsoft intended for Microsoft 365 to be a simple user-based bundle with a comprehensive list of licenses. Including an Office 365 subscription along with the security services and rights to Windows 10 Enterprise helps the busy IT staff avoid the need to pick and choose individual components. To better understand what the user would receive, see the Microsoft 365 E3 vs. Office 365 E3 comparison in Figure 1 which breaks down the features in each plan.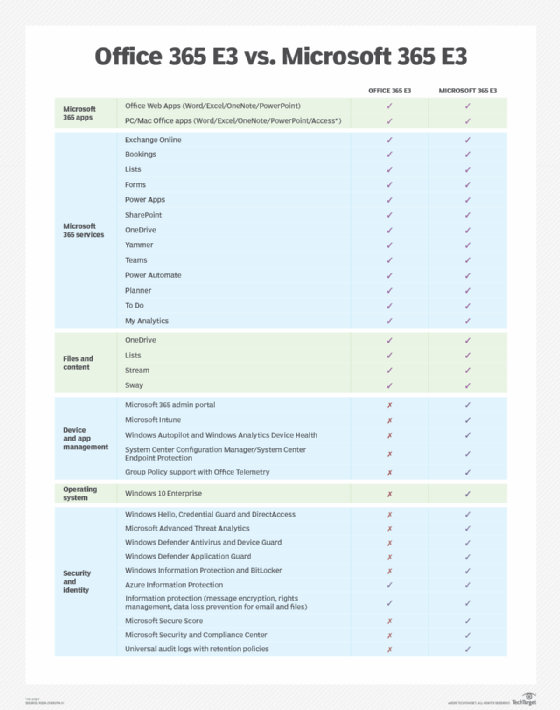 What makes Microsoft 365 attractive to the enterprise?
For IT managers who have prioritized improved security around their workloads, especially those hosted in the cloud, Microsoft 365 brings identity management and an added security layer that monitors all aspects of user login activities for any of their online services, including Office 365, and third-party online services that support single sign-on. This is available through the identity management service called Azure AD Premium P1.
Another advantage of Microsoft 365 E3 is the additional licensing for Windows 10 Enterprise, which gave licensed users the rights to upgrade their existing workstations to the latest Windows 10 version and unlock additional features, such as Windows 10 virtual desktop license, Windows Defender threat protection and Windows Autopilot, which automatically provisions and deploys Windows apps to the machine.
How do the costs of Microsoft 365 E3 vs. Office 365 E3 compare?
There are price differences between Microsoft 365 E3 and Office 365 E3. Microsoft 365 E3 is $32 per user, per month, while Office 365 E3 is $20 per user, per each month.
If you factor in what it would cost to order the same services a la carte that Microsoft 365 E3 includes in its bundle, such as $6 for Azure AD Premium P1, $7 for Windows 10 Enterprise and a Microsoft Intune license at $6, the monthly price would eclipse the Microsoft 365 E3 subscription at $39 per user, per month. The Microsoft 365 E3 amounts to a 22% discount. Clearly, Microsoft wants to entice its clients to opt for the 365 bundle that will give them more for their money.
What are some implications of adopting Microsoft 365 vs. Office 365?
One of the main challenges that IT workers face when adopting Microsoft 365 compared to the standard Office 365 is the additional components at their disposal. They will be responsible for managing and deploying Intune, Azure AD Premium and Windows 10 Enterprise features. Many of these components require a significant time investment to learn how to use the new tools along with the need to support and monitor them. Windows 10 Enterprise may require changes to some hardware upgrades if the machines are not compatible or up to the minimum hardware requirements that the operating system needs, which are generally in line with the Windows 7 and Windows 8.1 requirements.
While Microsoft 365 offers additional security protections, a subscription to the latest Windows 10 Enterprise OS and a new endpoint management platform at a discounted price, IT decision-makers have to adequately plan the rollout and deployment of these services. This ensures that once the investment is made, their team has the skills to work with all the security and management features of the subscription.