Definition
Microsoft Assessment and Planning (MAP) Toolkit
Microsoft Assessment and Planning (MAP) Toolkit is a free utility IT administrators can use to determine whether or not a particular Windows infrastructure, software application or user's device is adequately prepared to migrate to a new operating system, server version or cloud environment. An IT professional can run MAP Toolkit on one Microsoft computing device and inventory the entire Windows network.
Microsoft Assessment and Planning Toolkit is made up of four main components:
MAPSetup.exe - contains MAP as well as the files IT administrators need to set up a local SQL Server Database Engine.
readme_en.htm file - details what administrators need to run MAP Toolkit and known issues.
MAP_Sample_Documents.zip - provides examples of the types of reports and proposals MAP Toolkit creates.
MAP_Training_Kit.zip - explains how to use MAP Toolkit and provides a sample database of the information MAP Toolkit can provide.
Assessment and Planning Toolkit features
MAP Toolkit does not require an agent. It automatically inventories the devices, software, users and infrastructure in a Windows or Windows Server deployment and produces a readiness report and proposal for executives with hardware and software information. The data can include metrics such as the number of devices, how many devices run Windows and the number of users. The readiness report can also include information on the applications users work with and if those applications are compatible with the desktop or server operating system IT plans to move to.
The Windows 10 Assessment report, for example, shows whether or not the hardware in a network is ready for Microsoft's latest OS. The Internet Explorer Migration Assessment Report details what versions of the Internet Explorer browser are running in the deployment as well as any add-ons and ActiveX controls present in Internet Explorer.
MAP Toolkit can detail server utilization information to help IT identify where servers are and which servers would be viable to run virtual desktops on. In addition to the information it provides, MAP Toolkit delivers recommendations on how IT should proceed with its migration plan.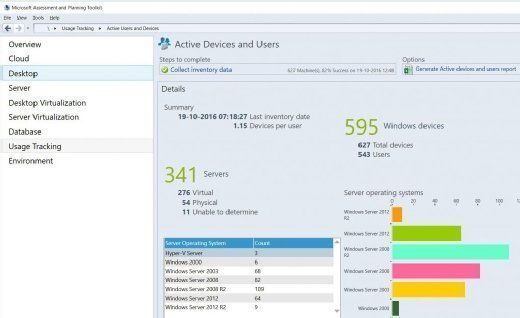 This was last updated in
March 2018
Continue Reading About Microsoft Assessment and Planning (MAP) Toolkit