Fotolia
Top six Windows 10 migration problems and how to avoid them
Users and IT professionals sometimes have issues after a Windows 10 migration. Careful planning can mitigate these issues before IT undertakes a full-scale migration.
Migrating to a new version of Windows, including Windows 10, is often labor-intensive and problematic. The key...
Continue Reading This Article
Enjoy this article as well as all of our content, including E-Guides, news, tips and more.
to a successful migration is anticipating any problems that could occur and mitigating them ahead of time.
Small-scale migration testing is a useful way for IT to make sure its upgrade approach will work, as well as to detect any inefficiencies before the full-fledged move. Monitoring the efficiency of these quicker migrations gives IT a chance to reconcile any issues with the process. If any of the following issues occur, IT may need to rethink its technique to avoid Windows 10 migration problems.
User data loss
One of the big headaches stemming from a Windows 10 migration is the potential for data loss because users saved data to their local hard disks rather than a network share.
Unfortunately, there is no easy way to address this problem. Most organizations map user profile folders to network-based locations so users save data on the network. It is also common for an organization to configure the default save location for applications. Even so, it is difficult to guarantee that no user data exists on the hard disk.
The best option for preventing user data loss may be to inform users of the upgrade plan and tell them they could lose any locally stored data. IT should follow up this statement with instructions for users to contact IT if they are uncertain about where their data is being stored or need help moving data to a more suitable location.
Driver issues
Another one of the Windows 10 migration problems to avoid is issues with device driver support. Hardware that can run Windows 7 or Windows 8.1 can usually run Windows 10.
Even so, the transition may not be seamless if a user's PC is equipped with an obscure piece of hardware, such as a Peripheral Component Interconnect-based parallel port, which can be found on older devices. Hardware of this nature can cause the driver to be lost during the migration process.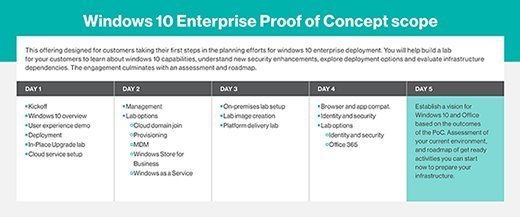 As such, it is a good idea to contact each department ahead of the migration and ask if anyone uses any specialized hardware. A little bit of planning upfront can help prevent driver issues after the migration.
Printer mapping
Another one of the common Windows 10 migration problems is printer mapping issues, which leave users unable to print. Adding all the company printers to the Active Directory can alleviate this problem. IT professionals can manage their deployed printers via Group Policy through Computer Configuration, Policies, Windows Settings and Deployed Printers.
Once each shared printer is in the Active Directory, it is a good idea for IT to use the Windows Control Panel on the print server to associate any required device drivers with each printer. That way, when Windows desktops connect to a printer, users can automatically install a device driver if necessary. Best of all, using this method ensures printer driver consistency throughout the organization, which can reduce tech support headaches.
Application management
The one Windows 10 migration issue that seems to get more attention than any other is application management. After all, IT must ensure that the organization's applications are compatible with the new OS, and it needs a way to automate the application deployment process.
There are countless tools available for testing application compatibility and automating application deployment. IT can even deploy applications through Group Policy settings. It's a good idea for IT to try a few different tools to see which ones work best for the company.
IT pros should keep in mind that many of the available tools only work with desktop applications and do not support modern or Microsoft Store applications. If the organization's users work with Microsoft Store applications, then IT must plan have a plan to deal with those applications.
In addition, using virtualized applications can make application management much easier. If IT pros have ever thought about adopting an application virtualization product, then they should consider making the switch to virtualized applications to avoid dealing with any Windows 10 migration problems.
User confusion
Sometimes even the best laid plans go awry. Windows 10 migration problems illustrate this adage perfectly.
When IT professionals begin planning a desktop migration, they often think of an entire laundry list of other projects they can work on at the same time. Making too many changes at the same time, however, can be confusing to users, and it can also complicate troubleshooting efforts for the IT staff.
It is perfectly normal to take on other IT projects in preparation for a desktop migration, but incremental changes help IT professionals avoid making multiple significant architectural alterations at the same time.
Unexpected issues
Sometimes even the best laid plans go awry. Windows 10 migration problems illustrate this adage perfectly. Seemingly insignificant details that IT overlooks can derail migrations.
As a result, it is important to perform a small-scale, pilot migration before engaging in a company-wide OS migration. This will help IT work out the kinks of the migration process and avoid affecting everyone in the entire company if a migration does not go as planned.