sommai - Fotolia
Cisco launches AppDynamics integration with ACI
Cisco has provided AppDynamics integration with ACI, the company's software-defined networking architecture. Cisco expects the integration to help DevOps teams.
The new integration between Cisco's AppDynamics monitoring tools and ACI network software lets corporate DevOps teams collaborate on network-related application problems.
Cisco made the AppDynamics integration with ACI generally available this week, following eight months of testing with customers. The linkage between application health and network operations in the Cisco products will benefit IT departments responsible for software performance in the data center and the cloud.
"This type of full-stack visibility -- from the underlying network to the application layer -- becomes increasingly important in a multi-cloud context, and Cisco is responding to that need here," said Brad Casemore, an analyst at IDC.
Cisco is also addressing the DevOps trend in IT. DevOps is a philosophy that promotes tighter communication between application development teams and IT operations. IDC predicts 65% of CIOs will use DevOps practices widely in their IT operations by 2021.
"There is still a lot of enterprise IT departments where the application and network teams are two solitudes," Casemore said. "But Cisco can see where the market is going, and, for that segment of the market, it would prefer to be early rather than late."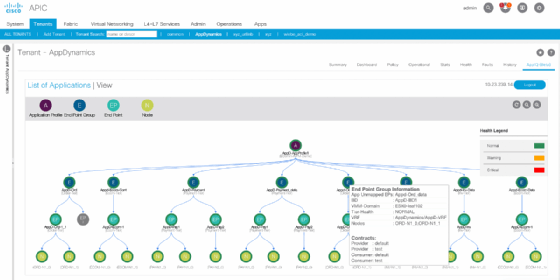 AppDynamics integration with ACI
What Cisco has done is map what it describes as related constructs between AppDynamics and the Application Policy Infrastructure Controller (APIC), the heart of the ACI software-defined networking architecture.
The mapping essentially connects the two products so that problems with application services running on the network fabric can be seen and investigated by both the team responsible for application performance and by network operators, each from their separate software consoles. Cisco has posted a video describing the integration, which includes collaboration tools.
In general, APIC programs Cisco switches in the branch and data center through centralized software. At Cisco Live in Barcelona next week, Cisco will introduce a cloud version of APIC for managing AWS virtualized networks.
Cisco launched the AppDynamics-ACI integration as one of several announcements related to how the vendor is advancing artificial intelligence for IT operations (AIOps) in AppDynamics. AIOps is an umbrella term applied to the use of AI technologies to identify and resolve common IT issues.