AppDynamics AIOps injection sets the stage for IT automation
AIOps IP from Perspica broadens AppDynamics' automated root cause analysis features, but enterprises must evaluate IT and business analytics options carefully before they commit.
AIOps is already 2019's biggest IT buzzword, but enterprises aren't anxious to be guinea pigs for the technology before the market matures.
AppDynamics this week became the latest of several IT monitoring vendors to polish its AIOps wares, and seeks to sell enterprises a centralized 'brain,' dubbed Cognition Engine, for analytics-driven infrastructure automation based on its Perspica acquisition in 2017. AppDynamics has offered artificial intelligence and machine learning features since its product debuted in 2009, but Perspica adds real-time data analytics that process infrastructure monitoring data faster, which enables automated root cause analysis.
Most early adopters of AIOps tools seek to distill complex infrastructure data into a set of likely suspects in the midst of incident response and automate incident remediation, but it will take time for major enterprises to deepen their expertise in this area.
"We don't have immediate plans to be early adopters [of Cognition Engine]," said Mark Settle, CIO at Okta, a cloud-based identity management firm in San Francisco that was among AppDynamics' earliest customers. "Many different vendors offer automated root cause analysis, and it takes a while to surrender direct human control over activities, and to make decisions about where you want to become dependent on automated tools over time."
At the same time, in the cloud an enterprise can spin up thousands of virtual machines or containers in minutes, and it won't be feasible long-term to hire enough staff to manage sprawling IT infrastructure, Settle said.
"VMs and containers brought us automated provisioning, AWS added autoscaling, and now the tail end of the process is, 'I've got this stuff working, now what do I do with it?'" he said. "Machine learning has crested at the same time that we're developing automation around infrastructure monitoring and management."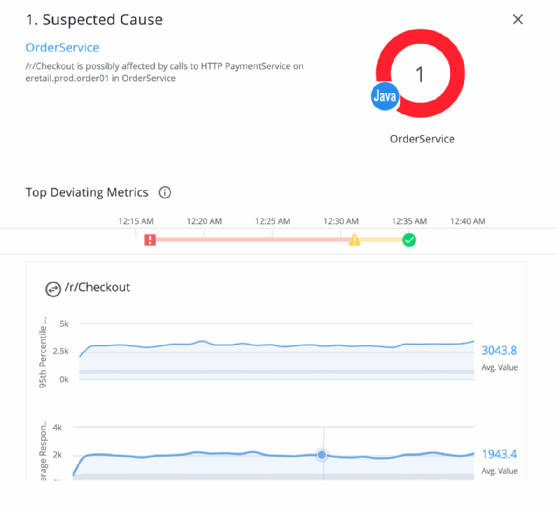 AIOps requires more market maturity, vendor alliances
With this week's release, AppDynamics adds integrations with parent company Cisco's network devices and ACI network virtualization, and already has partnerships with cloud infrastructure automation vendors such as Turbonomic that trigger infrastructure provisioning based on AppDynamics data. But Settle said he'd like to see broader integrations before he commits to an AIOps strategy.
VMs and containers brought us automated provisioning, AWS added autoscaling, and now the tail end of the process is, 'I've got this stuff working, now what do I do with it?'

Mark SettleCIO, Okta
"There will always be a set of tools that need to work together for IT management," Settle said. "I'd like to see partnerships between AppDynamics and [security information and event management (SIEM)] vendors like [Micro Focus] ArcSight."
AppDynamics integrates with SIEM products from vendors such as Oracle, but company officials said more partnerships and development will follow in IT security. Other IT monitoring vendors such as Splunk already offer analytics on IT security metrics along with IT infrastructure monitoring data.
Eventually, AppDynamics and Cisco must extend beyond the IT infrastructure entirely and deepen support for higher-level business intelligence, analysts said. AppDynamics and competitive products such as New Relic offer customer experience and business transaction correlations with IT monitoring data, but there are other dimensions of business analytics to consider.
"Ultimately, there will be a need for dashboards based on all the different roles in the business, from the chief marketing officer to the SRE," said Stephen Elliot, analyst at IDC. "At big companies with many business units and metrics, project management teams have to figure out how to prioritize certain customer backlogs, and there's only so much budget to go around."
This will also require enterprise organizations to realign themselves into cross-functional teams that involve people outside IT, which remains a nascent effort in most companies.
Dig Deeper on IT systems management and monitoring