Fotolia
Cisco dashboard simplifies access to multiple NetOps tools
Cisco's Nexus Dashboard will offer a single location for several NetOps tools designed for networks serving cloud-centric applications. The software is set for release this year.
Cisco has introduced a software console that brings under one roof the tools for operating networks that serve applications distributed across private and public clouds.
Cisco introduced the Nexus Dashboard this week at its virtual Partner Summit. The company also unveiled a product that adds support for cloud-centric Kubernetes containers in Cisco's Intersight infrastructure management software.
The announcements reflect the need for technology that provides network services to applications running on contemporary cloud computing platforms in private and public data centers. According to IDC, by 2023, 55% of enterprises will have replaced outmoded network operational models with systems capable of supporting applications running on cloud environments in multiple data centers.
IDC analyst Brad Casemore said Cisco's technology for the new world of networking "will be an increasingly important criterion for any sort of meaningful success within customer organizations."
The Nexus Dashboard, set for release this year, hosts three Cisco NetOps tools: Nexus Insights (NI), Network Assurance Engine (NAE) and Multi-Site Orchestrator (MSO). Also, the Dashboard integrates with Ansible and HashiCorp Terraform, making the tools easier to access.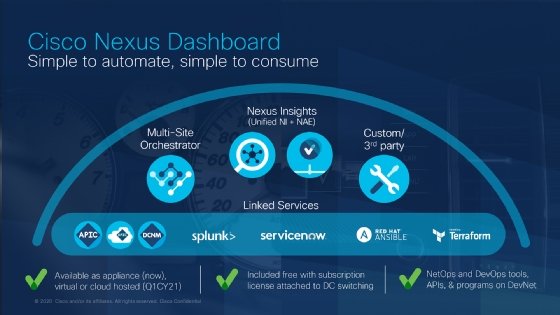 Ansible is open source network automation software, and Terraform is an open source infrastructure-as-code application. Both are tools familiar to DevOps teams, a reflection that Cisco understands the importance of fostering collaboration between DevOps and NetOps teams in modernized data centers, analysts said.
For years, Cisco customers have complained about not having a single interface for accessing Cisco software for managing network devices.
"That's probably my biggest call out for them," said Ed Vanderpool, IT technical manager at Adventist Health, in a recent interview.
The tools within Nexus Dashboard help IT staff manage network operations across Cisco ACI and NX-OS data center fabrics. ACI, or Application Centric Infrastructure, is Cisco's network architecture for private data centers and public clouds, including AWS, Microsoft Azure and Google Cloud. NX-OS is the operating system for Cisco's Nexus switches.
Analysts expect the Dashboard to eventually host Cisco management software for the wired and wireless LAN and its Viptela software-defined WAN.
"Cisco will use this dashboard to consolidate end-to-end networking by integrating DNA Center and Viptela vManage," said Shamus McGillicuddy, an analyst at Enterprise Management Associates.
Services within Nexus Dashboard
For now, Cisco has aimed Nexus Dashboard at data centers. The following is a general description of the services that NI, NAE and MSO provide:
NI: Ingests real-time telemetry from all network devices. Its analytics engine detects anomalies, determines the root cause and provides remediation methods. The software's user interface offers the option of drilling down into problems, which the product sorts by severity and categories.
NAE: Draws network policies, switch configurations and the data-plane state from network fabric controllers. It then creates a map of the entire fabric and builds a mathematical model spanning underlays, overlays and virtualization layers. The model establishes the network state, which NAE uses to verify whether policies created by network operators will do what they're supposed to do.
MSO: Provisions, monitors and manages networking policies within an ACI site and tenant policies across networks running in multiple data centers. Tenant policies establish inter-site communication between endpoints on ACI fabrics. MSO's core functions include enforcing access rules for the networks; adding, deleting and modifying ACI sites; and monitoring the health and logs of inter-site policies for all fabrics.
Kubernetes within Intersight
Opening Intersight to Kubernetes provides Cisco customers with access to a container orchestration tool used in most cloud environments. Intersight is a SaaS offering that includes deployment, monitoring and management of physical and virtual infrastructure.
The new Intersight Kubernetes Service (IKS), set to ship in the first half of 2021, integrates into containers networking, load balancers, native dashboards and storage provider interfaces.
IKS provides the services to containers running on VMware ESXi hypervisors. Soon, Cisco will add its HyperFlex Application Platform hypervisor and bare-metal servers.
Also, IKS delivers its services to the Kubernetes platforms running on the leading cloud providers. Those platforms include the AWS Elastic Kubernetes Service, the Microsoft Azure Kubernetes Service and the Google Kubernetes Engine.
Dig Deeper on Cloud and data center networking