ra2 studio - Fotolia
Cisco readies portfolio for hybrid cloud, modern data centers
Cisco tackles hybrid cloud complexity with the introduction of the UCS X-Series unified computing system, ThousandEyes integrations and Intersight advancements.
Cisco has laid down the infrastructure for customers battling the complexity of controlling applications and workloads distributed across the private data center, public clouds and edge locations.
Cisco introduced this week the UCS X-Series computing system, which modernizes the private data center to support software running locally and in the public cloud effectively. Also unveiled at Cisco's Future Cloud virtual event were features headed for Intersight and ThousandEyes, which would provide network automation and visibility, respectively.
For the edge, Cisco announced third-quarter integration between ThousandEyes and its software-defined WAN on the Catalyst 8200 and 8300 switches. The company also announced integration between the internet intelligence product and the 4000 series of Cisco's Integrated Service Router. In the fourth quarter, Cisco will provide integration between ThousandEyes and the Nexus 9300 and 9500 switches to expand data center visibility.
Last year, Cisco integrated ThousandEyes with the Catalyst 9300 and 9400 series of access switches for the corporate data center. The company also integrated Intersight with AppDynamics -- Cisco's AI-driven analytics software for application performance monitoring.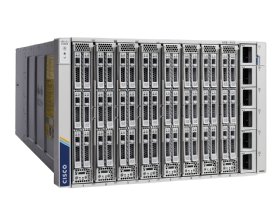 The UCS X-Series is the latest advancement in Cisco's unified computing system (UCS) portfolio that integrates computing, networking and storage resources. The UCS X-Series, which Cisco ships in July, is a modular system managed through the Intersight SaaS product.
The X-Series modularity lets customers swap in future generations of processors, storage, non-volatile memory, accelerators and interconnects, Cisco said. The system also supports a wide variety of workloads. They include virtualized and cloud-native applications, enterprise software, data management systems, in-memory databases, and AI and machine learning software.
A more expansive Intersight
Intersight manages the UCS X-Series while also providing automation for workloads running in public clouds. For the latter, Cisco has added its Service Mesh Manager to Intersight's Kubernetes Service for cloud-native applications.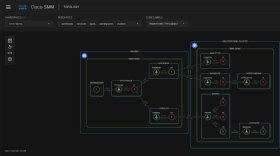 The Kubernetes Service lets companies create a container cluster in a public or private cloud. The service mesh extension would control communications between containerized application services. In general, a service mesh also provides service discovery, load balancing, encryption and failure recovery. However, Cisco hasn't provided all the details of the Service Mesh Manager, scheduled for release in the third quarter.
In October, Cisco plans to release the Intersight Workload Engine, an "operating system" for Hyperflex, Cisco's hyper-converged infrastructure platform. Hyperflex systems combine software-defined storage and data services software with UCS.
Workload Engine is a platform for running cloud-native workloads. Cisco built it on the Kubernetes container orchestration platform and the KVM hypervisor. KVM, or Kernel-based Virtual Machine, is an open source virtualization architecture.
Overall, the new technology and product integrations are "a declaration that Cisco will move aggressively to deliver more tightly integrated solutions using its vast portfolio of products," said Bob Laliberte, an analyst at Enterprise Strategy Group.
Kaleida Health picks Cisco for its data center overhaul
Kaleida Health has chosen Cisco as its strategic partner for a massive modernization of the nonprofit healthcare network's data centers. Kaleida, which Cisco provided as a customer reference, manages five hospitals in the Buffalo-Niagra Falls, N.Y., metropolitan area.
Kaleida Health chose Cisco over Dell, Hewlett Packard Enterprise and IBM. Cisco won the deal because of price and how UCS X, Intersight, Nexus 9000 switches and Cisco's software-defined network architecture, ACI, could consolidate Kaleida's seven data centers into two, plus a data storage facility, said CIO Tom Hull.
"Our ability through the Cisco technology to do this modernization across this massive new architecture -- at a very affordable price -- was a perfect combination," Hull said
He agreed that the work would cost millions of dollars but declined to get more specific. However, Kaleida expects to reduce the annual cost of data center operation by nearly 50% when it completes the data center overhaul in 18 to 24 months, he said.
Enterprise Strategy Group is a division of TechTarget.
Antone Gonsalves is the news director for the Networking Media Group. He has deep and wide experience in tech journalism. Since the mid-1990s, he has worked for UBM's InformationWeek, TechWeb and Computer Reseller News. He has also written for Ziff Davis' PC Week, IDG's CSOonline and IBTMedia's CruxialCIO, and rounded all of that out by covering startups for Bloomberg News. He started his journalism career at United Press International, working as a reporter and editor in California, Texas, Kansas and Florida. He can be found on Twitter at @AntoneG.