Getty Images/iStockphoto
Cisco adds HCI, UCS, software to hybrid cloud infrastructure
Cisco's latest hardware and Intersight tie-in to public cloud Kubernetes bolster its hybrid cloud products for customers. But their appeal outside the user base is uncertain.
Cisco has released software and two new pieces of hardware to aid its customers' transition to hybrid cloud infrastructure. But the midmarket products face hurdles in winning deals against competitors.
The company will offer a more affordable hyper-converged infrastructure platform called HyperFlex Express, new modules for the UCS X-series server, and an infrastructure management platform called the Intersight Kubernetes Service (IKS). The latter would add visibility into public cloud Kubernetes clusters as a first step toward cross-environment infrastructure management within Cisco's software platform.
The product suite could make the dynamic infrastructure required for modern applications more accessible for customers. However, Cisco's amount of traction for Intersight outside its user base is uncertain. Other prominent IT vendors such as VMware and IBM/Red Hat have offered hybrid cloud management tools with more extensive features for a long time.
"Every company is trying to raise its software IQ, and Cisco, to its credit, has pivoted [its legacy] Control Center to cloud-native Intersight well," said William Fellows, an analyst at 451 Research, a division of S&P Global. "A measure of success will be the extent to which Cisco customers use [Intersight] to also manage their third-party infrastructure and software."
Cisco has faltered in public and hybrid cloud infrastructure efforts in the past. IKS is a revamp of the previous Cisco Container Platform rolled out unsuccessfully in 2018 in partnership with Google Cloud Platform (GCP).
This week's release includes an initial integration between IKS, previously focused on private cloud management, and public cloud infrastructure. The first integrations include Amazon EC2 virtual machines, the Amazon Elastic Kubernetes Service (EKS) and Microsoft Azure Kubernetes Service (AKS). GCP support is on the roadmap.
Cisco will have to add support for more cloud platforms to succeed, Fellows said.
"I think it's a capable offering," he said. "[But] Cisco will need to improve its reputation as a Kubernetes management expert to its target audience."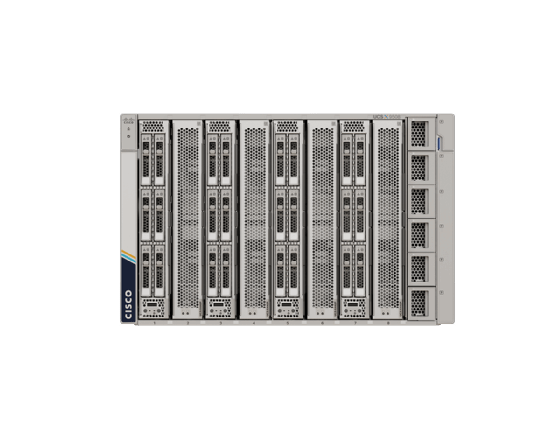 Hyperflex Express, UCS X-series add hybrid cloud hardware
Hyperflex Express is a more affordable, less flexible iteration of Cisco's existing Hyperflex hyperconverged infrastructure (HCI) platform launched in 2016. The company optimized Hyperflex Express for specific data center use cases, charging as little as half the cost of the standard Hyperflex platform. Cisco keeps the price down by offering only a handful of configuration options.
There are other limits too. IT departments would manage Hyperflex Express using Intersight, while standard Hyperflex has multiple management options. Also, Express supports fewer NVME drives.
Hyperflex Express has containerized local witness software for greater data integrity in edge deployments without deploying additional servers, said Moor Insights and Strategy analyst Matt Kimball. The platform also provides a simple, smooth on-ramp to hybrid cloud networking.
Kimball expects Hyperflex Express to compete against midmarket HCI like Dell's VxRail or VMWare's vSAN.
Cisco released new modules optimized for AI and machine learning workloads for its UCS X-series server. The modules offer 100 G single port support, 200 G per compute node and 24 GPUs per chassis for 1.6 Tbps of aggregate network capacity.
The X-series is a modular blade server powered by Intersight. The server, introduced last June, has sold better than any other UCS server, according to Cisco's vice president of product management DD Dasgupta. Cisco claims the UCS X-series has a lifespan of 10 years, compared to similar servers that last for three years.
What ties all three products together is Cisco's intent to provide an autonomous integrated hardware and software package for AI or a hybrid cloud, Kimball said. The sweet spot for the new products is a midmarket enterprise seeking technology that doesn't require a significant overhaul to on-premises systems.
"IT wants to be able to take infrastructure, plug it in, and let the software do the rest -- true automation, true autonomy," Kimball said. "For this to happen, hardware has to be smart, and software has to be smarter, and the tighter the hardware and software are integrated, the better."
IKS and Hyperflex Express are available now. Cisco expects to release the latest modules for the UCS X-series server in the second quarter.
Madelaine Millar is a news writer covering network technology at TechTarget. She has previously written about science and technology for MIT's Lincoln Laboratory and the Khoury College of Computer Science, as well as covering community news for Boston Globe Media.
Beth Pariseau, senior news writer at TechTarget, is an award-winning veteran of IT journalism. She can be reached at [email protected] or on Twitter @PariseauTT.