Fotolia
Juniper Mist stretches to WAN management
Jackson Electric Cooperative expects Juniper Mist's new WAN management features to reduce the number of customer trouble tickets and simplify access to network performance data.
Juniper Networks has added WAN monitoring and troubleshooting to its cloud-based Mist analytics. Before the latest addition, the AI-driven software was limited to Juniper switches, routers and access points in the wired and wireless LAN.
Juniper announced the Mist expansion this week. The company also introduced a refresh of the natural language interface to its Marvis virtual network assistant within the Mist console.
Juniper acquired the Mist technology last year with the $405 million acquisition of its namesake Wi-Fi company, Mist. Since then, Juniper has taken the startup's cloud-based network management and analytics across its infrastructure products for branch offices and the campus.
Cisco and VMware acquired ThousandEyes and Nyansa, respectively, this year to provide centralized LAN and WAN management.
Juniper customer reaction
Jackson Electric Cooperative is a Juniper customer reference. The rural southeast Texas power company is an internet service provider (ISP) for about 2,000 households and organizations, including healthcare institutions, school districts and private transport services. The company is also a managed service provider for Juniper Mist-powered wired and wireless LANs.
Jackson's customers include strip malls and three school districts, where it has installed Mist access points and Juniper EX switches. Jackson also manages the infrastructure.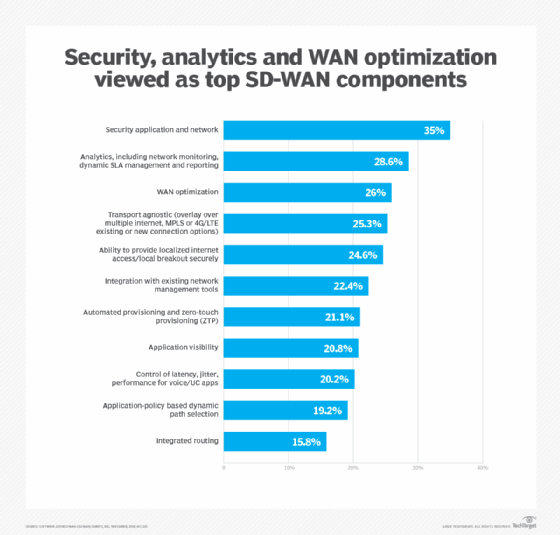 Jackson's service reps use Mist's cloud-based analytics to monitor and troubleshoot customers' networks. Adding WAN management will significantly increase the number of problems the reps can address, said Jackson network engineer Bryton Herdes.
For example, a customer with two ISPs on a Juniper SRX firewall could use Mist's WAN technology to recognize the security device's problems before the client calls, Herdes said.
"It's all about eliminating trouble tickets," he said.
Herdes added that he expects the AI built into Mist analytics to take proactive action on some WAN problems. For example, the technology could discover a faltering internet circuit and switch to a backup to maintain the quality of Microsoft Skype calls, he said.
Herdes described the Marvis virtual network assistant as a chatroom within the Juniper Mist console. A user can type something as non-technical as "What's wrong with Bob's iPhone" and get a list of possible contributors to a poor connection on a Mist Wi-Fi network.
An engineer could also ask what's wrong with an access point, port or IP phone, using the latter's Mac address to identify the device. Marvis will return every statistic it has on a device. In the case of a port, the stats would cover cabling issues and bandwidth congestion, Herdes said.
SD-WAN driving LAN, WAN management
Companies using software-defined WAN technology are particularly interested in a single product like Juniper's for managing the WAN and LAN. A cross-domain product would complement an SD-WAN's control over the links among branch offices, the data center and cloud-based applications.
For companies planning to purchase an SD-WAN, having centralized network management is the second-highest priority behind security, according to IDC.
Brandon Butler, an analyst at IDC, said he expects Juniper "to compete more aggressively in the broader SD-WAN infrastructure market with their SRX SD-WAN offering."
The research firm expects the SD-WAN market to grow at an annual rate of nearly 31% to 2023 when it reaches $5.3 billion.