Fotolia
Juniper adds Mist AIOps to its 128 Technology-based SD-WAN
Juniper has brought Mist's cloud-based analytics to the 128 Technology SD-WAN that the company acquired late last year. Juniper also launched Mist integration with the SRX gateway.
Juniper Networks has integrated its Mist AIOps technology with its software-defined WAN product to detect network problems and maintain adequate bandwidth for applications.
Juniper announced this week that the cloud-based Mist ingests telemetry data from routers that power the company's SD-WAN. The latter is based primarily on the $450 million acquisition of 128 Technology late last year.
128 Technology brought Juniper a unique session-based approach to SD-WAN routing that uses significantly less bandwidth than competing products, analysts said. The encrypted tunnels used by other technologies to carry traffic can cause latency problems.
Mist uses telemetry from "session-smart" SD-WAN routers to set, monitor and enforce service levels across the WAN, Juniper said. The AIOps service will also detect anomalies and provide visibility into WAN conditions that could affect people and devices using the network.
"Mist is one of the more mature AIOps technologies in the networking world," said Shamus McGillicuddy, an analyst at Enterprise Management Associates. "Extending Mist to Juniper's SD-WAN portfolio is a great [market] differentiator."
Juniper's market challenge
McGillicuddy said Juniper's most significant challenge in the crowded SD-WAN market will be signing up new customers. Juniper, which competes with Cisco and VMware, could find them through deals with managed service providers.
"The vast majority of enterprises consume SD-WAN as a managed service, so Juniper will need to sell MSPs and service providers on the value of this [announcement]," McGillicuddy said.
Enterprises also prefer a hybrid approach to a managed SD-WAN, where the enterprise handles some management responsibilities. "Mist-driven SD-WAN can fit into that kind of operations model quite well," McGillicuddy said.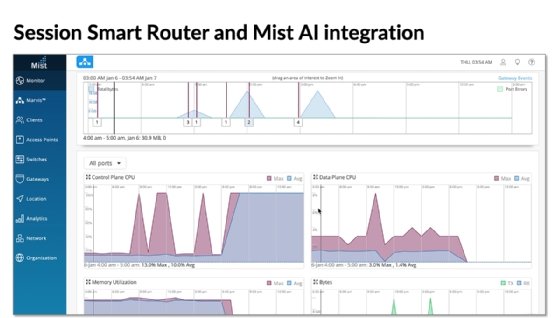 Juniper's latest Mist integration included adding the vendor's Marvis virtual network assistant service, which network operators access through a dashboard on the Mist console. The AI-driven Marvis contains a natural language interface.
Juniper designed Marvis to identify root causes of issues across IT domains, including the WLAN, LAN, WAN and security. Network managers can set Marvis to fix problems when possible. Marvis makes recommendations for issues outside of the domains.
Juniper also announced integration between Mist and its SRX Series Services Gateways, which provide unified threat management services. UTM includes a firewall, URL filtering, antivirus protection and application-level security. The new integration lets companies use Mist to onboard and configure an SRX gateway.

Finally, Juniper added another switch to its EX Series portfolio, which the company has designed for Mist.
The new EX4400 has the tools for designing an EVPN-VXLAN network fabric that extends from the data center to the campus core, distribution and access layers, Juniper said. Security capabilities include microsegmentation using group-based policies.