peshkova - Fotolia
SD-WAN market sees continued growth, room for mobile support
The SD-WAN market is growing, thanks to financial firms with distributed deployments. VMware and Cisco continue to lead the vendor pack, with Aryaka and Silver Peak close behind.
Software-defined WAN market revenue rose 8% in the first quarter of 2019, fueled largely by the financial industry as well as remote and mobile employees.
In a recent IHS Markit report, the research firm noted a steady interest in SD-WAN technology that supports the growing remote and mobile workforce. In response, some vendors have introduced smaller hardware appliances that fit better into home or mobile environments, while still providing adequate and secure connectivity. These compact SD-WAN appliances are small enough to fit into backpacks, run on batteries and provide LTE connectivity to SaaS applications, IHS said.
As remote and mobile workers become more ubiquitous, SD-WAN vendors should evaluate how they can cater to this niche market segment.
"If SD-WAN vendors have not added compact appliances to their offerings already, they should continue to invest in compact SD-WAN appliance development to ensure they seize this market opportunity," said Josh Bancroft, senior research analyst at IHS Markit, in the report.
Financial firms lift SD-WAN market
In addition to remote and mobile opportunities, the SD-WAN market has seen solid growth in the financial vertical industry, as some of the first SD-WAN case studies involved finance and banking firms. For example, Bremer Bank -- based in St. Paul, Minn. -- deployed SD-WAN from Talari Networks, which Oracle recently acquired. Likewise, Capital One started its SD-WAN journey in 2017, using technology from Versa Networks.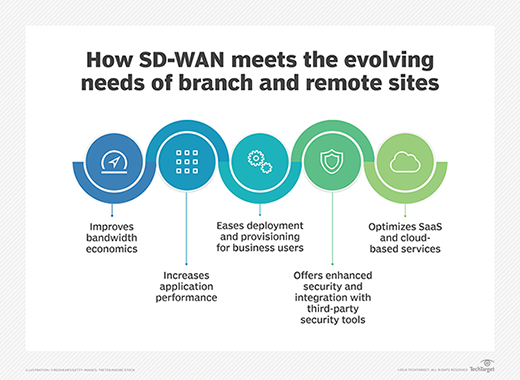 As SD-WAN has matured over the years and proved its significance, financial firms have expanded their deployments. IHS cited one customer that has deployed SD-WAN in 800 North American sites and 3,000 locations in Europe, Africa and the Middle East.
Financial firms see value in SD-WAN's ability to segment traffic based on type, destination or priority, IHS said. "This ensures that traffic containing sensitive customer data is separated from other network traffic, increasing data security and aiding in demonstrating payment card industry compliance," Bancroft said.
SD-WAN vendor rankings
VMware-VeloCloud continued to top the SD-WAN market, with its revenue share reaching 20% in the first quarter of 2019, according to IHS. As of March 2019, VMware's CEO said the vendor had 3,500 SD-WAN customers and 70 telecom and service provider partners. These partnerships with system integrators, carriers and managed service providers are a vital part of SD-WAN market growth, IHS said.
IHS ranked other vendors as follows:
Cisco, at 13%
Aryaka Networks, at 12%
Silver Peak Systems, at 12%
Huawei Technologies, at 6%
Nuage Networks, at 5%
Fortinet, at 4%
Versa Networks, Citrix, CloudGenix and Infovista each took a rounded 3% of market share, while Oracle appeared in IHS Markit's SD-WAN tracker for the first time, due to its Talari acquisition. It took 2% of total revenue share.
IHS Markit also tracked the following vendors, listed alphabetically: A10 Networks, Adaptiv Networks, ALE, Arista Networks, Array Networks, Barracuda Networks, Cradlepoint, Cato Networks, Dell EMC, F5 Networks, FatPipe Networks, Hewlett Packard Enterprise, Hughes Network Systems, Juniper Networks, Kemp Technologies, Radware, Riverbed Technology and ZTE.
This was last published in
July 2019