peshkova - Fotolia
Network subscription packages gain steam among enterprises
Networking suppliers are increasingly offering network subscription packages, as enterprises have become more familiar with paying for services with monthly subscriptions.
The rise of software-based networking has enabled new business models for network suppliers. Enterprise buyers...
Continue Reading This Article
Enjoy this article as well as all of our content, including E-Guides, news, tips and more.
can increasingly choose from a variety of networking options, including network appliances, software licenses and network subscriptions. Many enterprises will appreciate the simplicity of paying for network functionality with a monthly fee.
Software-based networking combines the elements of software-defined networking, network virtualization and network functions virtualization. It contains the following attributes:
Automated deployment, configuration and management;
An easily adaptable, customizable and programmable network with open APIs;
An open, standards-based, multivendor environment; and
Hardware platform independence using software abstraction.
Software-based networking supports a wide range of deployment use cases, including at the data center, campus, WAN, branch, and telecom network edge and core.
Network subscriptions and their benefits
The popularity of software as a service (SaaS) and cloud-based computing and storage -- e.g., Amazon Web Services -- has shifted the IT landscape from a Capex model to an Opex model. Organizations are now used to paying monthly fees for the functionality and services they receive, instead of purchasing hardware and software.
Networking enables SaaS and cloud use, but it's different than compute and storage, because it requires physical elements to move network traffic within the organization and between the organization and the cloud. The rise of software-based networking enables new business models for innovative network suppliers. Over the next few years, Doyle Research expects networking to shift to more of a consumption model in which you pay for what you use.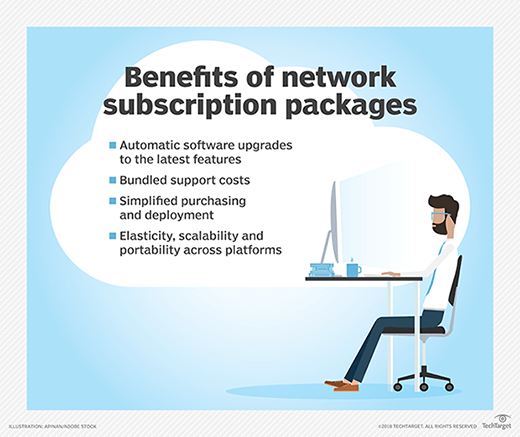 IT organizations are shifting from buying products to buying service packages -- often on a per-use basis. The benefits of buying network subscription options include the following:
Simplified purchasing and deployment;
Bundled support costs;
Automatic software upgrades to the latest features; and
Elasticity, scalability and portability across platforms.
Examples of network software by subscription
Many network suppliers have introduced various versions of networking software by subscription. Doyle Research expects more network suppliers to follow suit over the next couple of years. Below are some examples of network subscription options:
Cisco One
In 2017, Cisco introduced Cisco One, which offers three-, five- or seven-year subscriptions that also include software updates and support. Cisco One licenses are portable across various Cisco hardware platforms as customers upgrade. The vendor has specific versions of Cisco One for the WAN, data center, switching, wireless LAN and access network.
Cisco Meraki
The vendor's Meraki division has sold its network offerings, including its wireless LAN products, through subscription for a number of years.
Cradlepoint
Cradlepoint recently introduced its NetCloud Solution Packages, which bundle hardware, software and services for a monthly fee. Cradlepoint offers NetCloud packages for the branch office, mobile and internet of things. Customers receive continuous software updates and 24/7 support on one-, three- or five-year terms.
SD-WAN suppliers lead the way with subscription-based options
IT leaders need to carefully evaluate the specific terms and conditions of each supplier's software pricing options.
Software-defined WAN suppliers have been leading the charge to offer network subscription options. Examples of SD-WAN suppliers offering subscription services include the following:
Aryaka's global SD-WAN is delivered as a service, with pricing based on the customer's number of locations and bandwidth requirements.
Bigleaf provides SD-WAN as a service, with monthly subscription options based on the amount of required bandwidth.
Citrix offers customers the ability to purchase a NetScaler SD-WAN appliance with zero capacity for bandwidth and then license the software at specific capacity levels on a periodic basis.
Riverbed offers SD-WAN software, with a monthly subscription based on bandwidth capacity.
Talari offers SD-WAN by subscription through its partners for a three-year term, priced by bandwidth capacity.
Evaluate network subscription options
The popularity of SaaS and cloud IT models are changing the way organizations consume hardware, software and services. Many organizations are increasingly comfortable with outsourcing IT complexity and buying software through monthly subscriptions.
In the meantime, software innovation continues to drive the networking industry. This migration to software-based networking provides suppliers the ability to offer innovative pricing and service packages, including subscription-based networking options. SD-WAN suppliers, specifically, are leading this wave of network subscription offerings.
IT leaders need to carefully evaluate the specific terms and conditions of each supplier's software pricing options. Network technology can be purchased as a Capex option, where IT pros buy the appliance or software; as a mix of Capex and Opex, where IT pros buy the appliance and license the software; or as pure Opex with a subscription only.
This was last published in
March 2018