Fotolia
Aryaka hybrid WAN expected to broaden market appeal
The Aryaka hybrid WAN is expected to help the vendor sell more to customers that have found its global SD-WAN too expensive for connecting sites in one geographical location.
Aryaka Networks has added internet connectivity to its fully managed software-defined WAN service, providing a less expensive option to organizations that found the vendor's global WAN infrastructure too expensive for site-to-site connectivity within a single geographical region.
Aryaka introduced its hybrid WAN option this week after finding that customers were using its service for global connectivity and a second SD-WAN vendor for more local links, analysts said.
Companies were unwilling to use Aryaka's global WAN service -- a Layer 2 core -- when less expensive internet connectivity was sufficient for local sites, said Shamus McGillicuddy, an analyst at Enterprise Management Associates, based in Boulder, Colo.
"For the first time, Aryaka is allowing its customers to use the internet for direct site-to-site connectivity, which is something enterprises want when they have a lot of sites in the same geographic region," McGillicuddy said. "Hybrid WAN allows Aryaka to expand its total addressable market by no longer ceding that business to other SD-WAN vendors."
Aryaka's global network
More than 800 organizations use Aryaka's global backbone to connect branches to the WAN and to connect the WAN to a cloud provider's gateway, Gartner said in a report released late last year. Aryaka provides companies with customer premise equipment to connect to its service.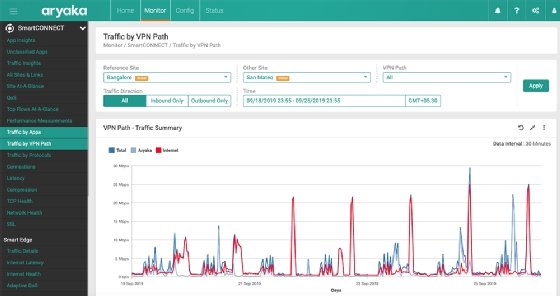 "Aryaka is well-suited for organizations that are geographically widely distributed that want SD-WAN plus WAN optimization controller delivered as a service," Gartner said in its Magic Quadrant report for WAN edge infrastructure.
Hybrid WAN allows Aryaka to expand its total addressable market by no longer ceding that business to other SD-WAN vendors.

Shamus McGillicuddyAnalyst, Enterprise Management Associates
Based on client feedback and its analysis, Gartner found that Aryaka was "not a great fit for companies that have a small number of branches contained in a small geographic region."
With the new internet connectivity, Aryaka introduced security features that let organizations with multiple sites at a single location create zone-based firewall configurations.
"We're basically adding a hierarchy within a single enterprise or organization," Dave Ginsburg, VP of product marketing at Aryaka, said.
Organizations that could make use of the security features include Aryaka customer HMSHost, which operates multiple restaurants at airports, Ginsburg said.
In its Magic Quadrant report, Gartner listed Aryaka as a challenger to WAN edge market leaders Silver Peak, Cisco and VMware.