AWS consulting partners launch Mission
AWS cloud consulting services firms Reliam, Stratalux and G2 Tech Group have rebranded as Mission and more acquisitions could be in the works; more news from the week.
Three AWS consulting partners combined this week in Los Angeles, a move that signals the continued consolidation of cloud advisory companies and IT services firms.
Mission, an MSP and consulting firm, joins together Reliam, Stratalux and G2 Tech Group, all of which have been operating in the Amazon Web Services Partner Network as Advanced Consulting Partners. Reliam, working with private equity firm Great Hill Partners, acquired Stratalux in April and followed that deal a month later with the purchase of G2 Tech Group, based in Boston.
"We spent the last four months integrating the three companies and teams and back-end software platforms for service delivery," said Simon Anderson, CEO at Mission. The MSP uses ConnectWise as its core system for managing service delivery.
AWS consulting partners pool resources
Anderson said Mission's launch is based on the expectation that the consulting market will rapidly grow over the next five years as more customers adopt the major public clouds. Anderson's involvement in the venture began in 2017, when he joined Reliam as CEO on the heels of a Great Hill Partners investment.
"We see cloud technology as an incredible transformation platform," he said.
And it's a platform that has become increasingly complex, Anderson said, with server-based and serverless options, along with a range of storage choices. He said customers recognize they need specialized partners who understand the various clouds and can architect applications to run on them.
Mission pulls together more than 90 employees from the three AWS consulting partners. About 50 employees are located in the Los Angeles area, where Reliam and Stratalux resided, while 20 employees work in Boston and New York. Other employees are distributed across the U.S. with some in South America, Anderson said.
Anderson said Mission has built out its sales and go-to-market teams in Southern California and the Northeast, the regions where the company has the greatest depth regarding service delivery. But the company is expanding its reach on the West Coast to include the San Francisco Bay Area, Portland and Seattle. In the east, Philadelphia and Washington, D.C., are areas of expansion.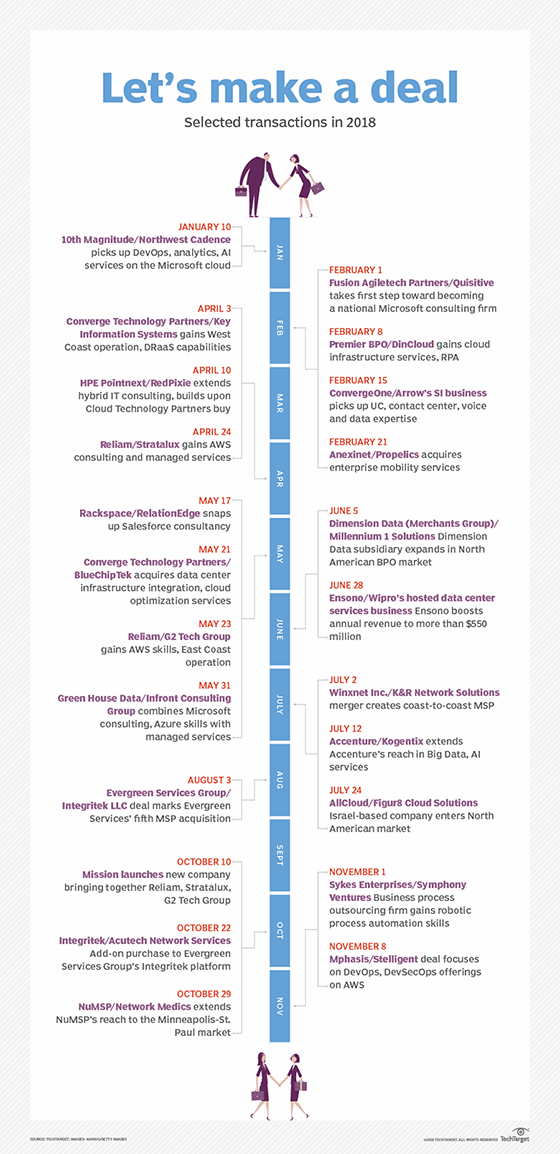 Acquisitions still on tap
Anderson said Mission has deployed about half the capital Grant Hill Partners provided to fund the company -- $75 million. In the near term, the company will focus on the Mission brand launch and its participation in AWS' re:Invent conference in November.
We will be actively looking at other opportunities to continue to scale the business through acquisition.

Simon AndersonCEO, Mission
Following those tasks, "we will be actively looking at other opportunities to continue to scale the business through acquisition," Anderson said.
Additional purchases would be made to strengthen the company's geographic presence or its competencies in cloud consulting services. As for the latter, the combined company's service portfolio includes managed cloud, managed DevOps, managed security, managed application performance, cloud optimization and professional services, including AWS Well-Architected reviews. Mission offers services for Microsoft Azure, as well as AWS.
Given the growth of the AWS consulting partners ecosystem, additional consolidation in the cloud consulting services space would seem to be in the offing. AWS added 10,000 new AWS Partner Network companies in 2017. Jay McBain, principal analyst for global channels at Forrester Research, told a CompTIA audience earlier this year that the AWS partner ecosystem could expand to 100,000 companies in total over the next few months, contributing to a shadow channel.
MSPs put on cybersecurity alert
A recent alert from US-CERT, the Department of Homeland Security's computer emergency readiness team, put MSPs on notice regarding advanced persistent threat activity targeting their industry.
The DHS warning, issued Oct. 3, reiterates the substance of an earlier alert from US-CERT. That April 2017 bulletin recommended IT service providers evaluate their infrastructure but didn't specifically mention MSPs. The new alert may be the first from a U.S. government organization to do so. In 2017, the Australian government's cybersecurity center cited MSPs in an alert, noting that service providers "have been targeted in a global cyber campaign since at least mid-2016."
The October US-CERT warning said attackers are "using legitimate credentials and trusted off-the-shelf applications and pre-installed system tools present in MSP customer networks."
That a government alert addresses MSPs by name is a backhanded compliment to the industry, industry executives suggested. "It validates the MSP channel is really a force," said Ryan Weeks, chief information security officer at Datto Inc., a company that focuses on IT management, backup and networking products for MSPs.
Charles Weaver, CEO at MSPAlliance, an MSP industry association, shared a similar view.
"If the U.S. government acknowledges the dominant role MSPs have today, I think we can safely say MSPs have arrived," he stated, writing in an MSPAlliance blog post.
But with their increased stature, MSPs are experiencing an elevated threat profile. As a result, Weaver said MSPs must pay attention to their remote access practices, hardening remote access policies and pursuing effective onboarding techniques for MSPs users, for example.
Weeks, meanwhile, said MSPs should make sure the basic controls they have in place are performing as intended. For example, companies can check if their patching process is actually working and confirm their antivirus software is being updated and scanning machines, he noted. He said MSPs should consider the US-CERT warning as a call to review their current controls and how well they are doing with the additional goal of determining what other steps they should take to keep themselves and their customers safe.
"This is an opportunity for everyone to change the practices they have and how they think about the problems they are defending against," Weeks said.
Other news
Xerox unveiled Xerox App Gallery, an online marketplace that partners can use to showcase and sell their Xerox applications. Xerox also released a number of new apps for ConnectKey-enabled devices, including apps for the education vertical.
The field services market is attracting consulting activity. Couchbase, a NoSQL database provider based in Santa Clara, Calif., and consulting firm Infosys have launched a mobile field workforce offering based on the Couchbase Data Platform. In another move, Propelics, an Anexinet company focusing on enterprise mobile strategy and app development, rolled out its Enterprise Mobile Field Services Modernization Strategy Kickstart. The five-week program targets organizations looking to update their field services capabilities.
Auvik Networks, an MSP-focused network management vendor, has purchased Talaia, a network traffic analytics company. Auvik said Talaia's technology will be integrated into its platform to enhance network visibility capabilities.
Distributor Tech Data expanded its Cloud Practice Builder program for partners developing cloud businesses. The program offers a new digital curriculum, as well as customized plans for adopting cloud skills, according to Tech Data. Partners can also receive support from dedicated cloud specialists, Tech Data said.
Cytracom, a voice-over-IP vendor, launched a product for MSPs to help address call quality issues. Active Intelligence Monitoring is available through Cytracom's partner portal and provides visibility into quality of service, latency and overall network performance of voice services, the vendor said.
Helpshift, a customer service platform vendor, is targeting services providers with a new partner program. The program offers benefits to partners that implement the Helpshift platform. Benefits include developer tools, training and an optional referral program.
Intermedia, a cloud communications vendor, released a provisioning wizard for its unified-communications-as-a-service platform, Intermedia Unite. Intermedia said the provisioning wizard guides partners through the Intermedia Unite setup process.
Atera, an IT automation platform provider, appointed Yoav Machlin as vice president of marketing.
Market Share is a news roundup published every Friday.