olly - Fotolia
MSP market rides M&A momentum into 2019
Last year's mergers and acquisitions spree looks set to continue into 2019, as buyers look for geographic reach and skills that span multiple public cloud platforms.
Mergers and acquisitions activity in the MSP market and cloud services sector looks poised to carry last year's blistering pace into 2019.
A case in point is Hostway Services Inc.'s merger with Hosting, which creates a managed cloud services company that spans 14 data centers and specializes in the Microsoft Azure and AWS cloud environments. The combination, announced Jan. 8, could be a sign of things to come in 2019. Hostway president and CEO Emil Sayegh said growing both geographic reach and technical capabilities has become critical for service providers.
"This is going to be a game of scale," he said. "The big sweet spot is the middle market area and these companies want to deal with companies that are at a certain scale and have certain capabilities."
He said moving organizations from internally hosted applications to external cloud providers is no simple task, especially when dealing with customers that possess mission-critical workloads. He said a small, regional player is not going to be up to the challenge.
Hostway and Hosting, however, can now point to data centers in North America, Europe and Asia. As for capabilities, Hostway, based in Austin, Texas, focuses on Azure while Hosting, based in Denver, contributes AWS skills. Hosting also provides professional services such as cloud migration, managed database services and security consulting.
Sayegh said he will be looking to do additional deals in 2019. The mergers and acquisitions pace is "going to accelerate more and more."
Deal-making momentum continues
A number of factors contributed to deals in 2018. Those include high demand for cloud consulting skills, particularly around public cloud platforms such as AWS and equity investor-backed ventures looking to create national service provider platforms. An aging channel demographic, meanwhile, contributes to the seller population. CompTIA estimates that 40% of the "channel universe" is expected to retire by 2027.
All of those M&A drivers will remain in force during 2019.
"We saw tons of them [in 2018]," said Carolyn April, senior director of industry analysis at CompTIA, referring to channel transactions. "M&A among channel companies is a trend and it is going to continue."
The anticipated continuation of channel deal-making is part of a broader M&A trend. A recent Deloitte report, "The state of the deal: M&A trends 2019," predicts "more and bigger" deals in 2019. According to Deloitte, tax reform, a more relaxed regulatory environment and expanding cash reserves will contribute to the M&A climate.
The Deloitte surveyed 1,000 executives involved in M&A at U.S. corporations and private equity firms. Seventy-nine percent of the respondents said their firms would close more transactions in the next 12 months, while 70% expected deal sizes to be larger in 2019 compared with 2018.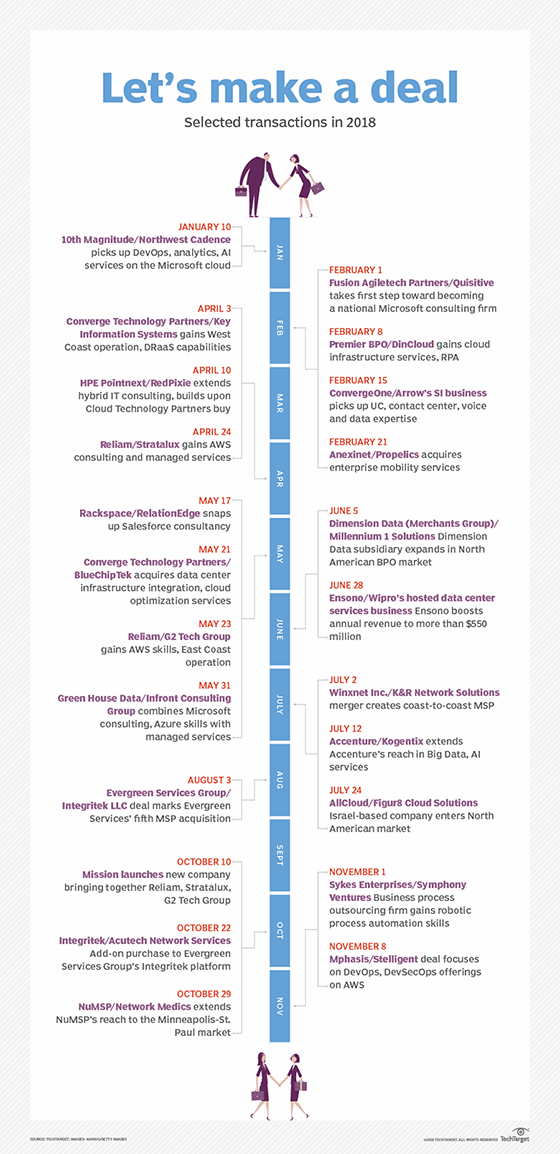 More deals ahead for MSP market
Meanwhile, executives in the MSP market see more deals in the offing.
Evergreen Services Group, a holding company pursing managed service provider (MSP) acquisitions, closed out 2018 having completed 13 acquisitions, said Ramsey Sahyoun, head of M&A at Evergreen, based in San Francisco. Those acquisitions bring a combined revenue of about $100 million.
Sahyoun said Evergreen hopes to maintain a similar M&A pace in the new year, although he anticipates a slowdown in the broader M&A market at some point in 2019. He said more of the company's acquisitions in 2019 will be add-ons to the platform MSPs it has already acquired.
Mission, an MSP and cloud consulting firm based in Los Angeles, launched in October 2018, bringing together Reliam, Stratalux and G2 Tech Group. The latter two companies were acquired in 2018. Simon Anderson, CEO at Mission, said his company plans to seek additional acquisitions in the coming months. Mission aims to bolster its geographic presence and technical competencies in the MSP market.
"We're constantly evaluating opportunities, and the market for cloud MSPs remains strong in terms of valuations," Anderson said.
Economic uncertainty could influence M&A activity over the source of 2019, however. Chris Stafford, a senior manager in the M&A practice at West Monroe Partners, a business and technology consulting firm based in Chicago, said he is seeing a push on the seller side to complete the sales process in the first half of 2019.
"There is a little bit more of a heightened incentive for sellers in the first half of the year," Stafford said. "Buyers have a better leg up than in the last couple of years," he added, noting the sellers' motivation to move quickly and get transactions done before a potential downturn.