Evergreen Services Group: New deal to up MSP revenue to $40M
MSP market M&A: Evergreen Services Group is acquiring SMB service providers that generate most of their business via monthly recurring revenue; more news from the week.
Evergreen Services Group, a holding company focused on purchasing managed service providers, is on the cusp of its fifth acquisition, a move that will bring the investor's MSP revenue to more than $40 million.
The company, based in San Francisco, launched in 2017 as a spinoff of Alpine Investors, a private equity firm. Evergreen has received a $100 million equity commitment from Alpine to launch its acquisition campaign, which got underway seven months ago, according to Ramsey Sahyoun, head of M&A at Evergreen.
Evergreen's investments include Executech, an MSP in the Salt Lake City area; Wolf Consulting and Jenlor, MSPs in greater Pittsburgh; and Interlaced LLC, an MSP in San Diego specializing in Apple environments.
Next up is an acquisition of an Austin, Texas, MSP that Evergreen Services Group expects to announce next week.
M&A in the MSP market
Evergreen's acquisitions are in line with the general consolidation trend ongoing in the MSP market. A number of investment groups, including Fusion Agiletech, Converge Technology Partners and Great Hill Partners in conjunction with Reliam Inc., for example, are in the process of building IT services company platforms.
Sahyoun said Evergreen offers a different opportunity for MSPs in the M&A landscape. He said Evergreen purchases 100% of a company and generally pays in cash upfront, noting that other investors strike deals based on earn-outs or seller notes.
In addition, Evergreen takes a long-term view as it acquires companies, Sahyoun said.
"We are not going to smash a few MSPs together and sell in three or four years," he said. "We are fortunate ... to have a long-term financial backer behind this vision of 'Let's do this over many years and not just try to make a quick buck.'"
The long-range view enables Evergreen to invest in its acquired companies. Sahyoun said investments in sales and marketing, as well as in service delivery, sets up the acquired companies to have sustainable growth.
The companies Evergreen has acquired thus far will operate as stand-alone, independent platforms, he explained. Evergreen's approach is to treat companies above the $1 million EBITDA threshold as platforms and those below that mark as add-on acquisitions that would be tucked into one of Evergreen's platforms.
While Evergreen Services Group doesn't plan to integrate the platform companies, there will be coordination among its holdings. Sahyoun said Evergreen recently started to bring executives from the companies together in a peer-group format in which they can share best practices and discuss business challenges. In addition, Evergreen provides a subject-matter expert directory and playbook on its website to help companies through such tasks as selecting an IaaS provider or collecting accounts receivable.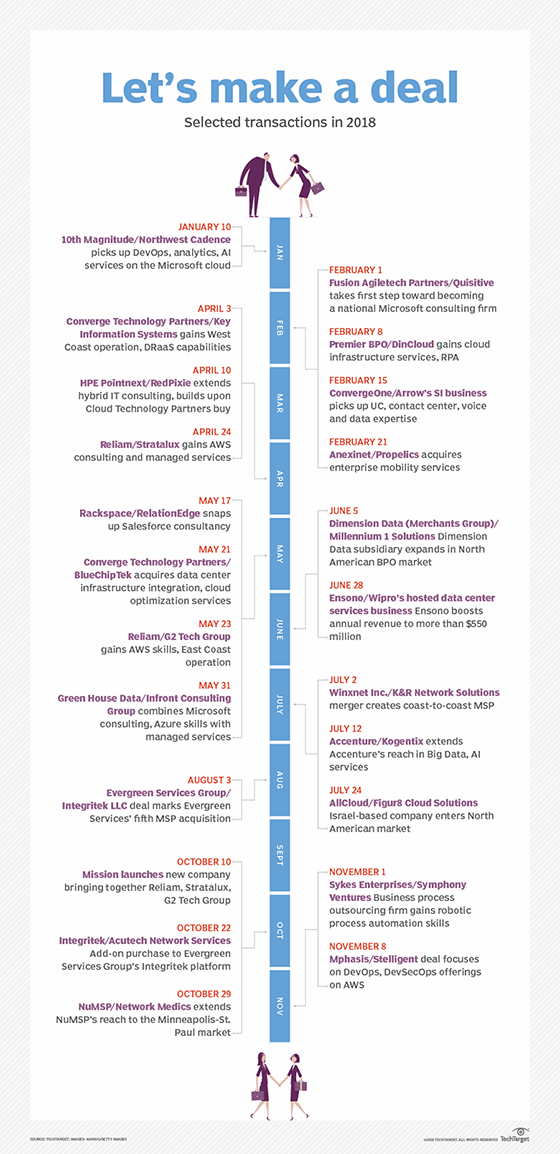 Looking for SMB focus, MRR
Evergreen's acquisition approach is to look for MSPs serving the small and medium-sized business market that have more than half of their business coming from monthly recurring revenue (MRR).
We look for companies that have a good, predictable stream of revenue.

Ramsey Sahyounhead of M&A, Evergreen Services Group
"That is what we value and what gets us excited about this industry," Sahyoun said of MRR. "We look for companies that have a good, predictable stream of revenue."
Customer satisfaction and high retention rates are also important factors in assessing acquisition candidates. To determine customer satisfaction, Evergreen Services Group goes through a process of talking to a subset of an acquisition candidate's customers as part of its post-letter-of-intent due diligence.
Sahyoun said the company uses a third-party vendor to conduct the customer surveys, which yield such information as net promoter scores.
In general, Sahyoun suggested the recent uptick in acquisition activity in the MSP market signals a greater confidence in the companies following the MSP business model.
"The business has gotten fundamentally better over time," he said, noting the shift from break-fix to MMR revenue. "That is a big part of what is driving investor interest."
Other news
Microsoft made several announcements ahead of its annual partner conference, Microsoft Inspire. Among the disclosures is a free version of Microsoft Teams; a Whiteboard app for Windows 10 that is also slated for iOS; an expanded Azure Data Box offering; and new programs and resources that aim to help partners take advantage of Microsoft's global customer and partner ecosystems. Microsoft also unveiled an Azure Expert MSP program, two Cloud Practice Playbooks and four Digital Transformation eBooks. Microsoft Inspire will run July 15 to 19 in Las Vegas.
Accenture has acquired Kogentix, a Schaumburg, Ill., company that focuses on big data and AI services. Kogentix employs about 220 big data engineers, data scientists, machine learning engineers and software developers, according to Accenture.
IT management software company SolarWinds has acquired Trusted Metrics, a threat monitoring and management vendor. SolarWinds said it will launch SolarWinds Threat Monitor, a tool for MSPs and managed security services providers, as a result of the buyout. In related news, private equity investment firm and SolarWinds backer Thoma Bravo revealed plans to purchase a majority interest in identity and access management player Centrify.
More than half of North American channel partners expect to see an increase in IT spending in 2018 compared with last year, according to a mid-year survey of 363 partner companies undertaken by OneAffiniti, a channel marketing solutions provider.
Dataguise, a data privacy protection and compliance vendor, unwrapped the DgSecure Partner Program for selling the company's data governance enablement software. The program provides training and certification; incentives; demo software; sales leads and sales enablement tools; and market development funds (MDF). Partners can also access deal registration and marketing materials through the Dataguise partner portal, the vendor said.
Networking vendor Ruckus Networks unveiled a program for enabling partners to sell Ruckus Cloud Wi-Fi. The Cloud-Ready Specialization Program offers tools, training, technical support and incentives and is open to Select- and Elite-level Ruckus Ready partners, the vendor said. Ruckus also provides Smart Cities, Large Public Venue and Education specializations.
Yamaha Unified Communications, an audio and video conferencing vendor, introduced a global partner program. The program features three tiers -- Basic, Emerging and Prime -- with incremental benefits and incentives. At the Basic level, partners can access deal registration, a demo program, special discounts, product training and post-sales technical support. Emerging and Prime partners can tap volume incentive rebates and marketing support such as MDF, according to Yamaha UC.
WhiteHat Security, an application security provider, and RiskIQ, a digital threat management firm, are integrating their platforms. The integration gives joint customers "a detailed inventory of web-facing properties, which we can onboard into WhiteHat Sentinel for continuous scanning," according to John Atkinson, vice president of strategic alliances at WhiteHat Security. As a result, channel partners can provide a "comprehensive solution for dynamic application security testing."
Cybersecurity vendor Bitdefender expanded its security offerings for MSPs. New products include Patch Management, Advanced Threat Security, and Endpoint Detection and Response, available within the Bitdefender Cloud Security for MSP endpoint security suite. The three new offerings can be purchased via monthly usage-based licensing, Bitdefender said.
LogiGear, a software-testing vendor, said Royal Cyber, a solution provider based in Naperville, Ill., has joined its roster of value-added resellers. Royal Cyber will provide automation testing using LogiGear's TestArchitect technology, LogiGear said.
Market Share is a news roundup published every Friday.