MSP business model transformation: Five tips for navigating change
MSP business model transformation: Channel partners face challenges as they cultivate as-a-service offerings, seek dollars for investment and promote their new offerings.
During the last decade, managed service providers have witnessed profound technological change which has brought about economic challenges and business model transitions.
For an MSP, business model transformation stems from a number of sweeping technology changes, cloud computing chief among them. The growth of the cloud and its associated as-a-service offerings, as well as cloud's subscription payment model, has transformed the IT outsourcing business in significant ways. A traditional reseller, for example, may be making a change to the MSP business model and recurring revenue. Or an MSP may be making the shift from remotely managing customers' on-premises IT to computing resources in the cloud. Either way, the MSP faces the difficulty of investing in new services while transitioning to a subscription model based on a flat rate, typically billed monthly, versus hourly or project-based billing.
"This is not a technical challenge, but rather a business and economics challenge," said Charles Weaver, CEO at MSPAlliance. "The question MSPs have faced during the rise of the cloud computing model is how does an existing legacy business with revenue coming in through predominantly time and materials utilization shift to a one-to-many managed services remote delivery model where they have a core delivery and cover a wide variety of customers."
Here are five tips for navigating the rigors of a MSP business model transformation:
Determine how to finance the transition
As service providers tackle the rapid technological changes, they are also reflecting on how they've managed MSP business model transformation thus far and are assessing what works and what doesn't.
Take Carolinas IT, a Raleigh, N.C., managed service provider that offers fully outsourced and managed network services. The company is a channel partner to Cisco, Microsoft, NetApp and VMware.
According to the company's CEO, Mark Cavaliero, the transition from selling equipment to offering cloud services has been an evolving process. The company started its private cloud service in 2011 because it wanted to have its own private cloud to give clients a choice between the commodity offerings of the public cloud or a customized solution the company could host and offer its customers.
"This required a tremendous investment for us early on, but it put us in a position to have a more profitable customized cloud offering as opposed to only reselling the big public cloud services," Cavaliero said.
A lot of these companies are small and making a transition from a traditional reseller to an MSP is not something that you can simply do overnight.

Carolyn Aprilsenior director of industry analysis, CompTIA
He added the company managed the expense of starting up the new private cloud line of business by leasing the equipment. Carolinas IT also heavily invested in time and effort from its engineering staff, as well as facilities and licensing. Trying to stay a step ahead of demand has been a focus, but has also been a continuing challenge.
"We ramped up in lockstep with demand increasing, so from a timing standpoint there wasn't too much of a lag between the investment and new revenue starting to come in to help cover the financing and labor expense," Cavaliero said. "The expenses did stretch us right as we were coming out of the recession, but we knew it was important to develop the offering."
Cash reserves from operations were important as the company grew.
"If you are growing at a nice clip, you need cash far beyond any positive number you may see on your P&L," Cavaliero explained. "Along the way, we've made multiple rounds of investment in our private cloud, all financed by our own working capital," Cavaliero said.
He added that since version 1.0 of its private cloud, the company has replaced and upgraded components to provide huge increases in capacity, redundancy, performance and security.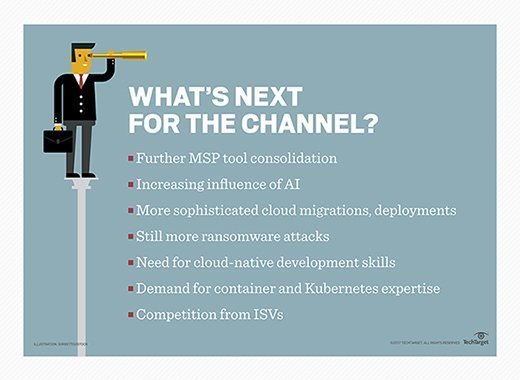 Prepare for challenges
Carolinas IT's move to as-a-service offerings is still unfolding.
"Our transition isn't 100% though," Cavaliero said. "We still sell a lot of equipment, but the growth of equipment sales, especially large servers and storage, has been very slow, whereas cloud sales have continued to increase briskly. I doubt we'll ever be fully transitioned to only selling cloud-based solutions. There are too many opportunities out there where cloud is not practical or feasible for a given client's requirement."
Carolyn April, senior director of industry analysis at CompTIA, said the organization's research shows most MSPs remain a hybrid business, at least in the beginning, as their customers enter the cloud era. That pattern has been a hallmark of MSP business model transformation over the last five years.
"A lot of these companies are small and making a transition from a traditional reseller to an MSP is not something that you can simply do overnight," April said. "It requires changes to your financial model, to your sales strategy and changes to your operational model."
She added during a business transition many MSPs struggle with a host of challenges as they increase their cloud offerings. Those challenges include having sales personnel who used to receive commissions on large transactional sales who are now being paid on a monthly contract basis. Another issue: changes in marketing where the emphasis is no longer on what the vendor's upgraded hardware or software is, but how the MSP works with the customer to migrate and service applications in the cloud.
The fundamental things apply as cloud goes by
The cloud has influenced many IT industry changes, including MSP business model transformation. But some things remain the same -- including the need for engineers to support software applications.
Kevin Rubin, president and COO at Stratosphere Networks LLC, an MSP based in Evanston, Ill., said in the cloud era there's a lot more access to a lot more software. But MSPs, he said, must keep in mind that software manufacturers typically provide software support agreements and MSPs act as a vendor's liaison with regard to those as-a-service offerings.
"We as engineers have to make sure that APIs are not breaking and monitor those APIs to make sure that a customer's on-premise and cloud solutions work together," Rubin noted. "There are additional services that you can wrap around to monitor that. Just because something is in the cloud doesn't necessarily mean its 100% reliable. Things do break and clients do ... need engineers to turn to at the end of the day for help. An application is still an application, whether it's located in the cloud or not, and users always have similar concerns."
Evaluate new lines of business
Cloud computing has also opened up new lines of business for many MSPs. Services providers are taking the opportunity to work with cloud's scalability and storage capacity to offer new as-a-service offerings such as data management, analytics, backup and recovery services and security.
Choosing which lines of business to pursue shouldn't be taken lightly, said Arlin Sorensen, vice president of peer groups at ConnectWise and founder of HTG Peer Groups, a consulting firm ConnectWise recently acquired.
According to Sorensen, MSPs evaluating a new offering must step back and take into consideration the following factors during the decision-making process:
customer interest in the solution;
access to required vendor relationships;
potential to sell enough of a solution to make it profitable and recover startup costs;
balance sheet strength that will cover the startup costs with little to no positive cash flow;
the ability to support the solution in the long term; and
people in place to support the new solution, including those with required sales skills and technical training.
Once service providers have decided which new lines of business they will offer, marketing their firm becomes key to a successful MSP business model transformation strategy.
"It's really about your brand and your reputation and so marketing really has to change," April said. "As resellers become service providers it's important that they begin to pay strict attention to how they market their companies because they are really marketing themselves, their brand and their own customer testimonials. It's not about who they aligned with on the vendor side."
Collaborate with vendor partners
Working with vendors can also present challenges. Sorensen's advice is that MSPs should take the time to do joint planning as a way to cultivate a vendor relationship that will help with the MSP business model transformation process.
"Involve the vendor in sales calls with key customers," Sorensen suggested. "Learn the vendor's programs and ask vendor reps who you interact with how they are compensated, as helping them succeed will encourage them to help you succeed. Do quarterly business reviews with key vendors to assure that everyone is on the same page and that expectations on both sides are being met."
Cavaliero's assessment is that some vendors have done a great job, and others have failed miserably.
He cited Cisco as a good example of success. The company has rapidly added cloud-based service offerings and resources to help MSPs transition into new models and offerings. Cavaliero said they have articulated and executed on a vision that includes and supports partners all the way to the individual sales reps in the field.
Align MSP business model transformation with clients
Cavaliero added as MSPs transition to different models, their approach to transformation will be a determining factor in the future relationship with a client.
"Some clients won't want to change, and if you don't provide them a means of continued support, they will find it elsewhere," he said. "Other clients may want change at a more rapid pace than an MSP is prepared to make. The challenge is to find a balance that supports your vision for growth, and work with your clients to show them how your strategy incorporates their requirements as well. If it doesn't, then it's best to part ways early and avoid hard feelings down the road."