alphaspirit - Fotolia
Channel business exit strategies during uncertain times
The difficult economic climate wrought by the pandemic is making waves in the channel industry, with some MSPs having to decide whether to stay put or pursue an exit strategy.
The economic uncertainty brought on by the coronavirus has fanned out across U.S. industries, including the channel industry. How has the pandemic affected channel business exit strategies?
Industry observers say many channel partners have seen business gains in the initial phases of the pandemic, as a lot of firms have helped customers facilitate a move to remote workforces. While the pandemic has prompted the closing of businesses and early retirements in some hard-hit industries, this boost in work has many MSPs deciding to stay put.
MSPs that are either considering being acquired by another MSP or open to the opportunity have decreased from 27% prior to the pandemic to 15% after the pandemic, according to the 2020 Global MSP Benchmark Report by IT Glue, an IT documentation software provider for MSPs.
No significant upending of plans -- yet
The COVID-19 pandemic has not caused significant economic disruption to MSPs or to their long-term plans to grow or exit their channel businesses, industry observers said.
"If there are older channel firms -- and we know there's quite a few -- and owners with an exit plan of two to five years, those with a two-year plan may accelerate," said Carolyn April, senior director of industry analysis at CompTIA, a nonprofit IT trade association. While April couldn't point to any data showing an acceleration in exit plans, she said it "makes perfect sense" that older channel firm owners would be eyeing an exit in today's environment.
"Is this [an] opportune time to sell your business? Probably not. There's a little yin and yang going on there," April noted.
Nadir Merchant, general manager at IT Glue, said his conversation with IT Glue MSP customers in early March up to April showed there was a lot of uncertainty about the future and how cash flows would be affected. However, the pandemic's impact on MSPs' accounts receivables from March to May was less negative than had been anticipated. Almost 40% of MSPs had flat receivables and about 23% had decreased receivables, he said. "So, they have less money owed to them and, overall, that's positive."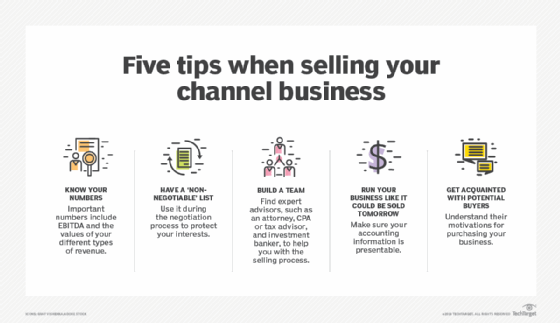 Entering June, that sentiment changed "quite dramatically," Merchant noted. In June, many MSPs told Merchant "things are pretty good" in receivables and that their businesses are overall very healthy. The only exception was vertically focused MSPs serving distressed industries such as hospitality and restaurants.
Arlin Sorensen, vice president of brand and ecosystem evangelism at ConnectWise, an MSP software vendor, echoed these sentiments. Sorensen facilitates peer groups and said that from what he has heard in those groups as well as in "a lot of partner interactions," the first half of 2020 was "very, very good" for MSPs.
A lot of partners have told me if that [momentum] could continue, 2020 would be their best year ever. However, that's not going to happen.

Arlin SorensenVice president of brand and ecosystem evangelism, ConnectWise
"When we got to April, a number of our partners had record months because of the work-from-home migration. So, April was an amazing month, and May was also good because a lot of work-from-home billings got done in May," Sorensen said. June was a good month, as well, because many MSPs received Paycheck Protection Program (PPP) funding, he added.
"A lot of partners have told me if that [momentum] could continue, 2020 would be their best year ever. However, that's not going to happen," Sorensen said.
The third quarter has many channel firms concerned. "Most partners are concerned that Q3 will begin to show evidence of small business struggles and PPP funds running out," Sorensen noted. That concern extends beyond the third quarter to the end of the year and into the beginning of 2021.
In general, most IT services firms are expecting flat revenues to be slightly down for the year of 2020 overall. In 2021, all bets are off, he said. "That could all change if the [federal] government plans another round of support."
Consequently, channel business owners who had an exit strategy in place prior to the pandemic are continuing down that road for the most part, Sorensen said. "Deals that were in motion have completed for a lot of [partners], and there's a lot of activity going on with people who had plans and wanted to exit."
Time to scale the business?
Unlike Merchant, Sorensen said he hasn't seen channel business valuations drop significantly, which is what a lot of people would have expected to see.
But the structure of those deals has changed. At the end of 2019, they were heavily cash-based or 100% cash, and "now there is a more balanced approach" with the sale prices based on the performance of the business over time. "So, the total valuation offer is the same, but the way you earn it is different,'' Sorensen said.
However, the picture is changing. Right now, "everyone sees the potential for some real struggles in the channel, and they know there's going to be partners that will struggle to stay in business over the next 12 to 18 months," he said. This will create opportunities for partners to grow through acquisitions, and there is "a lot of speculation that valuation prices will go down."
At the same time, he said, a lot of owners are interested in acquiring other channel firms. It's hard to know if valuations will fall because of the number of buyers in the market now.
"You had a strong half [of the year] and PPP, so there's more money in the channel than there has been for long time," Sorensen said. "It's artificial in a lot of ways, so that's a concern from a business management perspective. But some partners have more cash in the bank than ever, and if they can find the right deals, they're going to do them."
Merchant said he's heard of some very small MSPs closing up shop since the pandemic began but that he mainly speaks to large MSPs looking to acquire others. There are "a few that have said they're actively shopping now, and others have said they'll be shopping later this year," he said. He noted he doesn't have specific data to show this.
Sorensen said he doesn't know of any MSPs that have closed their businesses. "They've certainly had to downsize and furlough people, and PPP has been very important to those kinds of partners, for sure."
Unlike the recession of 2008, which was an economic crisis, CompTIA's April said it's harder to predict what will happen due to this being a public health crisis. She offered some prescriptive advice. "If, as a company, you're able to continue making investments, even if you pull back on them slightly … it's a good thing to do, from a future perspective. You'll be better positioned coming out of rough times."
Yet, because of the unpredictable nature of the pandemic, April added, "companies continuing to make investments may end up being in a [position] of treading water."
CompTIA has not followed up on a channel partner study the one it conducted in 2017, which found that about 40% of the channel business community expected to retire over the next decade. In 2020, "my gut tells me it would be about the same, because we have not seen a huge pipeline into the channel. The whole aging story still exists" with many companies having a sole owner who will retire when they reach a certain age, she said.
Sorensen summed up the channel business exit scenario by saying, "I think it's going to be a good time to be a buyer and a good time to be a seller. I haven't seen a drastic uptick in exit strategies, but I think there will be a dramatic uptick in stressed companies if things don't turn around."