olly - Fotolia
Customers expand IT capabilities for business in the new normal
The pandemic has sparked new directions for Insight Enterprises' project work. Clients are looking to build IT capabilities for unique types of business problems.
Sudden and unprecedented are words often used to describe the changes stemming from the COVID-19 pandemic. As the U.S. took measures to slow the virus' spread, channel partners found that projects involving clients in hard-hit industries, such as retail, restaurants and air travel, came to a screeching halt.
At the same time, however, new opportunities emerged in areas spanning remote collaboration, digitization and IoT applications, according to Mike Gaumond, senior vice president and general manager of connected workforce solutions at Insight Enterprises Inc.
Founded in 1988, Insight Enterprises has about 11,000 employees worldwide. The technology solution provider operates four core business units: digital innovation, connected workforce, cloud and data, and supply chain optimization.
Enabling remote workforces
In February, as the coronavirus began taking hold in the U.S., a few clients reached out to Insight Enterprises for advice on how their organizations should respond. In March, the phones rang off the hook. "Clients wanted help enabling remote workforces," Gaumond explained. "Some were highly prepared, but many were not."
Insight Enterprises had a number of engagements where enterprises had to rapidly move from legacy desktop computers with wired LAN connection to laptops or tablets with wireless links.
Such projects sparked the need for new IT capabilities. Corporations wanted to ensure their infrastructure, from the servers sitting in the data center to user end points, was protected. Security checks like virtual private networks were deployed. Insight Enterprises also helped upgrade clients' networks so they could handle the dramatic change in communications patterns. Enterprise customers also continued their migration to the cloud, with private, hybrid and public services.
The solution provider saw a five-fold increase in the use of collaboration tools like Microsoft Teams and Cisco Webex, according to Gaumond. "Initially, organizations, like retailers, really struggled putting processes in place to use team solutions," he said. "It is a much different communications style. They no longer rely on email but on channels and shared documents. So, companies need to understand how to work more collaboratively."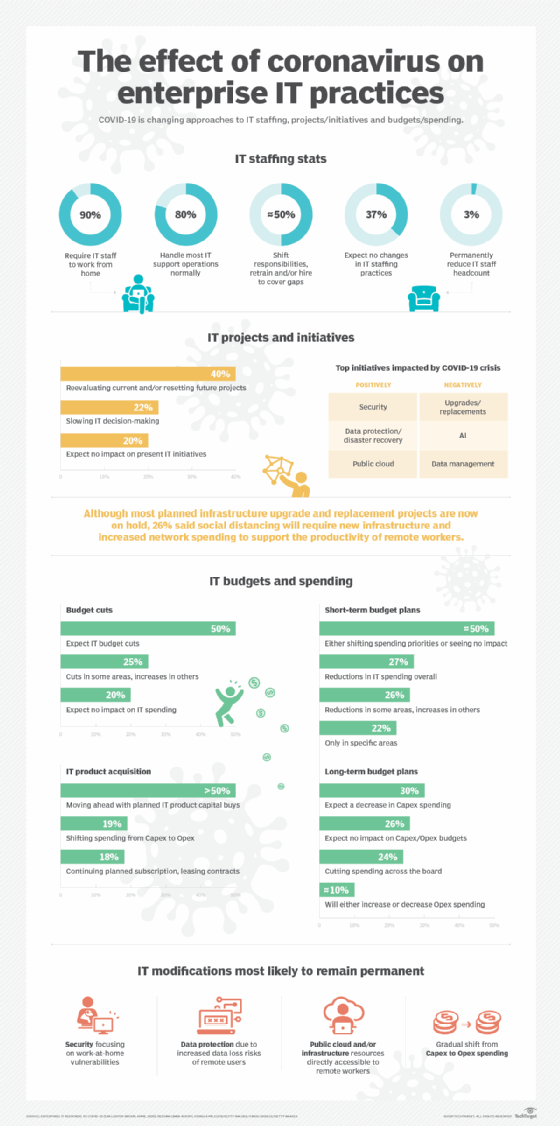 Changes in business processes
The pandemic forced some organizations to make full-scale changes in their operations.
One of Insight's customers, a pet supply retailer, had to revamp its entire retail purchasing process. The customer's in-stores sales traditionally included doing a barcode scan at the register, then running a credit card check and printing the receipt. Insight helped the customer put a new digitized process in place. Consumers now order products online, and then employees pack the items and place them curbside where customers can pick them up.
Another client, a hearing aid supplier, had to make a similar transformation. Rather than a face-to-face evaluation and product selection, doctors and clients exchanged information through a telemedicine application. "Many of the customers were older and not very technically savvy, so we had to make the user interface simple and ensure that they saw the clinician during the process," Gaumond noted.
For years, we have been advocating remote work, and now more corporations are embracing it.

Mike GaumondSenior vice president and general manager of connected workforce solutions, Insight Enterprises
Preparing commercial spaces for the new normal
Insight Enterprises has also engaged organizations in retail, restaurant, sports and entertainment sectors to help prepare them for reopening once social distancing restrictions are lifted. In this new normal, they needed to create safe, clean environments for their on-site customers. This required developing new IT capabilities.
A bevy of new IoT applications have been in-demand as customers pursue safer physical environments. Insight Enterprises uses its Connected IoT Platform as the foundation for these new applications.
One client built smart thermometers for passive temperature scanning, used in hospitals to detect signs of fever.
Smart soap dispensers were developed for ensuring sanitary practices among employees. "By scanning employee badges, the company could tell if someone washed their hands before touching food," Gaumond said.
Insight Enterprises tweaked video surveillance systems applications used in restaurant areas and other spaces to monitor employee/customer interactions. By adding facial recognition to such systems, a company ensured staff members wore masks -- for example, cooks when working with food.
Interest in remote work rises
The changes wrought by countrywide social distancing efforts have forced some companies to work in new ways. Looking forward, the changes could have a lasting impact. "For years, we have been advocating remote work, and now more corporations are embracing it," Gaumond said.
According to Insight Enterprises, the company has helped customers align with an increasingly remote work-based future, including in the following cases:
A hospital plans to have about 70 administrators work remotely, reducing facility costs dramatically.
More hospital clients increased investments in delivering telemedicine, which has emerged as a viable option in healthcare.
After shuttering schools, many educational institutions working with Insight Enterprises have built out IT capabilities for online learning.
A large financial services firm expects to rely on collaboration tools rather than have thousands of employees travel to customer sites and conduct tax audits face to
Gaumond noted that Insight Enterprises' employees have showed ingenuity in trying to help their customers. For example, a group of the company's 3D printing enthusiasts formed a virtual online network dedicated to helping combat U.S. ventilator shortages. Insight Enterprises printed thousands of computer-aided designs for ventilator manifolds, which were shipped to local hospitals, Gaumond said.
"No manager told them to do it. They just saw the need and filled it," he said.