Fotolia
In a pandemic, demand for telehealth services soars
Telehealth services are in high demand due to the coronavirus pandemic, but can providers keep pace?
Telehealth is at a pivotal moment, as patients are urged to stay home and seek remote care during the coronavirus pandemic. Leaders from across the nation, including President Donald Trump, are clearing the way to bring telehealth services into their homes.
On Tuesday, Trump expanded Telehealth visits for Medicare patients, who can now visit any doctor by phone or video visit at no additional cost. HIPAA penalties enforced by the Office for Civil Rights have also been waived in certain situations to allow doctors more flexibility to treat patients with technologies like FaceTime and Skype.
Trump said states also have the authority to cover telehealth services for patients. New York Governor Andrew Cuomo tweeted that the state has ordered co-pay fees to be eliminated for telehealth consultations.
"Use telehealth services before going to the doctor's office, urgent care, or the ER," Cuomo tweeted. "It keeps you safer, and it keeps those around you safer."
While steps are being taken to open virtual doors for patients, telemedicine service providers are struggling under the weight of increased demand.
Telehealth visits increase during outbreak
As more patients use telehealth services, telemedicine services provider Amwell said in a statement that it is seeing an "unprecedented increase in the volume of patients seeking advice and care."
In response to increased call volumes, Amwell is deploying new servers and routers to "ensure video capacity across our clients' telehealth systems." Amwell serves 150 million patients through its partnerships with more than 55 health plans, including Blue Cross Blue Shield plans and UnitedHealthcare, and more than 240 health systems, including Cleveland Clinic, Intermountain Healthcare and NewYork-Presbyterian Hospital.
"We remain in close contact with our clients through these uncertain times and are committed to delivering high-quality telehealth across the many channels we serve," Amwell said in the statement.
Telehealth services providers aren't the only ones trying to keep up with demand for virtual care.
Aaron Miri, CIO at the University of Texas at Austin Dell Medical School and UT Health Austin, said the academic medical center expanded its telehealth services over the weekend to help providers keep up with patient care. Miri said the biggest obstacles he faced were "logistical," such as streamlining the medical staff telehealth credentialing process, ensuring providers had the appropriate licensing to provide those services, and figuring out the right billing criteria for telehealth services.
"It is clear that the community is worried and looking for some reassurance and I'm really proud of our providers for stepping up and providing that," Miri said.
Amwell president and CEO Roy Schoenberg also acknowledged the difficulty of ramping up so quickly. "Nobody was prepared for the reality of such a spike in people's concern about healthcare," he said. But, he said, telehealth services could help meet the demands the pandemic is placing on the healthcare infrastructure. He pointed to load balancing as an example of how telehealth could help.
Load balancing is an "automated capability in the infrastructure to broker supply and demand as necessary," he said, and make clinicians from different places available in locations where there is high demand for medical care.
"The problem with physical healthcare, if you throw 20 physicians into a hospital, that's what you have, it's fixed availability," Schoenberg said. "You can throw in 20 more physicians, but then you have 40 physicians in that hospital and if the patients show up in another hospital, that hospital where you took the 20 physicians from doesn't have services. Whereas, if you use a technology infrastructure for telehealth, those clinicians can actually be available to the pool and that pool can dynamically serve wherever the demand shows up."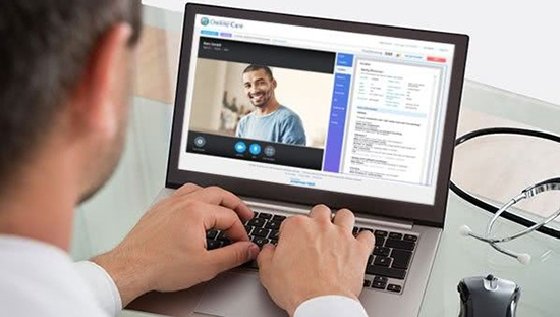 A breakthrough for telehealth
Forrester Research analyst Arielle Trzcinski described the current crisis as "pivotal" for telehealth -- one that solidifies 2020 as a turning point in how patients seek and receive care.
I see the COVID-19 crisis as a moment that will forever establish virtual care as a viable alternative to in-person care.

Arielle TrzcinskiAnalyst, Forrester Research
Trzcinski said the coronavirus pandemic is putting increased pressure on telemedicine providers to deliver services, but it's also showing the level of support telehealth platforms can offer. They can even provide ways for patients to check symptoms through self-triage before they schedule a virtual visit. Self-triage enables providers to prioritize treatment, she said.
"We're seeing this as a way of being able to respond at scale to meet the needs of consumers that might be self-isolating, quarantining, or even thinking about how do we relieve some of the pressure on already strained resources within a health system," Trzcinski said.
As use of telehealth skyrockets, Trzcinski said it will have a long-term impact on telehealth enrollment and adoption as people are exposed to the convenience and cost-effectiveness of virtual visits.
"I see the COVID-19 crisis as a moment that will forever establish virtual care as a viable alternative to in-person care," she said.
Dig Deeper on Healthcare IT systems and applications