5 tips for building a successful MSP marketing strategy
MSPs need to develop a marketing strategy if they hope to grow beyond the startup stage. Industry executives share their views on everything to include in a marketing approach.
A well-defined MSP marketing strategy is one of the most elusive assets in the managed services industry.
To create and execute a successful strategy, MSPs must have a clear picture of the customers they aim to serve. Additionally, MSPs should know what specific IT skills they are best at delivering and create a company brand that communicates who they are to the marketplace.
Here, we'll provide insight into key areas for getting an MSP marketing operation off the ground.
1. Identify what sets you apart
Companies use MSPs for different types of IT support, such as outsourced email or help desk duties; network, cloud and cybersecurity management; and consulting services. With so many areas in which MSPs can potentially offer expertise, they should opt to specialize in various skills to competitively differentiate themselves and create a powerful go-to-market strategy.
MSPs must ask themselves what they do best, said Peter Kujawa, division president of Locknet Managed IT Services, an MSP based in Wausau, Wis., and a division of EO Johnson Business Technologies. He noted MSPs should identify what types of clients they are best suited to take care of, as well as which clients they struggle with the most, either from a client satisfaction or profitability standpoint.
"It is important for the MSP to know what a perfect client looks like so they can focus their sales and product development efforts on going after those clients," Kujawa said. "It is equally important that they learn to say 'no' to clients that don't fit them and don't try to be all things to all prospects. They may get the deal today, but it will hurt them in the long term to bring on clients that don't fit them."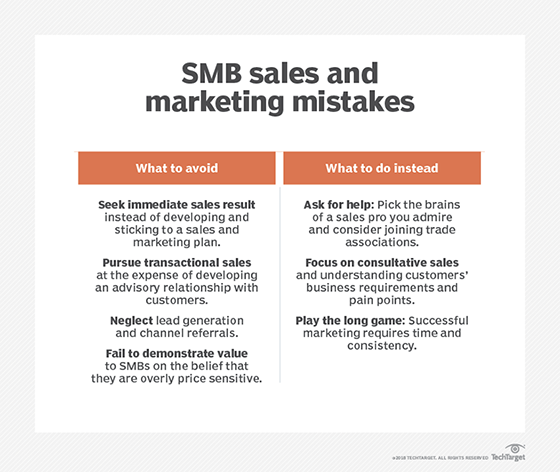 2. Establish your brand
As MSPs get to know their customers better, it's critical to have a strong company brand in place, said Jennifer Anaya, senior vice president of marketing at Ingram Micro, a distributor based in Irvine, Calif. MSPs need that brand identity for the sole reason that their customers are buying their promise: an exceptional service experience with consistent service levels and competent people who can manage their technology as required.
"It's important to focus a brand around what your company represents and what you do that your customers can't live without," Anaya said. "Take some time to ask your customers and associates: 'Why do they work for you? Why do they do business with you? How is your service different from other companies?'"
3. Launch a digital marketing initiative
Once MSPs discover their brand, Anaya suggested they embark on a digital marketing plan that reaches their target audience over strategic technology platforms. To do this, they must identify a marketing budget and appoint someone to a dedicated marketing role. It won't cut it to have employees who do marketing as only part of their job function.
MSPs should also select the right mix of digital marketing media, including social and web properties, to tell their company story, she said. Additionally, MSPs should consider a website update to ensure it reflects their brand promise and has solid search engine optimization (SEO) in place.
"We also recommend reviewing your sales process to ensure the digital marketing is tied into your customer relationship management platform and rules of engagement are set so sales representatives know how to follow up with ready prospects or nurture those who may not be ready for a sales conversation," Anaya said. "Finally, once those steps are complete, then the right [automated marketing] technology solution can be chosen -- one that will work hard for you."
4. Create awareness and demand
As MSPs take the necessary steps to market their business, their strategy should include many avenues to broadcast a company's value, said Andra Hedden, chief marketing officer at Marketopia, an IT marketing firm based in St. Petersburg, Fla. That includes using different digital platforms, because the more customers receive the message, the more likely they are to respond.
Hedden specified key categories that must be included in every MSP marketing strategy.
It's important to focus a brand around what your company represents and what you do that your customers can't live without.

Jennifer AnyaSenior vice president of marketing, Ingram Micro
Awareness
To succeed at lead generation, MSPs must target potential clients with information about what they offer and the value they deliver.
Hedden recommended that MSPs use the following marketing materials to help prospects get to know their brand and specializations:
Press releases
Social media (i.e., LinkedIn)
White papers
Videos
Webinars
She also suggested that MSPs join community and social organizations to help raise their profiles.
Demand
After creating awareness, MSPs then must create a strategy to generate demand and capture leads. Hedden advised the following activities:
Appointment setting
Email marketing
Direct mail marketing
White paper and case study downloads
Website visitor tracking
5. Get support for your MSP marketing efforts
MSPs can also tap vendors and distributors to help hone their sales and marketing efforts. However, they must decide the best way to engage with distribution or vendor programs.
According to Anaya, MSPs should find out what their distributors or vendors offer in terms of training, events, through-market programs and marketing services. Before requesting help, MSPs should pull together a marketing plan that outlines their sales objectives and the marketing strategies they've decided to use to address those objectives. The plan should also include marketing activities they know they'll be budgeting for and summarize the areas where they need help from their distribution or vendor partners.
"This plan will serve as an excellent foundation for any discussion with business partners. Why? Because it will clearly articulate an MSP's business strategy in a way that partners can engage in and support," Anaya said. "Additionally, it will help MSPs focus on where they want and need to spend time and dollars to achieve their goals."