vege - Fotolia
21 lead generation tools to fill the sales funnel
While live events are on hiatus, there are other tools that businesses can use to generate sales leads, such as email tracking, marketing automation and social media.
Finding success in sales has always been hard work, and it's been even harder to reach target audiences as COVID-19 rages throughout the world.
Due to the cancellation or postponement of most live events across the globe this year and events becoming virtual, sales teams everywhere are finding a need to adapt their approach to attaining sales leads. Luckily, leads can come from a variety of sources, including the internet, personal connections, phone, advertisements, social media and other events.
With so many avenues for advertising and lead nurturing, effective martech tools for lead management, data collection, email tracking and marketing automation have never been more important. And there is no shortage of tools in the market to help businesses meet those demands.
Here are some lead generation tools that businesses can use to engage customers and fill their sales funnel.
Data collection and analysis
This category of lead generation tools can help sales staffs work smarter by collecting information into a database and informing the sales process.
HubSpot
HubSpot offers a customer relationship management platform -- among other tools -- that includes the ability to track behaviors and digital interactions with prospective customers. HubSpot offers a freemium version of its CRM platform, and businesses can upgrade -- adding paid options -- as they grow. Organizations can measure interactions across social media, landing pages, calls to action and their business website. This helps organizations recognize what is working in their efforts to reach target audiences and can help them understand what potential leads need.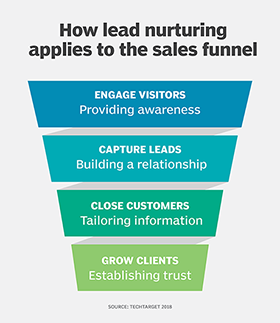 Salesforce
Another popular vendor that offers a CRM system, sales and marketing tools -- among other things -- is Salesforce. Organizations of all sizes can benefit from Salesforce's CRM platform, but the company does not offer a free option like HubSpot. However, eligible nonprofit organizations can benefit from Salesforce, receiving the first 10 subscriptions of Sales and Service Cloud Enterprise Edition for free.
Leadformly
For a different take on data collection tools, one product of note is Leadformly. This tool's emphasis is on revamping and optimizing the lead capture form to increase the sales conversion rate. Leadformly uses conditional logic to segment leads, highly customizable forms and built-in analytics and audience insights to help businesses get more out of their web traffic.
Sourcing
Sourcing is often the start of the sales lead generation process, and there are resources available to help associates within sales operations tap into an existing database of business contacts to feed the sales funnel. Companies such as ZoomInfo, Lead411 and AeroLeads do just that with their account-based marketing software.
Sourcing is often the start of the sales lead generation process.
ZoomInfo
ZoomInfo provides users access to contact data such as email addresses, phone numbers, city, company, number of employees and more in a searchable database to help feed the sales funnel. A business can download leads right into its CRM system.
Lead411
Lead411 also provides businesses with complete contact data profiles and enables users to reach out directly from its platform, eliminating the need for exporting lists to a third-party platform. Recruiters, sales teams and marketing managers can benefit from this platform.
AeroLeads
AeroLeads provides similar customer details on prospective customers as ZoomInfo and Lead411, but it can also scan networks such as LinkedIn and AngelList via a Google Chrome extension.
Email tracking
Email tracking technology is another lead generation tool, making it possible for organizations to determine exactly what happens to emails after an organization sends them. Businesses can determine if someone opened an email, who opened it, the time it was opened, where the prospect was when they opened it and whether they visited the business website after opening the email.
LeadBoxer
LeadBoxer is a lead scoring and lead generation tool that also provides email tracking capabilities. It integrates with CRM systems and other sales tools via an API. Software users can also combine email and website behavior into a single customer view.
Outreach
Outreach offers another email tracking tool. It also provides insights into a customer's likes and preferences, and it enables businesses to access email templates right from Gmail.
Yesware
Another vendor that provides an email tracking tool is Yesware. This software lives right in a user's inbox and provides tools such as email tracking, templates, reporting and reminders. It can also sync sales activity with Salesforce.
Mixmax
Mixmax provides another email tracking tool, but is unique in that it also has enhanced functions such as calendar invites, polls and media attachments built into the tool.
Social media
The best way for organizations to attract their intended audience through social media is to actively engage with them by posting relevant content, interacting with them regularly and pushing advertisements. Businesses can largely automate these digital marketing efforts by using social media tools.
These platforms enable organizations to schedule posts ahead of time across multiple social media platforms -- such as Facebook, Twitter, LinkedIn and Instagram. Business can map their social media strategy more easily by scheduling posts, monitoring feeds and synchronizing messages across social media platforms in a single location.
Hootsuite
Other social networks that Hootsuite supports include Pinterest, YouTube, Tumblr and Vimeo. Hootsuite can manage up to 35 social profiles, depending on the plan a business chooses.
Sprout Social
Sprout Social also supports integrations with Pinterest and YouTube and can manage up to 10 social profiles, depending on the plan a company purchases. This software also provides social listening capabilities, uncovering customer insights from conversations on a business's social networks.
SocialJukebox
SocialJukebox is another social media tool that offers the ability to create playlists for each of an organization's social media profiles that can be set to run on a specific schedule or automatically repeat for ongoing social coverage. For these ongoing campaigns, businesses can set the attributes so that the same post is never sent twice within a defined period -- for example, no more than once every 15 days.
Followerwonk
Followerwonk is a social media tool that analyzes Twitter bios to help identify influencers and provides analytics with comparisons to competitors. With this product, organizations can match Twitter activity to gains or losses to drive customer engagement and growth on their feed.
Sumo
Sumo is also focused on driving social media traffic, but does so with a social shares feature, making it easy for the audience to share an organization's content while the software tracks and reports shares.
Marketing automation
There are many automation options available to make marketing efforts such as text messaging, instant messaging, email campaigns and push notifications easier.
Mailchimp
Mailchimp is an email marketing automation tool with message templates that enable organizations to send text messages and email messages from a single platform. This tool enables businesses to segment their audience for targeted mailing lists, focusing messages and timing to drive sales.
ActiveCampaign
Another marketing automation option is ActiveCampaign, which includes free CRM capabilities, email marketing automation and the ability to track and measure form and email interactions.
Autopilot
For a product with similar functionality to ActiveCampaign -- and a simple user interface -- businesses can check out Autopilot. Autopilot offers a highly visual user experience for market automation and is easily integrated with hundreds of apps.
Contest entry
Contests can be another motivating lead generation tool and a great way to build brand awareness. By setting up a giveaway, sweepstake or hashtag contest on social media, organizations can increase web traffic and potential leads significantly.
Shortstack
One of the go-to tools for contest management is Shortstack. This tool is easily customizable and enables businesses to develop branded landing pages, run contests, contact the audience and track results all in one place. Shortstack enables contest entry via Facebook, Twitter, Instagram and TikTok.
Vyper
Vyper is a tool that enables businesses to set up loyalty programs, referral campaigns, giveaways and contests. It also provides email marketing capabilities, such as auto-responders, template management and subscriber management.
Rafflecopter
Rafflecopter is another contest entry tool and is known for being quick and easy to use. It also offers options for contest entry via Pinterest, Twitter, Facebook and email.
Editor's note: TechTarget offers ABM and project intelligence data, tools and services.