Bacho Foto - stock.adobe.com
Capitol riots spark e-commerce terms of service enforcement
Shopify, Salesforce and Google take action in wake of Capitol riots, as adware and customer experience platforms play an uncomfortable role in political events and discourse.
Adware and customer experience platforms can be tools for fundraising through marketing automation, and for merchandise sales through e-commerce sites. Sometimes, political events such as the U.S. Capitol riots force vendors who host these platforms to choose sides.
Google told its advertisers Wednesday that it has paused some ads since Jan. 6., given the violent acts in Washington. On Jan. 14, the company expanded the ban to political ads until at least Jan. 21. Advertisers will not be able to run ads that reference candidates, the election, its outcome, the upcoming presidential inauguration, the ongoing presidential impeachment process, violence at the U.S. Capitol, or future planned protests. The ban also covers merchandise advertisers.
Google regularly pauses ads over what it defines as "sensitive events" when ads can be used to exploit them or mislead, a Google spokesperson said. Google blocks content that it determines would incite violence or promote hate, and the company pledges to be "extremely vigilant" about enforcement.
Canadian e-commerce platform Shopify removed both the Trump Organization and Shop.DonaldJTrump.com stores on e-commerce terms of service grounds, saying their merchandise "violated a policy that prohibits the support of organizations or people 'that threaten or condone violence to further a cause,'" the company told The New York Times.
Trump, RNC get digital pushback
Trump accounts have been suspended elsewhere on the web, and social media sites have suspended accounts. A social media platform called Parler that defined itself as the free speech alternative to Twitter was removed from AWS for allowing violent content without moderation -- a violation of AWS' terms of service.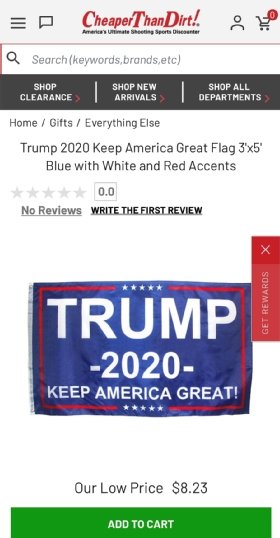 The Trump Make America Great Again Committee used the Salesforce platform to send fundraising emails themed around contesting the election the day before the Capitol riots, according to a Vice report. The group is jointly run by Donald J. Trump for President Inc., Save America, and the Republican National Committee (RNC).
In response, Salesforce offered a statement saying it took action against the RNC, a longtime customer, to prevent its use of services in any way that could lead to violence, but stopped short of providing specific details about its actions with the RNC.
"Salesforce has an Acceptable Use Policy that prohibits customers from using our platform to promote, support, or facilitate unlawful, hateful, discriminatory, or violent causes," the company said in an emailed statement. "If we become aware of a violation that reaches this threshold, we will reach out to the customer to make them aware of the issue and discuss next steps."
On the e-commerce side, sellers continue to sell Trump-themed merchandise on Salesforce, BigCommerce and Shopify sites. Shopify and competitor BigCommerce did not respond to requests for comment.
E-commerce terms of service hard to enforce at scale
IDC analyst Jordan Jewell said it's difficult for large platforms to monitor sellers, even when what they're selling could be interpreted as violating e-commerce terms of service. Not all of it is explicit in potential terms-of-service violations, making it a difficult choice.
Add to that the no-win issue of political divisions; keeping the merchandise live can cause fallout with one group of shoppers, while removing it might upset others.
I think founders, owners and CEOs don't want it on their platforms, but they're trying to balance all these things.

Jordan JewellAnalyst, IDC
But mainly, the sheer volume of products makes it a massive undertaking. Jewell points to Amazon's perennial difficulties in rooting out fraudulent products and paid reviews from its sites as a comparably scaled initiative that is difficult to manage.
Shopify has a history of hesitating to enforce terms of service on controversial stores.
"But that's changing over time," Jewell said. "I think last week was kind of a tipping point, where it might look worse to not do it than to do it. I think founders, owners and CEOs don't want it on their platforms, but they're trying to balance all these things."
Shopify likely decided that keeping the official Trump stores on its platform might create an appearance that the company condoned fascism and terrorism, said Predrag Jakovljevic, analyst at Technology Evaluation Centers. He views Shopify's decision as one of conscience and corporate social responsibility. Ultimately, though, it's a business decision, as some shoppers now view MAGA hats as hate symbols, he added.
"The analogy would be you, an owner of a restaurant, having a noisy and rowdy customer that makes other customers uncomfortable and unhappy, and sometimes he even causes brawls and you lose other customers," Jakovljevic said. "Do you, as a private owner, have the right to fire that customer? Sure, his friends will no longer come, but [you keep the] majority of customers."