Halfpoint - Fotolia
Tech virtual conferences plagued by problems, boredom
Tech vendors staging virtual events during the pandemic have stumbled in trying to reproduce the in-person conference experience. Some have succeeded.
Chris Colotti's recorded presentation about ransomware for a recent virtual conference felt to him more like a dull webinar than the lively give-and-take he was used to from his days on the live event circuit.
Frustrated, the 20-year veteran of the tech business, who traveled to countless in-person events before they went digital due to the COVID-19 pandemic, posted on his personal blog about how he hates virtual events both as a speaker and attendee.
"It was a horrible experience on both sides of it," said Colotti, principal technologist for data management vendor Cohesity, noting that he was speaking for himself, not his employer. "One of the things I love as a presenter is engaging the input, and there was no way to see the audience reaction."
As for his attendee experience at a few other online tech conferences, Colotti said he found feedback channels as clumsy as a "1990s AOL chatroom."
Virtual conference woes
Four months after COVID-19 fears shut down in-person conferences, Colotti's experience is common and problems continue to plague virtual conferences -- from the notorious technical collapse at the start of software giant SAP's virtual conference in June, to a digital Adobe Summit in May described by several analysts as dull and repetitive, to any number of indistinctive Zoom user panels at smaller virtual conferences and chatrooms that fell apart.
Stephan Rasp, a machine learning researcher in Munich, Germany, presented at the recent International Conference on Learning Representations.
"There were a few people stopping by in the Zoom session afterwards," he said. "It was all kind of awkward. Half of the people I knew."
Critics say many virtual conferences suffer from primitive production values and offer little opportunity for attendees, partners and media to interact with each other and vendors. In addition, many vendors so tightly try to control messaging and content that the events come off as little more than advertorials or pumped-up webinars.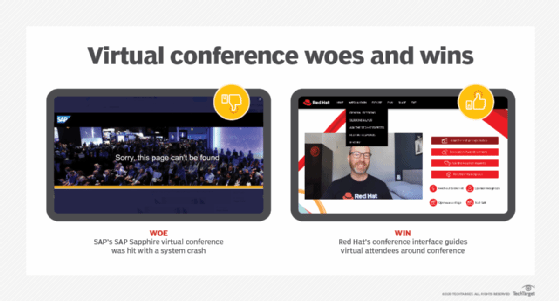 Some successes, too
To be sure, some tech vendors have staged successful digital events. And virtual conferences as a substitute for in-person shows are still in their formative stages, with vendors and other organizations and production companies working through what the most effective structure could be for digital-only events.
Analytics vendor Domo, CRM vendor Pegasystems, and NS1, a vendor of DNS management technology, produced virtual conferences that drew plaudits for their creative and engaging formats.
Conference producers are looking for the right mix of prerecorded and livestreamed content, determining the best time and length formats to keep viewers' eyes on their screens, and experimenting with strategies such as gamification. They are also still figuring out how to deliver incentives like conference swag and bigger prizes, and the appropriate use of humor and entertainment.
Undergirding all that is the importance of establishing a solid back end with enough bandwidth, a stable database capable of handling up to tens of thousands of instant interactions and transactions, and secure and reliable chat channels and video platforms.
SAP Sapphire meltdown
Some of these elements were missing when SAP tried to digitally stage its sprawling two-month-long Sapphire Now Reimagined conference.
The main part of the virtual conference was to open June 15 with a keynote from new CEO Christian Klein. Instead, viewers encountered blank screens and a system crash amid heavy attendee traffic, leaving virtual attendees unable to view the proceedings and SAP staff scurrying to respond to social media complaints. SAP attributed the crash to "technical problems."
"Wake up @SAP and @SAPPHIRENOW as no way a technology company shouldn't have tested [and repeated] to ensure their most important event of 2020 & 1st major public event of a new CEO doesn't have a 'servicedown' 7 minutes after the keynote is supposed to start," SAP implementation consultant Jarret Pazahanick tweeted to over 12,400 followers.
Adobe, known for its advanced CX technology, appeared to have flouted its own philosophy of creating the best experience for its customers.
Tech analyst Brent Leary of CRM Essentials tuned in to the Adobe Summit and found the keynote format -- with single camera view and "bad lighting" -- to be overly long for a virtual event.
Having your CEO talk in the camera with nothing else going on for 30 minutes just isn't good for the viewer.

Brent LearyAnalyst, CRM Essentials
"Having your CEO talk in the camera with nothing else going on for 30 minutes just isn't good for the viewer," Leary said. "I'm at home and I've got like five screens around me, and at any point if what I'm watching just isn't that engaging, it's so easy for me to toggle to a different screen."
Asked to comment, Adobe pointed to a blog about the conference by Adobe senior content strategist Kristine Hamlett, in which she elaborated on the technical challenges of recording videos remotely, often from presenters' homes.
Reinventing a conference model
The challenge of how to capture and keep viewers' attention was on the minds of Pegasystems executives when they gathered in their Cambridge, Mass., headquarters in April, near the start of the pandemic on the U.S. East Coast, to "re-imagine" their annual user conference for the virtual era, instead of simply trying to reproduce the physical conference experience.
One of their key decisions was to keep the entire production short: two-and-a-half hours. By comparison, many vendors have opted to run days-long digital conferences, 24-hour events in an attempt to attract viewers from around the world, and other formats.
Oracle decided to space out its Open World conference with once-a-month sessions over several months.
Somewhat counterintuitively, the Pegasystems virtual conference planners opted to prerecord CEO Alan Trefler's opening keynote but make it as entertaining as possible by mixing up his talk with graphics, music and text. Other sessions featured live Q&As with Pegasystems vendors and customers, usually moderated by a host.
Trefler recorded his keynote himself in his home study, with remote help from Pegasystems IT people, who helped him set up three cameras and edited the footage. Trefler stood in the foreground, taking up most of the frame. His speech was relatively short at 17 minutes.
Don Schuerman, CTO and vice president of product strategy at Pegasystems, and an accomplished improv actor on the side, said virtual conference designers would do well to incorporate values from the entertainment world. (One memorable episode at the virtual conference featured Schuerman walking his dog.)
"For keynotes, where it's someone just talking, I think it's actually a better attendee experience if it's prerecorded because it allows us to do the kind of cinematic things, with editing and graphics and camera angles," Schuerman said.
"These events have to be compact and short enough so people want to stick around. Leave them wanting more," he said, using the classic show business adage. "If you put on just another Zoom meeting for people to go to, they're going to be tuning out."
In another well-received bit from a virtual conference, video clips of Domo CEO Josh James popping up across the country visiting customers in the early days of state quarantines proved entertaining and upbeat under the circumstances.
You can't replace live events
Meanwhile, the abrupt and wholesale move to virtual conferences has been somewhat of a seismic shift, forcing even big industry event organizations such as the Corporate Event Marketing Association (CEMA) -- which counts tech giants as members -- to adapt quickly to the new virtual event perspective.
There's just no substitute for a real face-to-face encounter with people, or the intimate encounter of a meal or cup of coffee.

Kimberley GishlerCEO, Corporate Event Marketing Association
"Nothing will ever replace live, in-person events. That said, some elements of live conferences can be replicated relatively well -- such as keynotes, panels, breakout sessions, product demonstrations." said Kimberley Gishler, CEO of CEMA. "What's missing is the human touch element of relationship building. There's just no substitute for a real face-to-face encounter with people, or the intimate encounter of a meal or cup of coffee. I also think the energy of the crowd is missing."
Gishler and others said they expect in-person conferences to make a comeback, likely in smaller and more regional incarnations and in concert with virtual events.
In the meantime, a cottage industry of virtual conference production companies has sprung up. New and existing media companies are vying for business not only from tech vendors, but also from companies in other industries and largely nonprofit industry and technical associations that depend much more on physical conference revenues than do tech vendors.
Digital media's fortunes on the rise
One of the more established of these, Intrado, has seen its virtual conference business soar during the pandemic, said Ben Chodor, president of digital media at Intrado.
Chodor said virtual conference technology and formats, and people's acceptance of video communications, have advanced quickly and companies are finding they can get as much or more engagement and sales leads virtually as with physical events.
Other benefits of virtual conferences, according to their fans, are the cost; they are free or cheap to attend and don't require expensive travel. As a result, many virtual conferences see much higher registration numbers than the traditional in-person shows, and, often, higher attendance, if for shorter periods.
But the right techniques for each species, virtual and physical, differ distinctly, Chodor said. For example, as opposed to an in-person conference with attendees in one big hall and a series of smaller halls, virtual events much reach attendees using radically different devices, from smartphones to laptops to 60-inch high-definition TV screens.
"You almost have to put more effort into creating a virtual event," Chodor said. "In a lot of ways putting on a virtual event is like putting on a television show, so you really need to think about content, whereas at a physical event, there are a lot of things you can get involved with and a lot of places you can go and you're not just attending for content."
One big problem with virtual events, Chodor acknowledged, is reproducing the random hallway or lounge encounter, the ease of setting up one-on-one meetings and the frequent opportunities for attendees -- including media representatives -- to ask questions of vendors and each other. His company is working on that now, he said.
"When you see our product in 2021, there will be a big emphasis on the one-on-one capability," Chodor said.
For NS1, the DNS vendor, its first-ever conference was virtual. NS1 conference planners said this lack of in-person conference history enabled them to work without preconceptions.
They came up with multiple contests and prizes, a chat channel about puppies and 50 Slack channels that enabled all attendees, including competitors and media, to ask questions of each panel presenter. Other innovative features were a code of conduct attendees had to agree to, to counter chat bullying or other inappropriate online behavior, and a real-time illustrator who drew colorful and striking diagrams, or "artifacts," depicting some sessions.
The 2013 startup came away from the one-day conference with some 3 million social media impressions and many valuable sales leads.
Long way to go for virtual events
Yet, the standard for conference visuals in the early days of the pervasive virtual event format remains in many cases the static, video conference screen dominated by the faces of panelists, a syndrome that Liz Miller, a Constellation Research analyst, likened to the "hostage video" look.
Vendors "started with this assumption that the reason people went to events is to hear them, and so what has happened is with virtual events, you log on and hear four hours of 'This is how we're awesome because this is how we've addressed COVID,'" Miller said. "And 'Oh, by the way, here are all our great products and services, and we might let you hear from a customer.'"
For Colotti, the disgruntled conference presenter and attendee, the virtual events, while improving, still are a poor imitation of the real thing.
"I'm not going to watch anything for eight hours straight," he said. "The advantage of being in a physical conference all day is you're in a room for 40 minutes, then you walk into the next room, and then there's the hallway traffic. In a virtual conference you just don't have hallway traffic."
The lost networking opportunities are a major downside as well, he added.
"There's no networking, there's no 'Hey, how are you doing, I haven't seen you in a while, here's my card,'" Colotti added.