Getty Images
Adobe and RainFocus pair for more data insight at events
The CX software giant pairs with the event marketing services vendor to provide customers with tools for deeper personalized experiences at in-person and online events.
Adobe will bring event marketing technology into its customer data platform through a partnership with RainFocus, unveiled on Tuesday, to boost marketing relevancy and personalization at events.
The CX software giant integrated RainFocus' event marketing platform into its customer data platform, the AI-supported Adobe Experience Platform (AEP), for Adobe customers to easily track users' data whether they attend events in person or online.
The vendors showcased the integration at Adobe's annual user conference, Adobe Summit, which is being held this week in Las Vegas and virtually. In addition Adobe is using the RainFocus platform at the conference.
"Unified events -- real life, virtual, hybrid -- are a perfect opportunity to showcase the benefits for real-time analytics and the latest AI-infused features of the Adobe Experience Platform and the Creative Cloud," said Opus Research analyst Dan Miller.
Following the data
RainFocus' platform tracks attendees' engagement with a company's various events and aggregates the data.
AEP then consumes and organizes that data, enabling customers to wield it for analytics and visualize users' digital experiences. With this partnership Adobe and RainFocus hope to produce, at scale, more relevant and personalized experiences for each user, according to the vendors.
"Bringing together Adobe and RainFocus capabilities in an integrated platform will bring more end-to-end understanding of conference attendees for more targeted nurturing in real time," said Valoir analyst Rebecca Wettemann. "This is a natural step as companies try to get more accurate ROI data from various events, both in person and virtual."
In the past, events' executions, deliveries and engagements were isolated to a specific event rather than integrated into users' data profiles, according to RainFocus CEO JR Sherman. RainFocus' data collection and aggregation tools take advantage of user participation that occurs at events to analyze users' proclivities.
These event attendees "exhibit preferences and behaviors, and they consume content and they network with people," Sherman said. "At the end of that, a spreadsheet is created, and it's sent over to marketing. And they look at the digital marketing campaigns and say, 'Yes, we can put these folks into these campaigns.'"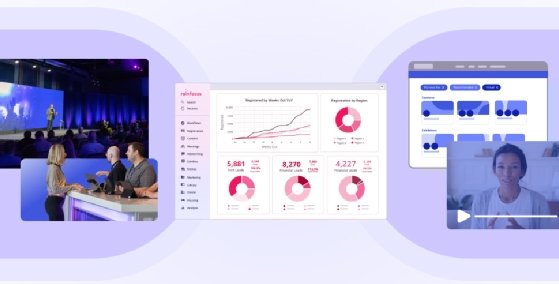 This partnership makes use of the data generated at numerous types of events to better understand customers, said Liz Miller, an analyst at Constellation Research.
"Far too often, events -- and the attendee data they generate -- are left to languish in traditional stacks and systems," Miller said. "They are often considered part of a lead journey and relegated to a workflow in CRM. Or they are reviewed in a silo and not incorporated into any long-term or lasting journey orchestration."
"While most large conference or event platforms integrate directly into a CRM system, this RainFocus/Adobe pairing integrates data across the CX landscape," she added.
Potential future integration
Bringing together Adobe and RainFocus capabilities in an integrated platform will bring more end-to-end understanding of conference attendees for more targeted nurturing in real time.

Rebecca WettemannAnalyst, Valoir
"The trend is to get more so-called zero-data and first-data straight from the customer/prospect," said Technology Evaluation Centers analyst Predrag Jakovljevic.
Together, RainFocus and Adobe lasso zero- and first-party data generated at events to buoy marketers' efforts and, ideally, make the user experience more specific from customer to customer.
It will be interesting to see how RainFocus integrates into Adobe's Journey Builder tool, Jakovljevic said. The tool uses AI-backed technology for demographic segmentation and customer engagement collection in Marketo Engage, Adobe's automated marketing platform.
The two software components that drive the integration -- Tag Extension and Source Connector -- are generally available immediately to mutual customers of RainFocus and Adobe.
Mary Reines is a news writer covering customer experience and unified communications for TechTarget Editorial. Prior to TechTarget, Reines was arts editor at the Marblehead Reporter.