Sergey Nivens - Fotolia
Adobe AI-based Predictive Audiences added to Marketo Engage
Adobe adds Predictive Audiences to Marketo Engage. The personalization tool is geared for users who manage marketing messaging to live and online event attendees.
Adobe has added its Predictive Audiences feature to its Marketo Engage platform. The tool aims to give event marketing teams a way to get the same response out of smaller, more targeted campaigns without messaging their entire universe of leads.
Predictive Audiences for Marketo Engage is completely unrelated to the Adobe Experience Cloud's Audience Manager feature with the same name that went live in May. In Marketo, the Adobe AI-powered feature suggests marketing segments -- groups of prospective customers -- that can be used for individual campaigns. The personalization it offers in Marketo is tied to B2B event marketing, both live and online.
Adobe AI and machine learning algorithms in Predictive Audiences can spot tightly targeted groups of event attendees that would be ripe for response to campaigns. It can also offer suggestions for broadening a segment during a campaign when it looks like participation may fall short -- such as when marketing webinar signups fall below intended numbers.
The idea, said Niranjan Kumbi, Adobe senior product manager for Marketo Engage, is to prevent over-communicating with prospective customers. While geared to event marketing teams -- which are busy spinning up virtual marketing events now that live events have mostly been canceled due to the pandemic -- users may, in time, use a Predictive Audiences feature that creates look-alike audiences to gauge potential opt-outs for email campaigns, too.
"We have seen more traction with event marketers," Kumbi said, adding that webinar vendors are getting better at reproducing live events by fostering chat discussions, one-on-one conversations and group Q&As in virtual settings. Marketo's new features work with those platforms to enrich customer profiles by tracking which attendees expressed interest in particular topics, he said, adding, "We can capture those signals, so we can better engage."
Marketers expecting AI tools like this
Users are demanding AI tools from Adobe, and its competitors such as Salesforce, when they buy marketing automation packages, even though they don't necessarily use them right away, said Gartner analyst Noah Elkin. Current and planned AI features get factored into buying decisions.
We're starting to see B2B and B2C companies both asking to see what the AI and machine-learning roadmap is among marketing automation providers.

Noah ElkinAnalyst, Gartner
"There's a certain expectation among marketers that there are artificial intelligence and machine learning capabilities [built into the platform]," Elkin said. "We're starting to see B2B and B2C companies both asking to see what the AI and machine-learning roadmap is among marketing automation providers."
The B2B-focused Marketo platform has strong, AI-powered content automation capabilities already, Elkin said. Predictive Audiences will work together with those existing content tools to help marketers reduce the noise they serve to prospective customers.
"Marketers are trying to evolve from the 'batch and blast' messaging approach to more targeted, personalized communication," Elkin said. "Not every customer or prospect is equal, and I think predictive intelligence can help them determine whether someone is ready to receive a particular message, or whether you should stay quiet."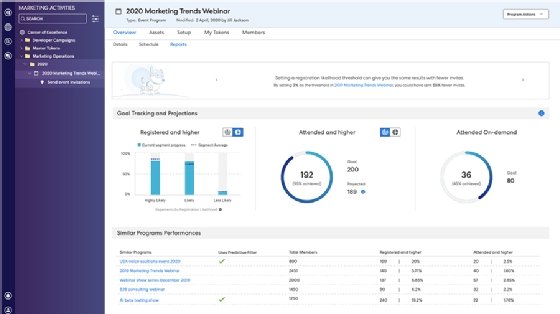 Adobe Target adds AI features
In other Adobe AI news, the company announced that it added deeper analytics reporting to Adobe Target, which enables Adobe Experience Cloud users to test online marketing content and target website visitors for that content.
The machine learning algorithms "learn" what content or suggestions work for a site over time to drive conversions and revenue through personalization tests. The AI reporting enables testing teams to optimize campaigns faster based on more detailed analytics.
The analytics tools offer deeper, faster reporting for Adobe Target Auto-Allocate, which is used to test content in low-traffic areas of a site; Auto-Target, which dynamically ranks personalized offers or content to show to individuals during a site visit; and Recommendations, which serves up offers and suggestions based on a site visitor's browser history.
Adobe said in a blog post that one client, a media company, used the features to set up a self-service program in hours that enabled subscribers to defer a sports package. It was an urgent need for this client. With most pro sports paused globally for months because of the pandemic, the media company potentially could have had thousands of subscribers calling its contact center. Such a self-service program previously might have taken months to test and execute.