Getty Images
Adobe unveils new collaboration tool for marketing teams
The CX giant revealed new technology for faster workflows between marketing, product and data teams to collaborate on marketing campaigns in its new Product Analytics platform.
Adobe on Tuesday previewed a new marketing collaboration tool named Side by Side designed to help marketers, product teams and data teams unify their efforts while working on the same data sets.
Side by Side shows potential use cases that are possible with Adobe's new application, Product Analytics, revealed on March 21 at the Adobe Summit 2023 conference in Las Vegas. Side by Side is currently under development; Adobe may roll it out in the future.
Deeper analysis for marketers
Built in Adobe Experience Platform (AEP), Adobe Product Analytics is aimed at product managers and data scientists, providing insights to create better digital experiences and grow product leads. Since Product Analytics resides in AEP, its insights track the whole customer journey, said Anil Chakravarthy, digital experience business president at Adobe, during a conference keynote.
In the current retail environment, there is more pressure to track customers' behavior online, as that's where they tend to go first when deciding on a product or service, Chakravarthy said.
"Buyers now expect to conduct the research digitally," he said. "And they want to engage with companies on their terms at the time that they want to do it."
Within Adobe Product Analytics, product and data experts can work together to uncover patterns in customer engagement and detect trends in the market.
"This product lead growth is huge in advancing customer engagement and retention, which are the critical elements of experienced lead growth," Chakravarthy said.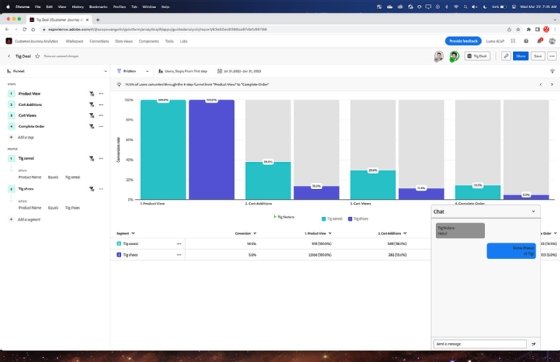 Easier collaboration between colleagues
Side by Side would provide features that gel project workflows between team members by easing digital communication and permissions between various groups.
Side by Side would also let a company's data, marketing and product teams access and collaborate on the same data sets.
Such collaboration technology for product analytics is welcome for product marketing teams, said Futurum analyst Daniel Newman.
"With the scale and cross-matrix utilization of content, the ability to collaborate in real time within the analytics environment is ever more critical for managing everything from performance to budget management," he said.
As we continue to see content volume and digital experiences scale, the ability to accurately measure performance across the media mix becomes paramount.

Daniel NewmanAnalyst, Futurum
Side by Side includes a new chat box to promote real-time communication on projects. Likewise it lets users operating multiple cursors from different computers to perform tasks on the same project to enable faster collaboration. It also enables in-sync report updates.
"As we continue to see content volume and digital experiences scale, the ability to accurately measure performance across the media mix becomes paramount," Newman said.
"Furthermore the real-time ability to collaborate across the organization with high data integrity acts as an enabler to tie threads together between creative and analytical teams to ultimately be able to attribute and successfully measure content and media performance," he added.
Adobe previewed Side by Side during its Sneaks presentation on March 22 at Adobe Summit. The technology is part of the vendor's Sneaks program that showcases features proposed by Adobe employees that may or may not become product features.
The Adobe conference also streamed live sessions for a remote audience.
Mary Reines is a news writer covering customer experience and unified communications for TechTarget Editorial. Before TechTarget, Reines was arts editor at the Marblehead Reporter.