ltstudiooo - Fotolia
Adobe CDP adds B2B-friendly features
Adobe CDP customers will get new features in 2021 that create workflows for marketing teams and connect to popular B2B marketing platforms -- starting with its own Marketo Engage.
Adobe plans to broaden its customer data platform with new Marketo integrations that will allow B2B marketers to create unified data profiles of business accounts as it does for consumers on the B2C side.
By integrating the Adobe Experience Platform CDP with Marketo, B2B sales and marketing teams will be able to connect their data, which involves complex relationships between buying and selling teams, with the marketing, analytics, targeting and segmenting applications in the Adobe Experience Cloud.
Other new features will enable users to track loyal customers as they move from one company to another, as well as merge multiple records from their customers' buying teams affected by mergers and acquisitions.
Merging B2B functionality into the B2C-centric CDP is something Adobe needs to do to realize the business potential of its $4.75 billion 2018 acquisition of Marketo, said Liz Miller, Constellation Research analyst. Adobe must parlay the lessons learned on the B2C side to make new B2B features truly innovative and competitive with existing tools from other standalone CDP vendors, she added.
One example would be to give users the ability to target business accounts with marketing information about things they regularly buy, rather than blasting them with entire catalogs. This personalized approach involves gathering data from departments such as from sales and service to make a more complete account profile, and to share those profiles with departments outside of marketing so they, too, can derive value.
The hope is that it will become a centralized repository for customer data versus just a fancier repository for marketing data.

Liz MillerAnalyst, Constellation Research
"If this is only a B2B marketing tool for B2B marketers, it's just going to remain a siloed tool, with siloed marketing data," Miller said. "The hope is that it will become a centralized repository for customer data versus just a fancier repository for marketing data."
To facilitate the Marketo integration, Adobe first had to expand the Experience Platform's data model, said Brian Glover, Adobe Marketo director of product marketing. While the data connectors to Marketo came first, there will be integrations with other popular B2B applications.
"Marketo has, for a long time, been able to connect data from accounts and individuals that is often strewn across multiple applications in complex technology stacks in large B2B organizations that have multiple lines of business," Glover said. "Before, [the Adobe CDP] had the ability to unify a person's profile. We're introducing the ability to unify the account profile."
Pricing for the B2B-centric Adobe CDP integration is not yet available. It is in pilot now and is scheduled for release in mid-2021.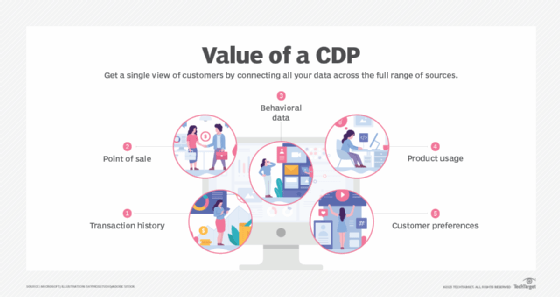 Adobe adds e-commerce, marketing features
In other Adobe news, the company released several new features for its customer experience applications:
For Magento Commerce users, Adobe added two search tools with new AI capabilities. Coming Dec. 8 is an updated product recommendation engine, which will make real-time suggestions of visually similar products to shoppers. The other tool, Live Search, is geared toward shoppers searching Magento e-commerce sites for products. It makes search-as-you-type recommendations for products, and it is scheduled for release in the first half of 2021.
Adobe also added features to Adobe Target that enable developers and marketers to work alongside each other to test and quickly roll out website features such as shopper quizzes, shopping cart purchase flow and personalization experiences.