Direct mail automation spikes in wake of conference cancellations
Marketers are turning to CRM-ready e-gift and direct mail vendors to send postcards and swag boxes to prospective customers they would have met with at canceled conferences.
Direct mail automation -- combining direct mail campaigns with CRM and marketing automation clouds -- can fill the void in marketing opportunities for some marketers now that most tech conferences are being canceled to prevent the spread of coronavirus.
For marketers charged with demand generation, trade shows are fertile grounds for booking face-to-face meetings with customers. When a show is canceled or postponed, those opportunities suddenly evaporate. But it also frees up budget to try alternative marketing channels such as old-school swag boxes, gift cards and postcards.
That's what Bróna O'Connor, director of demand generation at Allocadia, did. The marketing performance measurement cloud vendor had bought a booth at the Adobe Summit conference, which was scheduled for later this month before it was canceled and moved to an online-only event.
Allocadia's objectives for Summit were to build its brand awareness among the 15,000-plus marketers in attendance, as well as pack a schedule full of meetings with current and prospective customers.
A number of vendors offer direct mail automation integrated with CRM and marketing automation systems, including PFL and Sendoso. Allocadia, a PFL customer, reset its Adobe-branded campaign involving the environmental nonprofit OneTreePlanted.org to drive meetings scheduled for Summit into a direct mail campaign to book video meetings between salespeople and prospects.
"We didn't have time to waste, so with money coming back into demand gen I had to show that, in fact, it was driving demand," O'Connor said. On top of direct mail, Allocadia plans to spend budget earmarked for trade shows on virtual events, microsites and marketing reports designed to drive partner programs. "Everyone's going to double down on the virtual experience, but we like to complement it with something tangible."
CRM and marketing automation platforms connected to direct mail automation clouds add two benefits to such outreach: cost control, by limiting marketing segments to targeted, account-based marketing of small groups or even individuals; and delivery tracking notifications, so salespeople can contact their prospects soon after their mail piece lands.
"The sales rep can be notified within 15 minutes of delivery," said Nick Runyon, PFL's chief marketing officer. "That creates this unique moment in time, a brand interaction for your sales staff to coordinate a phone call. Your sales staff isn't cold-calling or warm-calling, it's very targeted."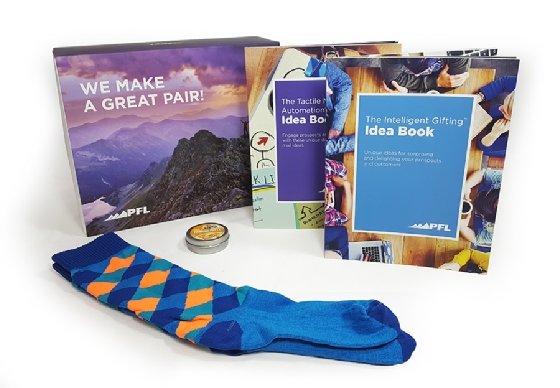 Direct mail's comeback
Swag boxes surrounding tech vendors' software releases peaked in the 1990s, said Russell Banzon, director of demand generation at Gong.io, a cloud revenue intelligence platform for sales teams. As Facebook Ads, Google AdWords and other electronic marketing channels emerged, marketers got away from tangible goods in favor of digital techniques because response and effectiveness could more precisely be measured.
Direct mail is coming back now that customers are saturated with digital messages, he said. He added that investment in swag boxes makes sense for his company's marketing efforts, budget-wise, because its benefits can be sharpened with CRM and marketing analytics tools.
Banzon spent some of his unused trade show budget on direct mail automation to book meetings with attendees of three sales tech shows that were wiped off the calendar out of concern for coronavirus safety. That included sending Starbucks coffee gift cards to prospects so they could "have a coffee on us" before an introductory video chat, he said.
We're looking at three months or so of shows that are canceled. We're shifting our strategy quite rapidly.

Russell BanzonDirector of demand generation, Gong.io
Gong.io's marketing team also sends personalized packages to prospects. One example from last year involved sending a prospective customer a baseball home plate after she wrote a LinkedIn post using home plate as a sales metaphor, which materialized into a six-figure account. The team plans to send more such individualized pieces this year, using leftover trade show budget.
"We're looking at three months or so of shows that are canceled," Banzon said, estimating that events comprise a third of Gong.io's marketing budget. "We're shifting our strategy quite rapidly."
Sendoso's chief marketing officer Daniel Frohnen said other industries, such as automotive, insurance and real estate, have used direct mail all along. The difference between their campaigns today and a few years ago is that they connect them to customer data systems of record and more closely track their returns.
Concierge direct mail
In the 1990s, marketers at tech companies often had to arrange swag box packing and shipping logistics on their own, and in worst-case scenarios enlist help to pack and ship in their offices.
Now, direct mail automation companies like Sendoso and PFL offer web interfaces and integrations with CRMs, Salesforce and Microsoft Dynamics 365 being the most common. Users design packages, choose shipping methods and create lead lists from within the CRM. Physical items are then shipped out of the PFL and Sendoso warehouses.
Both Sendoso and PFL's own marketing plans were affected by coronavirus conference cancellations, too. Chief marketing officers for both companies said they diverted unspent trade show marketing funds to their own direct mail campaigns along with detailed follow-ups.
"We're also a business that relies on conferences ourselves," said Sendoso's Frohnen, whose team members are documenting what they're doing in lieu of trade shows right now, including digital meetings. "We're educating the market as we're all going through this together."
Editor's Note: TechTarget offers ABM and project intelligence data, tools and services.