MSP onboarding checklist: Top tips for developing a process
Establishing and standardizing an onboarding process can help ensure your client relationships begin strong. Experts share tips on how to develop an MSP onboarding checklist.
An MSP onboarding checklist is a critical tool for ensuring new customer relationships start off on the right foot.
The onboarding process usually involves in-depth assessments of the business owner's IT infrastructure and project work to ensure successful delivery of services. Failure to adequately execute the onboarding process can have far-reaching consequences.
For managed service provider Burwood Group, clients include a large regional healthcare network, for which Burwood manages its hospital equipment, such as crash carts. "From the beginning of our relationship with this customer, we worked with them to ensure that we had a complete understanding of all of the equipment that we manage, as well as the customer's operational procedures," said Renee Lawrence, director of sales and marketing at Burwood Group, based in Chicago.
"We set up all of the necessary monitoring tool sets and alerting, and we review operations with the customer on a weekly basis," she added. "We also ensure that we have HIPAA-trained staff in place to manage these environments."
There are several tips for developing your own MSP onboarding checklist, but these aspects of the process are key: understanding your client, aligning employees with client transitions and using tools to facilitate onboarding. Continuously improving and standardizing your onboarding process is also vital.
1. Get to know your client
The onboarding process provides an important opportunity to learn what your clients' unique needs are and set clear expectations.
In addition to healthcare, Burwood Group has clients in vertical industries spanning manufacturing, retail, education and financial services. Lawrence said the company follows an MSP onboarding checklist for all client types to ensure a consistent customer experience.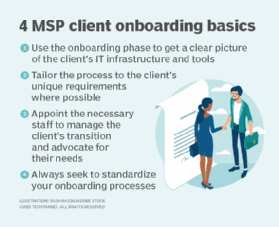 Burwood Group's onboarding process entails examining the customer's existing IT infrastructure, including the tools they use, and "ensuring we have people in specific roles, so a customer has an advocate as they navigate becoming our customer," Lawrence said. "If there are specific vertical requirements or specific technologies they have in their environment, we tailor that process to that environment."
In the stringently regulated healthcare and financial services vertical markets, for example, Burwood has subject-matter experts who help with industry-specific requirements, she said. This helps ensure that Burwood has a clear understanding of clients' IT infrastructure from the outset and uses the right tools to manage and monitor those environments.
Although Burwood might adapt the onboarding process to meet a specific client need, "we'll still follow the same process with any customer, regardless of vertical or size or geography," Lawrence said. At the same time, she added, Burwood recognizes that "everyone has a unique environment."
2. Welcome your new client
An MSP onboarding checklist should also include making sure you have the right people in place to handle a new client's transition into your care.
Lawrence noted Burwood Group uses "a customer onboarding manager who oversees the whole process [and acts as] a quarterback." This way, when a company signs up with Burwood for services, "there's a warm handoff between the salesperson [to] a technical account manager on the operations side who is assigned to be the customer advocate."
Within this onboarding process, there are touchpoints for a customer related to operational issues to make them aware of the progress being made on their behalf, Lawrence said.
Client onboarding is as critical internally as it is externally, said Brett Moss, senior vice president of client success and development at managed service provider Ensono, based in Downers Grove, Ill. "We want to make sure there is a clean handoff from the presales [and] sales teams to implementation and operations. For our clients, our ability to build and drive standardization allows for a lather-rinse-repeat approach, making it much easier than it was many years ago," he said.
The internal onboarding team sets up a configuration management database (CMDB) that implements rules-based engines to ensure the internal team adheres to the industry requirements, Moss said.
3. Take advantage of onboarding tools
Many MSPs choose to incorporate various tools into their client onboarding processes.
Burwood Group has standardized its IT service management (ITSM) and AIOps tools to analyze a customer's IT infrastructure and provide a holistic view of the environment, Lawrence said.
"We also provide tools as a service to a customer, such as network-mapping technology, so a customer can see, in real time, their network environment and, potentially, do troubleshooting on their own," Lawrence added.
Through Burwood's customer management portal, customers can interact with the company, create incident tickets, see the status of their infrastructure and access tools. This provides an added level of communication, she said.
Ensono also has an automated ITSM tool called Ensono Envision that provides 24/7 cloud monitoring to reduce incidents and downtime, Moss said. The tool also consolidates incident tickets, which makes IT operations much easier for internal teams. Envision is "the heartbeat for Ensono," he said.
Lawrence said it is important that Burwood's clients have visibility into their IT network infrastructure. When clients have multiple locations, they need a holistic view of what is happening, she added. Because Burwood Group handles clients' increasingly complex IT infrastructure, "the benefit we can bring [to customers is a] foundational level of operational management," Lawrence said.
"The introduction and heightened importance of a single pane of glass from a client portal and CMDB perspective is more critical than ever," Moss agreed. "Five years ago, it was a 'talk a good game, get a client and then figure it out' [situation]. To win in the market, understanding [the client's needs] first becomes more and more critical."
If there are specific vertical requirements or specific technologies they have in their environment, we tailor that process to that environment.

Renee LawrenceDirector of product marketing, Burwood Group
4. Improve the onboarding process
After creating an MSP onboarding process checklist, you can then continuously improve and standardize the processes involved and find opportunities for added value.
As Burwood Group gains more experience with customers in different vertical markets and requirements, Lawrence said the company naturally finds itself repeating processes and standardizing them. The MSP can then "apply repeatable processes in how we interact with customers to gain information to make sure we're monitoring all aspects of that environment and working [well] with the customer," Lawrence explained.
Once an MSP develops a consistent and documented client onboarding process, the process becomes easier because it's standardized, she said.
"I find it's a combination of having a roadmap and standardized processes," Lawrence said, "but also having people in place with the experience of having done this and having very well-defined roles."