MSP roles and responsibilities are undergoing rapid change -- here's why
It's a new era for managed service providers and CIOs. MSPs increasingly act as strategic partners, helping IT teams fulfill the outsized role technology plays in business success.
The forces that have radically reshaped the role of CIOs at many companies are redefining another IT role: the relationship between CIOs and their managed service providers. Rapidly evolving tech, a volatile business environment and the pressure to keep IT costs low are driving strategic alliances between CIOs and MSPs.
For many CIOs, MSPs are no longer viewed simply as vendors providing IT services at the lowest price. Instead, MSPs are now playing a more critical supporting role to CIOs.
Modern MSPs have emerged as indispensable to running a lean and effective IT organization. Operating as strategic partners, they are executing, automating, securing and scaling IT infrastructure and operations so that CIOs and the internal IT team can focus on the differentiating work that helps companies compete in a digital economy.
Joe McKenna, global CIO for managed cloud provider Syntax, said the evolving roles and responsibilities of modern MSPs are tied to the heightened demand for CIOs to be business strategists -- and to the volatility of business and IT environments.
"Because business environments and needs are changing constantly," he said, "MSPs give CIOs the freedom to focus on their business without worrying about staffing to support IT infrastructure, core application support, data center or security. Knowing that the MSP has that under control allows CIOs to attend to dynamic business needs, changes and drive innovation."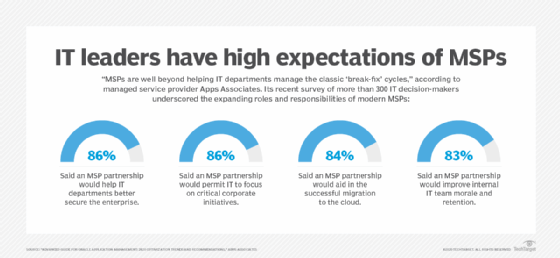 MSPs also bring a fresh perspective to how IT can add more value and do things more efficiently and at a lower cost, McKenna added. "CIOs are tasked with doing more for less and driving the business forward with innovation, so they need support from their MSPs to drive results."
Importantly, for CIOs to successfully partner with MSPs, they must manage them as they would any other part of their IT teams, expecting MSPs to execute on the goals set out by IT and the business.