In information technology, a reseller is a company that typically purchases IT products or services from a product manufacturer, distributor or service provider and then markets them to customers.
The purpose of resellers and why companies use them
A reseller is a type of channel partner that acts as an intermediary between companies that make, distribute or provide IT products or services and end customers, which may be businesses or consumers. A key reseller role has been order fulfillment: The customer goes to a reseller to simplify the ordering process and offload procurement and order processing tasks.
Working with a reseller can also streamline product sourcing. A business that needs to purchase multiple technology components can make those purchases through a single reseller versus approaching multiple manufacturers or service providers directly. Competitive pricing may also attract customers to resellers.
How resellers operate
IT vendors offer channel partner discounts that enable resellers to purchase products below list price. Vendor discounts vary widely and may range from 10% to 50%, depending on such variables as type of product and the volume of product the reseller is purchasing. The idea behind reseller discounts is to cover the channel partner's sales and marketing costs and leave room for profit margin.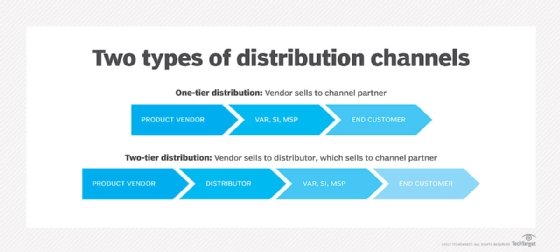 Vendors often operate reseller programs as a formal means of providing product discounts and other amenities, such as deal registration and back-end rebates, to channel partners.
Common industries for resellers
Resellers may operate in a range of industries within the IT sector. In hosting, for example, a web hosting reseller purchases services from a larger hosting provider and resells the services to customers. In addition, a reseller may purchase and resell access to servers in a hosting or colocation facility. In this context, the reseller acts as a retailer of sorts, acquiring and reselling services from hosting and internet services firms acting as wholesalers.
Resellers also operate in the internet connectivity space. Here, a reseller, sometimes referred to as a virtual internet service provider (VISP), provides internet services from another ISP but resells those services under its own brand. In the software industry, software resellers offer customers access to multiple products for simplified sourcing. According to Gartner, software resellers include such companies as CDW, Insight, SHI, Softchoice and SoftwareONE.
Another type of reseller is the direct market reseller (DMR), which sells IT products directly to customers online or through ordering via telephone, without operating brick-and-mortar storefront operations. DMRs may be B2B or B2C with examples including CDW, TigerDirect and Newegg. Such companies may also be called internet retailers.
Providing value-added services
Increasing margin pressure has compelled many resellers to seek profit beyond the traditional product fulfillment business model. A reseller that offers services beyond order fulfillment is called a valued-added reseller (VAR). An IT VAR, for instance, may provide consulting and professional services, such as systems implementation, in addition to product resale. A software VAR, meanwhile, may provide software asset management services in addition to product fulfillment.
This was last updated in
June 2018
Continue Reading About reseller
Dig Deeper on MSP business strategy