peshkova - Fotolia
Predicting 7 MSP trends in technology for 2021
MSPs, cloud consultancies and other channel partners can expect to find business in familiar technology sectors as well as in emerging fields in the coming year.
It's all connected.
The consulting and MSP trends expected to shape 2021 demonstrate how interwoven maturing technologies and emerging developments have become. Service provider companies can anticipate a continuation of important 2020 patterns, such as the ongoing evolution of cloud computing. Cloud, however, will set the stage for other developments, including AI and machine learning. Cybersecurity will play a central in the normalization of remote work. And robotic process automation (RPA), initially viewed as a distinct technology, will become increasingly embedded in core business applications.
Read on for the details regarding seven pivotal tech trends, based on IT executive interviews and recent industry conferences:
1. Managing cloud complexity
Cost and management problems have shadowed cloud companies' popularity. The growing number of cloud options available and the arrival of multi-cloud deployments spanning data centers, private clouds and public clouds add to the headaches. Service providers can expect cloud complexity to be an important issue in 2021 -- and an opportunity for providing operations and management expertise.
The rush among many organizations in 2020 to adopt the cloud amid COVID-19 has only intensified matters. Seventy-one percent of senior IT professional reported "negative effects" due to the rate of cloud transformation, according to a study published by Aptum Technologies, an MSP and hybrid multi-cloud provider based in Toronto. Organizations moved to the cloud "too quickly … without adequate planning," said Craig Tavares, global head of cloud at Aptum.
"2021 is going to be the year that everyone starts normalizing some of their architecture and the architectural mistakes they made in moving so fast," said David Linthicum, chief cloud strategy officer at Deloitte. "We will hit the complexity wall."
The diversity of cloud technologies results in higher costs and lower efficiency, he noted. Groups within a business might maintain dozens of disconnected cloud projects, differing tools and multiple security platforms. The upshot: expensive redundancy and greater security risk due to complexity.
Consultants and service providers are taking steps to mediate this complexity. Deloitte, for instance, offers a cloud cost complexity calculator to help customers understand the scope of the problem. The objective is to create an architecture that establishes common governance and security layers.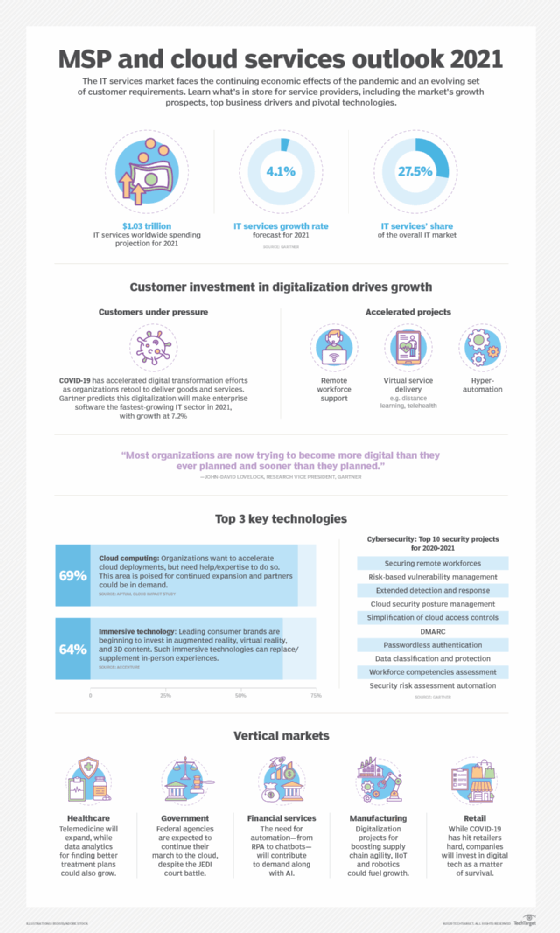 2. Branching out to AI and machine learning
Organizations that get their cloud house in order can begin thinking about layering services on top of that infrastructure -- and might do so in 2021.
In the federal market, the defense sector's mandate is to get to the cloud as quickly as possible, noted Paul Wilkinson, executive vice president at 1901 Group, an IT services provider based in Reston, Va., that focuses on government clients. But the cloud won't be the final destination.
"Cloud is the way in which [agencies] are going to move into a better environment that will enable them to do things like machine learning and AI," he said. "Our customers know this is the catalyst for transformation."
Wilkinson said agencies will likely tap cloud-native services, such as AWS' SageMaker, to start using AI and machine learning. Cloud-agnostic infrastructure-as-code tools such as HashiCorp's Terraform, Progress' Chef, Ansible and Puppet will also come into play.
Shawn Mills, CEO at Lunavi, an MSP and technology consulting firm based in Cheyenne, Wyo., sees the future in AI, machine learning and smart applications, but only after organizations have built a solid data platform. "Most people aren't ready for machine learning," he said. "They need to learn what data they have and what data they can get."
Solving data access leads to another challenge: how to tie it all together. To that end, Lunavi is building an agile approach to data management and integration, so customers can quickly obtain value from their data, Mills said.
Accordingly, Lunavi will focus on building data platforms for customers during the first part of 2021, he said. Minimum viable product (MVP) will be part of the company's approach.
"Let's [create] the MVP for our customers to get value within a month, not a massive data platform that takes two years to build," Mills said.
By the end of 2021, Lunavi will start using the agile data platforms to build intelligence into applications. The company, a Microsoft Azure Expert MSP, plans to take advantage of Azure's machine learning technology.
3. Pushing cybersecurity to the edge
The tremendous increase in the remote workforce amid COVID-19 has fostered the concurrent growth of cloud services and the need to secure them. Employees accessing cloud-based collaboration tools and applications have expanded corporate network boundaries to the individual home -- the branch office of one. Against that backdrop, customers and their service providers must refocus their cybersecurity efforts in 2021, if they haven't done so already.
Ben Niernberg, executive vice president at MNJ Technologies, an MSP based in Buffalo Grove, Ill., said 80% to 90% of the discussions he has with customers already revolve around security. He stated the key question for customers needing to protect remote work: "How do you secure the data at the actual edge of your network versus a single massive firewall in your data center?"
Organizations have a couple of options for extending security. One approach involves technologies installed in the employee's home: those include content filtering products, a remote worker gateway appliance that includes a firewall and compact SD-WAN appliance that connects the remote worksite to the main office and its security features.
The other option, Niernberg added, is to route traffic to and from cloud-based applications to a private cloud or colocation facility equipped with a data center-grade firewall. "You are now dealing with one firewall vs. 50," he said. "Backhauling traffic … makes [home offices] a little easier for an MSP to secure."
Gartner outlined yet another approach for dealing with shifting boundaries. The company listed "cybersecurity mesh" as one of its top strategic technology trends for 2021. The market researcher defines mesh as an architectural approach for providing flexible cybersecurity control.
"Many assets now exist outside of the traditional security perimeter," Gartner noted. "Cybersecurity mesh essentially allows for the security perimeter to be defined around the identity of a person or thing."
4. Exploring immersive technologies
Augmented reality/virtual reality (AR/VR), once fringe technologies, will be pressed into service to help retailers and purveyors of physical experiences amid the in-person experience limitations of COVID-19. IT service providers should look out for AR/VR opportunities in 2021 and beyond.
An Accenture study found 64% of leading consumer brands have begun to invest in AR/VR, 3D content and 360-degree video. Rori DuBoff, managing director of strategy and innovation at Accenture Interactive, said she was surprised by the percentage of brands pursuing such immersive technologies.
"We are seeing momentum," she said. "This is the next evolution of where commerce is going."
Accenture's report cited retailers' uploading 3D models to product pages and hosting virtual fashion shows as examples of use. Some of the technologies driving immersive experiences come from unconventional sources such as video game engines like Unity and Epic Games' Unreal Engine. "They are aggressively pursuing [opportunities] way beyond gaming now," DuBoff said.
Gartner's list of strategic predictions, published in October, cites immersive experiences as one of 10 key developments. By 2025, 40% of physical-experience businesses will boost their financial results by expanding into paid virtual experiences, said Daryl Plummer, vice president and chief of research at Gartner, speaking at the company's IT symposium. And in the nearer term, by 2022, at least three leading providers of physical experiences will drive more than 10% of their revenue from virtual experiences, he added.
Companies offering rock climbing or rafting in the physical setting, for example, "are going to allow you to have a virtual reality experience that might even rival the physical experience," Plummer said.
5. Implementing pervasive RPA
Consultants and service providers that built practices around RPA vendors could be in for a significant boost in 2021. Gartner predicts 19.5% growth for RPA next year, when the worldwide market is expected to reach $1.89 billion. Growth is set to continue at a double-digit pace through 2024, according to the market watcher's RPA forecast.
The pandemic contributes to what was already a rapidly expanding field. Fabrizio Biscotti, research vice president at Gartner, said COVID-19 has fostered a sense of urgency among organizations that were thinking about RPA adoption. Business processes that involved significant human participation "need to be redesigned very quickly," he said.
RPA has become an important tool for doing so. Service provider companies can expect to see activity across a range of industries.
"I think in several sectors we are witnessing an acceleration of adoption," Biscotti said. He cited banking, insurance, professional services, telecommunications and portions of the manufacturing sector, such as high-tech, as examples.
At 1901 Group, RPA plays internal and customer-facing roles. "We are leveraging RPA ourselves to automate the way in which we deliver managed services for our customers," Wilkinson said. RPA lets the company extract data from cloud platforms for reporting on resource provisioning and utilization, for instance.
RPA also helps customers seeking higher efficiency, Wilkinson said, noting RPA is often embedded within platforms such as ServiceNow.
That nesting of RPA within such application platforms is poised to become more common. Forrester Research forecasts embedded RPA as a 2021 trend.
"Like machine learning, RPA will become an embedded feature of many platforms by the end of 2021," according to Forrester's "Predictions 2021: Automation" report. Forrester said RPA will be available from nearly 200 "software workflow transformation solution vendors" in addition to pure-play vendors such as Automation Anywhere, Blue Prism and UiPath.
6. Providing VoIP and unified communications
Businesses still relying on legacy PBX systems, which offer no remote capabilities, will be looking to VoIP offerings.
"Voice over IP looks like a huge market that is untapped," said Robin Chow, CEO of Xbase Technologies Corp., an MSP based in Toronto. Chow, speaking at the MSPAlliance conference, said moving to hosted VoIP "will be a quantum leap" for customers in need of modernization, he added.
"We have seen a lot of interest in IP-based phone offerings," said Luca Jacobellis, president and COO at 1Path, an MSP based in Atlanta. Customers are jettisoning legacy PBXs, he said, noting systems confined to offices can't support home-based workers.
The explosion of a remote workforce is something many organizations will integrate into their new normal, possibly forever.

Jeff TonStrategic IT advisor, InterVision
Niernberg said legacy PBXs are harder to manage and not nearly as flexible as a cloud phone offering from vendors such as 8x8, Cisco and RingCentral. "It's easier to diagnose and maintain that type of system … than a legacy PBX," he noted.
VoIP and cloud calling fit into the broader context of unified communications, which will continue to see demand in 2021 given the ongoing need for remote work technology.
"The explosion of a remote workforce is something many organizations will integrate into their new normal, possibly forever," said Jeff Ton, strategic IT advisor at InterVision.
Ton said 2021 will see many CIOs reevaluating workforce enablement tools, including their collaboration stack, SaaS applications in lieu of legacy on-premises applications and virtual desktop infrastructure (VDI). As for the latter, Ton called remote workforce enablement "a use case that screams for VDI."
7. Deploying technology at speed: the pandemic's effect on the MSP market
COVID-19 will not only influence the technologies in demand in 2021, but how organizations will deploy them.
Organizations are adopting what Ton called "pandemic mode." The antithesis of incrementalism, this approach calls for faster decision-making, more responsiveness from IT and a reduction in onerous processes, he said.
"This is a much faster pace than many businesses and IT shops are accustomed to working," Ton said. In pandemic mode, more companies will adopt agile methodologies to keep up with the pace of change, he added.
Lunavi's Mills also cited speed as important factor in 2021. "People are really focused on trying to drive value now," he said. "The traditional waterfall [model] and waiting six to 12 months is not an acceptable path any longer."
Technologies that dovetail with fast-tracking methodologies should also see demand in 2021. Low-code platforms, for example, will experience high growth, according to Forrester. An uptick in low-code adoption has already occurred in 2020, as organizations tried to react more quickly to changing circumstances.
"During the pandemic, many organizations embraced low-code platforms to build and deploy new apps fast," wrote Jeffrey Hammond, vice president and principal analyst at Forrester, in a blog post. "These experiences will drive most development shops to adopt low-code tools and more."
More tech opportunities
Cloud, cybersecurity and UC might be on the service-offering shortlist for 2021, but here are a couple of additional opportunities to consider:
Apple services
Increasing adoption of Apple products is creating a need for services, particularly around mobile device management (MDM) technology.
A couple of factors have converged to spark demand, according to Justin Wells, CEO of Interlaced.io, an MSP that focuses on creative agencies and startups. He said Apple products are becoming more prevalent in the workplace as the younger generation embarks on careers. At the same time, smaller and smaller organizations are imposing security and compliance requirements on Interlaced.io's customers, whether branding agencies or early-stage SaaS companies. As a result, the MSP's customers are facing security audits, which, in turn, often point them toward bolstering device management.
"The confluence of those things is really driving massive adoption of MDM in the workplace," Wells said.
Interlaced.io offers clients MDM advice, implementation, deployment and ongoing management services. In terms of its own technology stack, the MSP uses Addigy's Apple device management platform.
Cloud-based label printing
Organizations in a range of industries must print barcode labels, and that task traditionally has been performed on a label printer.
Channel partners that previously resold label printers to customers now have another option: SaaS-based offerings.
"All of our channel partners and their customers are beginning the shift towards a subscription, cloud-based labeling process, and this market is primed for explosive growth over the next couple of years," said Paul Vogt, channel marketing director at NiceLabel, a label design software and label management systems developer based in Slovenia.
NiceLabel works with partners such as automatic identification VARs, label converters, print automation specialists and software integrators.
"Most of the software integrators we work with specialize in supply chain software, which is a sector that is seeing particularly high demand for cloud-based labeling solutions," Vogt said.
Food and beverage manufacturing is the top vertical for labeling offerings, but other verticals such as life sciences, chemicals, petrochemicals, medical devices, electronics, automotive and apparel are also in the mix.