kritchanut - Fotolia
Robotic process automation software unites vendors, partners
RPA solution vendors are gearing up for the next wave of software robot deployment, cementing alliances with channel partners to extend market reach.
Channel partners and robotic process automation software vendors are joining forces to take software robot deployments to the next level.
Indeed, a flurry of partnering activity has unfolded in recent weeks among RPA vendors and an array of consulting firms, systems integrators and business-process specialists. Consider the following moves:
Earlier this month, Thoughtonomy, an RPA solution provider based in London, reported it will boost its channel business from about 45% of its current transactions to more than 90% of its business within the next 12 months.
Consulting firm Deloitte and UiPath, an RPA vendor, recently captured several automation projects in the federal government, initiatives that could result in thousands of bots being deployed in the next year to 18 months.
In January, Blue Prism announced $100 million in funding, raised from an issuance of new shares, would be used, in part, to expand its channel partner base. The RPA vendor has more than 100 partners worldwide, which include KPMG, EY, PwC, Accenture, Capgemini and Deloitte.
Kofax said one of its resellers placed an order for 1.8 million of Kofax Kapow, the company's RPA product. Kofax has declared 2018 the "Year of the Robot."
Channel companies have been partnering with robotic process automation software vendors for a while, but the recent moves come as the industry takes on a shift from software robot pilot projects to enterprise rollouts. As the deployments scale up, vendors are cementing relationships with partners they think can help their customers make the transition.
Global 2000 enterprises that have been engaged in RPA pilots over the past two to three years are now looking to expand the technology's use, suggested Terry Walby, CEO and founder of Thoughtonomy.
"They have evaluated the technology ... and are now coming out of [pilots] into scale-up deployments," he said.
Marc Mancher, a principal at Deloitte and leader of its Federal Analytics Service Business, described the RPA market transition with respect to waves. In the first wave, organizations were introduced to robotic process automation software technology. The second wave involved small pilots and proof-of-concept projects. The third wave, which Mancher said is just getting underway, is the scaling phase.
Mancher said customers are now asking Deloitte for advice on how to grow RPA beyond pilots: "Now we understand what it is. How do I build that at an enterprise level?"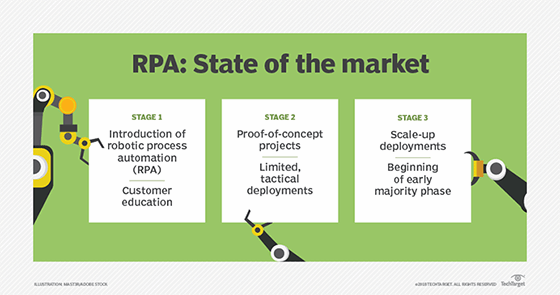 Services opportunity
"The adopting of this technology is really taking off," added Bobby Patrick, chief marketing officer at UiPath. "It has really been an amazing 12 months for this industry."
Patrick noted over the past year, organizations have gone from conducting proof-of-concept experiments to beginning to build a digital workforce. Overall, the market has shifted from early adopters to "the next wave of early majority."
Consultants and integrators are riding the wave of wider RPA solution adoption and more sophisticated projects involving software bots.
"There's a massive services opportunity around these RPA implementations," Patrick said, noting that companies such as Deloitte and Accenture are building huge practices around software robot technology.
There's a massive services opportunity around these RPA implementations.

Bobby Patrickchief marketing officer, UiPath
Deloitte, for example, has created an RPA Center of Excellence at its Delivery Center in Orlando, Fla., and has trained and certified more than 500 practitioners on RPA software, according to the company.
Deloitte, Mancher said, is seeing demand for automation from across the federal government -- defense, civilian and health-related agencies -- and at both the operational and back-office levels. Deloitte's research points to a nearly $40 billion opportunity for AI and robotics in the federal market.
"There is a large amount of opportunities to improve services to citizens through the use of robotic process automation software," he said.
A force multiplier
Vendors, meanwhile, view channel partners as a force multiplier able to expand the reach of their software robot products.
Thoughtonomy, which is launching a new partner program, plans to cultivate a "significant number" of channel companies to support its international expansion. The company works with a dozen partners in North America. Walby said partners have the industry expertise and customer relationships to help Thoughtonomy access the market.
That expertise is important since Thoughtonomy provides a general-purpose tool that fits multiple use cases and can automate different work activities. Channel partners are in a better position to help customers apply software robot technology since they understand the context around the customers' business challenges.
"We are not experts in any particular domain or industry or market," Walby said. "Partners give us the ability to do that with their own knowledge of a specific activity, market sector or specific organization."