freshidea - stock.adobe.com
RPA projects are the future for communications firm
Robotic process automation, or RPA, is sweeping R.R. Donnelley & Sons, which enlists RPA adoption as a way to automate repetitive activities in the document preparation process.
R.R. Donnelley & Sons Co., a Chicago-based marketing and business communications company, has deployed 20 RPA projects...
Continue Reading This Article
Enjoy this article as well as all of our content, including E-Guides, news, tips and more.
to automate manual document preparation tasks, with potentially dozens more on tap.
The robotic process automation effort is part of an ongoing digital revolution initiative that seeks suggestions from employees about how to improve the company, which was founded in 1864 as a printing and publishing house. Print is still part of RRD's business, but, today, a significant amount of its services are delivered in digital form. RRD provides data management, analytics and business intelligence services, for example. The company also helps customers provide content through digital channels such as email, websites and mobile devices.
Ken O'Brien, executive vice president and CIO at RRD, said the digital revolution initiative, and the RPA projects that flow from it, is as much a cultural shift as it is a technology endeavor. As such, he believes the company's communications effort transcends digital transformation.
"Digital transformation, quite frankly, is not enough for us," O'Brien said. "Digital transformation is responding to technology change. We have to get out in front of that and leverage technology as a differentiator for us."
The digital revolution initiative has, thus far, surfaced 90 suggestions involving robotics, 20 of which have come to fruition as fully functioning services. Others are in an early implementation stage. O'Brien said additional RPA solutions will be delivered at a rate of about five or six per month.
He said RRD hasn't yet standardized a set of RPA software tools. The company currently works with multiple vendors: Automation Anywhere, Blue Prism and UiPath, to allow "ourselves to be open to the different opportunities out there," he said.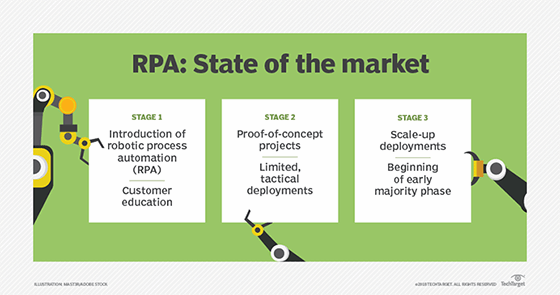 RPA projects help prep documents
RRD manages business communications for clients. Financial institutions, for example, hire RRD to deliver bank statements to customers, while hospitals call on the company to deliver healthcare documents to patients. Such communications efforts begin with data, and RRD spends considerable time in pre-preparation work: compiling, coding and categorizing data to be included in a given document. This data management task involves manual, repetitive processes, hence RRD's interest in RPA. O'Brien said he sees ample opportunities to deploy robotics to the pre-preparation phase.
Digital transformation, quite frankly, is not enough for us.

Ken O'Brienexecutive vice president and CIO, R.R. Donnelley & Sons
A second factor driving RRD's RPA adoption is the company's business process outsourcing services, which includes offshore operations in Asia. The company takes on clients' data management processes and back-office needs. Here, RPA also helps with repetitive chores, O'Brien noted.
RRD has dedicated personnel to deliver RPA projects. About 10 to 15 people are working on RPA full time in India with a like number of people developing software robots in the U.S.
The next level of RPA adoption
While RRD continues its RPA rollout, the company is investigating the combination of RPA, machine learning, cognitive computing and AI.
"I think that really is the next level for us," O'Brien said.
The ability to interface the different technologies could help RRD anticipate customers' needs and automatically deliver the appropriate communications at the appropriate time. As clients' communications tempo and content changes over the course of a year, RRD maintains data on customers' order volume and business activity, O'Brien noted. Applying machine learning and AI to that data can automate the distribution of communications so customers don't have to call RRD to place an order.
O'Brien said RRD is making progress toward that goal, but noted this application of AI is new and requires more testing.
RRD is also looking to apply intelligence to managed care communications, which can involve a significant amount of document preparation. The addition of AI and machine leaning to RPA could result in big productivity wins, O'Brien suggested. This capability is still in the works.
"A lot of proof points have to be provided before a client would feel comfortable moving forward," O'Brien said.