phonlamaiphoto - stock.adobe.com
Automation and employment debate takes a new turn
Future of work trends: Academics and industry executives shared their views on the evolution of RPA and the impact of AI on jobs at the recent UiPath Forward conference.
Conversations around robotic process automation and employment are shifting as the fear of massive job loss begins...
Continue Reading This Article
Enjoy this article as well as all of our content, including E-Guides, news, tips and more.
to give way to a somewhat more optimistic view.
Industry executives and academics at the recently concluded UiPath Forward conference, sponsored by robotic process automation (RPA) vendor UiPath, discussed automation and future of work trends. The prevailing view is that technologies such as RPA won't annihilate jobs, but they will change the nature of work across a range of industries. UiPath Forward drew more than 1,500 attendees to Miami.
Support for continued employment -- despite the rise of software robots -- comes from sources as diverse as psychology and 18th century philosophy.
Humans still required
Jonathan Levav, associate professor of marketing at the Stanford Graduate School of Business, studies the psychology of decision-making and believes there are roles for both humans and machines in the process. He participated in a panel discussion at UiPath Forward.
"People are good at picking variables, but bad at integrating them," he said. "Machines are bad at picking variables, but good at integrating them."
In the example of hiring a CEO for a startup, people, not computers, need to decide on which variables, or factors, to consider in making a selection, Levav contended. But they should probably let a machine make the ultimate decision.
"As it turns out, for a lot of judgment decisions that people make in this world, you would be better off letting the machine do the work," he said.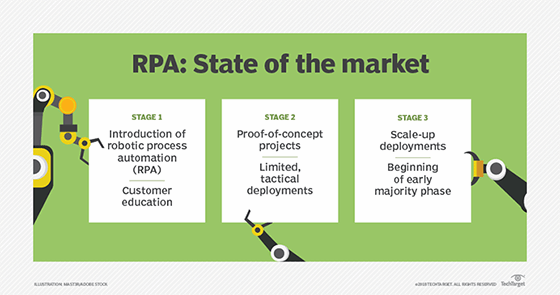 What gives machines -- and process automation -- the edge over humans? In addition to their ability to integrate data, machines, Levav noted, lack biases such as the illusion of validity, which leads people to overestimate their forecasting prowess. Yet, humans are still required in process automation, because only they can decide the important parameters, he added.
"You will have a job because machines can't pick the variables that are relevant to a problem," he said.
Scott Hartley, partner at venture capital firm Two Culture Capital, shared a similar view regarding the impact of AI on jobs. His take on AI-infused automation and employment takes a cue from Voltaire. Hartley's 2017 book, The Fuzzy and the Techie: Why the Liberal Arts Will Rule the Digital World, cites a statement attributed to the 18th century philosopher to support his view that asking the right questions about data is central to acquiring knowledge.
Making AI and machine learning work, Hartley said during a UiPath panel discussion, is "still fundamentally rooted in our ability to create diverse teams and ask questions from a multiplicity of angles."
Future of work trends: A change in tone
Hartley, meanwhile, suggested a change in tone regarding automation and employment is occurring, citing two well-publicized studies as evidence: In 2013, the Oxford Martin School published a report stating "about 47 percent of total US employment is at risk" based on the school's study of computerization and effect on 702 occupations.
A McKinsey Global Institute report from 2017, however, found while 60% of occupations have activities that could be automated, less than 5% of occupations were at risk of being automated out of existence. "More occupations will change than will be automated away," the report concluded.
Most speakers at UiPath Forward subscribed to the McKinsey view regarding future of work trends -- altered jobs vs. mass unemployment. Presenters recommended organizations actively educate employees on automation and the potential for human-software robot collaboration.
Brian Gillespie, global lead for intelligent automation at pharmaceutical company Merck, said his company has invested time in communicating the benefits of automation to "all parts of the organization so we don't have an employee base that is scared to death that the robots are coming to take their jobs."
Lia Johnson, director of data and analytics digital technology at Baker Hughes, a General Electric company that provides oil field services, said the company is concerned about the effect of automation on corporate culture and whether people will feel threatened. She said her company's messaging focuses on automation as a way to take away mundane processes and let employees perform tasks that are more energizing and strategic.
Such RPA change management campaigns appear to be making inroads. Gillespie said he has detected a sudden shift among employees from being concerned about automation to asking whether a particular process can be automated.
"At this point, we have far more demand than we can possibly meet," he said. "It's a recognition that the world is getting ready to change and they want to be part of it."
Automation and employment: The bot as co-worker
Among the future of work trends discussed at UiPath Forward was the notion of the software bot as co-worker.
Daniel Dines, co-founder and CEO at UiPath, places automation alongside pivotal technology trends, from the birth of mainframes and PCs to the more recent arrival of mobile devices and cloud computing. His cited Bill Gates, and his computer-on-every-desktop goal, as his inspiration for what he termed the "automation-first" era.
"Our vision is a continuation of this idea … having one robot for every person," Dines said.
UiPath's recently launched Academic Alliance Program aims to train 1 million students in RPA in three years. Dines said he hopes to make RPA "an essential skill set of the modern employee."
UiPath Forward speakers said citizen developers will play an important role in meeting the demand for software robots -- especially if the one-bot-per-employee vision is to get anywhere close to becoming reality.
Craig Le Clair, vice president and principal analyst at Forrester Research, said software robots "are not going to be all built by your IT department." But RPA vendors, he suggested, will need to work more on their tools' design environments if citizen-developers are to roll out robots in large numbers.
A continuing focus on change management also looks to be important for the industry, since the automation-and-employment issue has yet to be definitely settled. Le Clair raised the possibility that workers may begin to feel marginalized as more decisions are made by machines. Shaken confidence might lead to reduced consumer spending, which drives much of the economy, he added.
"The future of work -- it's one of the biggest questions of our time," Le Clair stated.