RPA trends: Adoption at scale calls for governance, change management
The UiPath Forward conference highlighted the key RPA trends shaping process automation projects, which are seeing wider acceptance and growing scale among some enterprises.
MIAMI -- Robotic process automation has entered a new phase of adoption, which calls for a focus on governance,...
Continue Reading This Article
Enjoy this article as well as all of our content, including E-Guides, news, tips and more.
change management, and cooperation between business and IT.
That's the view of industry executives who illuminated the key robotic process automation (RPA) trends this week at UiPath Forward, a process automation conference hosted by RPA vendor UiPath. Event speakers were mostly in agreement that earlier resistance to software robots as a job threat is dissipating among workers, while managers have begun to acknowledge RPA's game-changing process innovation potential.
Evidence for RPA's momentum comes from Forrester Research, which upwardly revised its RPA market projection from $2.8 billion to $3.3 billion in 2021. The market was a modest $250 million in 2016, according to Forrester. UiPath Forward conference attendance reinforced the notion of rapid RPA growth. About 500 people attended the vendor's inaugural event last year, while conference organizers pegged this year's attendance at more than 1,500.
Brian Gillespie, global lead for intelligent automation at pharmaceutical company Merck, based in Kenilworth, N.J., said RPA's expansion stems from the broader need for business transformation.
"It's really driven by the fact there's a growing recognition across the senior management team that the way we've run the company for the last 125 years isn't sustainable," Gillespie said. "Every part of the organization is looking to transform."
Governance among top RPA trends
Eighteen months ago, RPA was a small component of Merck's transformation plans. Gillespie said the company, a conservative technology adopter, was somewhat concerned regarding the ability to control software bots once unleashed. A small start, however, has since evolved into plans for widespread adoption. Merck, Gillespie said, realizes RPA is not only something the company should do, but something it should do "rapidly, at a broad scale."
This greater acceptance has implications for organizations looking to step up RPA adoption. Top management enthusiasm for RPA is sparking demand for the technology, but employees have also begun to see the potential to eliminate the parts of their jobs that are repetitive and uninteresting, executives said. Those RPA trends call for enterprises to stay on top of the rising interest in RPA. And that means establishing an RPA governance regimen.
Lia Johnson, director of data and analytics digital technology at Baker Hughes, a Houston-based GE company that provides oil field services, cited the importance of establishing "proper governance to support the emerging need -- and the pull and push -- for RPA."
The governance task may require organizations to bring together a range of people responsible for company activities relevant to RPA adoption. At Baker Hughes, the key players include personnel who support the company's servers and tool suites, data aggregation and ingestion specialists, and the company's project management office.
Speaking at the UiPath Forward conference, Johnson said the goal is to have each stakeholder wield appropriate influence regarding which processes will be funded for automation. The governance structure is designed to make sure Baker Hughes, as a whole, focuses on the projects that drive the greatest return on investment, she added.
Another aspect of governance is preventing an out-of-control proliferation of software robots. Johnson said requests for automation are coming from the back office, human resources and finance, among other groups. "It's at the point where we really see the importance of getting ahead of the demand."
With that in mind, Johnson said she is making sure bot builders create modular, reusable assets. This approach avoids the waste of duplicated effort. Part of governance is to "take a look at what are the common processes [and] procedures that can be shared across the organization." Shared automation libraries are among the considerations.
"Governance is key," added Prashant Krishnakumar, senior manager of technology and center of excellence lead for RPA at health insurer Anthem Inc., based in Indianapolis. He suggested that's particularly the case now that Anthem, which has been doing RPA in pockets within the company, is now establishing the foundation for scaling up its automation efforts.
"There is a lot of enthusiasm," Krishnakumar said of automation. "They key is, how do we manage that?"
Change management a must
There is a lot of enthusiasm. They key is, how do we manage that?

Prashant Krishnakumarsenior manager of technology and center of excellence lead for RPA at health insurer Anthem Inc.
Enthusiasm and its other extreme, fear, require enterprises to think about change management as they deploy RPA. Gillespie emphasized the main obstacles to adoption aren't technical.
"This is a change management issue," he said. "Where we have had to put a lot of our time is engaging the proper stakeholder on a very broad basis."
The idea is to communicate the benefits of RPA to all parts of the organization. The outreach effort may have different aims at different levels of an organization. Employees who remain wary of RPA need assurance that software robots aren't coming to take their jobs, Gillespie noted.
Education at the top of the organization, meanwhile, focuses on overcoming hype. Managers may be under the impression that RPA can achieve huge ROI in a couple of weeks. The objective here is to manage expectations.
"They [executives] have to look at it as a high-value technology and approach it as a full-blown transformation program," Gillespie said.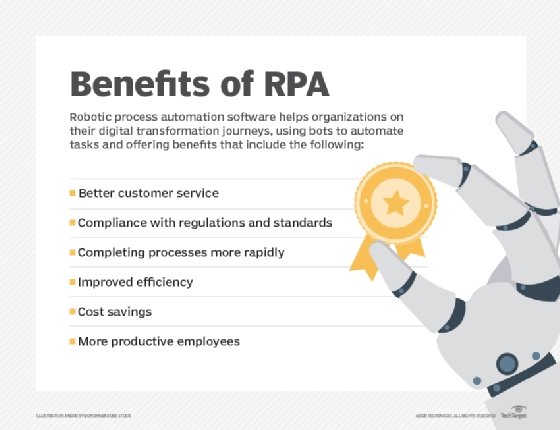 UiPath speakers discuss business-IT interaction
Greater interaction between business and IT leaders also ranks among the top RPA trends.
Krishnakumar said RPA calls for "engagement between the business side and the IT side." The IT shop, he said, has "solutions to solve the problems, but those problems exist on the business side." He recommended that RPA initiatives get sponsorship from both IT and businesses leaders.
Charlie Jacoby, senior director for strategic initiatives at UnitedHealth Group, said his company decided in 2017 to put together a group to accelerate automation. "We are forging an alliance between technology and business" and "evolving our thinking on how we interact," he explained.
Craig Le Clair, vice president and principal analyst at Forrester Research, provided some guidance on how business and technology management might parcel out RPA responsibilities. He said he envisions business having about two-thirds of the responsibility, with technology management overseeing the other third.
In Le Clair's view, the tasks of maintaining automation roadmaps, building business cases, designing bots and prioritizing their deployment would fall under the business side's purview. The technology side, meanwhile, would contribute training and best practices, catalog reusable robots, provide access to subject-matter experts, and handle vendor and license management, among other jobs.