Robotic process automation market needs provider boost to accelerate
RPA vendors, service providers and their customers must find ways to overcome time-consuming tasks and bottlenecks to accelerate the technology's enterprise adoption.
The robotic process automation market, with compound annual growth rate estimates ranging from 30% to 60%, wouldn't seem to be a sector in need of acceleration.
Yet, RPA vendors, service providers and end customers are working to further speed up bot deployment. That's because hitting those lofty growth projections will have a lot to do with making it easier for enterprises to adopt RPA. For a technology designed to reduce manual labor, RPA implementation itself can become quite labor-intensive. Organizations need to figure out which process is suitable for RPA, build the automated process -- a task which could span multiple data sources, systems and departments -- and provide for ongoing bot management and updates. Adopters may also need to pursue a change management regimen and build an RPA governance structure.
And if time is an issue, so is cost. Ron Schmelzer, managing partner at Cognilytica, an AI market research firm based in Washington, D.C., estimated RPA customers spend at least $12 on services for every $1 spent on RPA software licensing.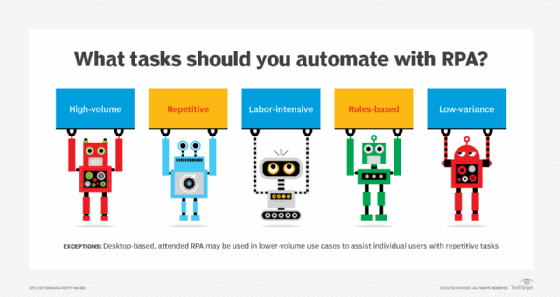 Against that backdrop, the robotic process automation market is seeing a number of initiatives to smooth the software bot journey. And partners can play their part along the way. Here are a few examples:
IGrafx LLC, a business process management software vendor, in April debuted an RPA Accelerator offering that includes its BPM platform, MyInvenio's process mining tool, RPA software from UiPath and Servicetrace, and professional services from BP3 Global Inc.
The RPA Accelerator aims to help customers overcome difficulties such as analysis paralysis, noted Krista White, vice president of marketing at BP3. For example, White said an organization may take a look at all the processes in the financial department to determine which ones to automate. "They step back and do the analysis and spin themselves into circles very quickly," she said.
RPA Accelerator, White said, walks customers through a set of questions and calculations on each process to help them decide which process is a good candidate for automation.
Automated process discovery
Automated process discovery is a key component of relieving analysis blockage. It also saves time.
Process discovery tools are now hitting the market. Kofax, a process automation vendor based in Irvine, Calif., earlier this year rolled out an Automated Process Discovery capability as part of its Kofax Robotic Process Automation version 10.4. Other RPA software vendors with process discovery tools include Kryon Systems and Blue Prism. In addition, MyInvenio's process mining tool automates process discovery.
Hitting those lofty growth projections will have a lot to do with making it easier for enterprises to adopt RPA.
With automated tools, a professional services firm doesn't have to interview every subject matter expert (SME) involved in a process. Instead, the service provider acquires an understanding of the process through the tools and can then ask the SMEs if it has the process right or whether it will need some tweaking, according to White. She contrasted the automated approach with hiring a management consultant to talk with SMEs and document processes.
"The speed at which you can do the discovery is a lot faster to get to the same answer," White explained.
Prebuilt bots available in online marketplaces are another way to accelerate the robotic process automation market.
Automation Anywhere, an RPA vendor, is positioning its Bot Store as a channel through which its systems integrator and developer partners can offer their RPA wares. The Bot Store offers customer access to preconfigured bots and digital workers.
"We're building a world-class ecosystem of developers that can enable enterprises to deploy automation faster and at a lower cost," said Max Mancini, executive vice president of the digital worker ecosystem at Automation Anywhere, in a statement.
Other bot marketplaces include Blue Prism's Digital Exchange and UiPath Go. Argos Labs, an RPA vendor, plans to launch its bot marketplace in mid-2019, company co-founder Shige Sato said.
Finally, enterprises are creating RPA centers of excellence to help speed up adoption. Those centers help prioritize processes for automation and share RPA lessons-learned across the enterprise. They can also provide a repository of bots to boost reuse. Having a central storehouse of RPA knowledge and reusable resources helps accelerate adoption.
Centers of excellence also offer partners a consulting opportunity, because organizations may need advice in setting them up.