Robotic process automation market set for service shake-up
As process discovery tools enter the robotic process automation market, RPA consultants and service providers can expect their project roles to change; other news from the week.
An emerging class of tools in the robotic process automation market could change the way consulting firms deliver services around RPA technology. Process discovery tools now entering the market promise to identify automation candidates, potentially speeding up RPA projects and reducing costs.
Kofax, a process automation vendor based in Irvine, Calif., this week rolled out an Automated Process Discovery capability as part of Kofax Robotic Process Automation version 10.4. The offering joins a limited number of process discovery products in the robotic process automation market. Other examples include Kryon Systems' Process Discovery tool, which launched last year.
RPA deployments tend to be service-intensive projects. A consultant may help customers zero in on processes that lend themselves to automation and then develop, implement and manage software bots. Such professional services end up dwarfing the cost of RPA software, according to Ron Schmelzer, managing partner at Cognilytica, an AI market research firm based in Washington, D.C.
He estimated RPA customers spend at least $12 on services for every $1 spent on software licensing. Customers, in effect, are trading one labor-intensive activity in repetitive, manual tasks for another -- contractor-provided services -- at different levels of scale.
"We think that is very problematic for the industry," Schmelzer said.
Process discovery takes at least some of the human services out of the RPA deployment, which should reduce both time and cost. That could spell reduced revenue on the front end of a project for RPA service providers. But at least some providers are expressing interest in process discovery as a way to improve their RPA engagements.
Kofax's vendors and integrators, providing early feedback on Automated Process Discovery, told the company the tool will save them time on RPA engagements, said Bryant Bell, senior director of product marketing at Kofax. Instead of spending time interviewing a department head to determine the processes ripe for automation, RPA service providers can use the process discovery tool to collect data and provide analytics, Bell noted. Processes in need of automation can be more readily identified and robots designed more quickly.
Vendors and integrators "look at [process discovery] as something that is really going to augment and bring more value to engagements with customers," Bell said.
The partner reaction is similar at Kryon.
"We are getting approached by some of those companies," said Richard French, chief revenue officer at Kryon.
French said he couldn't name any of the potential partners at this time, but he noted that RPA service providers are interested in using Kryon Process Discovery to become more competitive and improve their services for customers.
He suggested process discovery will change the role of consulting in the robotic process automation market -- especially the upfront consulting work. Service providers, however, will continue to have a role in the implementation phase of an RPA project, he noted. And RPA consultants will be able to get to that stage faster if they can use a tool to quickly find processes that could benefit from RPA.
Service providers are talking to Kryon about how Kryon Process Discovery will reduce the time required upfront and the potential for making more money on the back end of a project, French said.
[Process discovery tools] are going to help change the way they do business over time.

Richard Frenchchief revenue officer, Kryon
Process discovery tools, he added, "are going to help change the way they do business over time."
Kryon Process Discovery deploys discovery bots on customers' computers to suss out how employees interact with applications. That data is then fed to Kryon's analytics engine that suggests which processes are the best candidates for automation. The process discovery tool also creates workflows, which can be exported to Kryon Studio, a product that builds software bots.
Similarly, Kofax's Automatic Process Discovery loads agents on users' desktops or laptops and records the interactions between humans and applications. The tool crunches the data and pulls up the analysis for a robot designer or department head.
Acumen Research and Consulting, a market research firm in Rowland Heights, Calif., predicts the robotic process automation market will reach 4.1 billion globally by 2026, growing at an annual clip of 32.1%.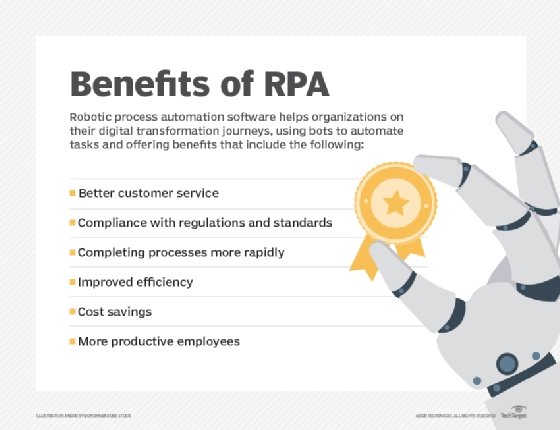 HP Inc. pivots to modern customer buying trends
HP Inc. has revamped its channel strategy to align with modern customer purchasing trends, the vendor said.
At the HP Reinvent 2019 conference, held this week in Houston, HP showcased several partner program updates that the company said take into account customers' increasing preference for subscription-based models, as well as services-led, nonlinear buying experiences.
"Our world, our industry and our partners are undergoing a dramatic shift. Together with our partners, we are adapting to these changes and engaging in a multiyear journey to transform our go-to-market model," said Mary Beth Walker, global head of channel at HP, in a briefing.
About 90% of HP's business goes through channel partners, Walker noted.
Updates included merging HP's Sales Central site with the HP Partner First portal, a move that will let partners access HP's sales resources and administrative tools from one location. The combined portal will roll out gradually starting in April, giving partners time to adapt, according to Dave Lobato, digital sales engagements and portals manager at HP.
The merged portal will also feature a Microsoft-based chatbot to provide information on more than 80,000 active HP SKUs, HP said. Lobato said HP also has a gamification feature in the pipeline.
Other notable updates included HP Integrated Financial Solutions, a new multivendor financing model.
Deborah Baker, head of worldwide leasing and financing at HP, said in addition to traditional leasing and financing offers, HP Integrated Financial Solutions will "identify innovative financial solutions designed to meet our customers' specific business objectives."
2nd Watch taps RiverMeadow for agentless migration
2nd Watch, a managed cloud provider based in Seattle, is partnering with RiverMeadow, which provides multi-cloud migration software and managed migration services.
RiverMeadow's software takes an agentless approach to cloud migration, providing 2nd Watch and its customers with an alternative to tools that require the installation of agents.
"It was an interesting product for us, because we had some clients who had come to us seeking out an option to migrate to the cloud without the use of an agent installed on their instances or VMs [virtual machines]," said Chris Garvey, executive vice president of product at 2nd Watch.
Larger enterprises, for example, may require multiple layers of approval in order to install software on a cloud instance or virtual machine and, thus, alter the standard build. For such customers, an agentless approach removes a barrier "to making a migration happen in a timely fashion," Garvey noted.
2nd Watch's Cloud Migration Factory, a migration acceleration program, has worked with customers such as Condé Nast, Yamaha and Coca-Cola North America.
Other news
Managed service provider (MSP) software vendor Datto has rolled out a developer program. The program aims to help technology vendors integrate third-party applications with Datto products, the vendor said. Program resources include access to a Datto product and technical support team, Datto partner resources, and cobranded marketing resources.
In related news, IT management vendor Liongard integrated its systems documentation product, Roar, with the Datto Autotask professional services automation (PSA) platform.
Collabrance, a master MSP based in Cedar Rapids, Iowa, released new IT service products for its MSP customers. The new products, which supplement Collabrance's all-you-can-eat, private-label offering, include discrete network operations center and service desk services. Collabrance said it will introduce additional partner offerings this year.
Unified Office Inc., an MSP focusing on virtual communications services and business analytics, is also targeting its downstream channel. The company said it is expanding its flagship Total Connect Now platform to include a Visual Call Flow Builder, which the company said will let its resellers and end customers build, design and manage their own call flows.
Pulseway, which provides remote monitoring and management software, integrated its platform with ConnectWise's PSA platform, ConnectWise Manage.
CloudJumper, a workspace-as-a-service provider, said it has joined the Microsoft Data Center Optimization program.
Highfive launched a new partner program and has hired former HPE executive Greg Popham as its leader. Popham is now vice president of global channel sales at the video conferencing company.
Rackspace appointed Sandy Hogan as executive vice president and managing director of the Americas.
DFLabs, a security orchestration, automation and response vendor, said it is working with Abu Dhabi-based CyberGate, its first managed security services provider partner in the Middle East.
Sparkhound, a digital solutions provider, said it selected Amazon AppStream 2.0 as the preferred tool to migrate an upstream oil and gas client's Peloton WellView application to the cloud. The migration let the client "downsize its physical IT infrastructure by 70%," according to the company.
Market Share is a news roundup published every Friday.