Automation Anywhere's Microsoft pact indicative of hot RPA market
RPA vendor Automation Anywhere said it's poised to take full advantage of the burgeoning RPA market. Its recent deal with Microsoft is just one indication of RPA's popularity.
SAN FRANCISCO -- How much impact can robotic process automation have on a company's operations and efficiency? According to Automation Anywhere, a leading vendor in the fast-growing RPA market, the impact can be dramatic.
Take mortgage applications, for example, which typically take 15 days or longer to process with lots of human interaction along the way. Automation Anywhere said that one of its customers was able to reduce the time for a mortgage application process down to five days -- then, one day and, more recently, to a crisp seven minutes. RPA software automates repetitive, high-volume, rules-based tasks by mimicking how humans interact with an application's UI to get the work done.
"When you start getting work done at the pace of a bot and what a computer can do, you see new applications that are not just faster and cheaper, but [have] the ability to do things you never did before," said Mihir Shukla, co-founder and CEO of Automation Anywhere.
Shukla spoke at a media event his company sponsored on the adoption and use cases of RPA in general and Automation Anywhere's progress in particular. Automation Anywhere's technology combines traditional RPA software with cognitive technologies, such as natural language processing, to automate work for its 2,800 customers. The San Jose, Calif., vendor will have 3 million bots by 2020, according to Shukla.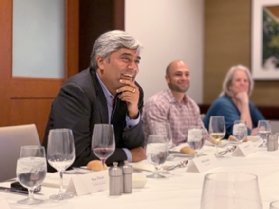 ROI drives RPA market
Automation Anywhere's customers are not alone in using RPA bots to optimize work processes. Demand for RPA technology has made it the fastest-growing segment of the global enterprise software market, according to a June 24 report from Gartner, which pegged RPA revenue at $1.3 billion in 2019. Grand View Research estimated the RPA market size at $597.5 million in 2018 and expects it to reach $3.97 billion by 2025.
"I've never seen any sector grow this fast globally across so many countries and industries with multiuse cases, like finance and HR, all kicking in at the same time," said Ramzi Ramsey, an investment advisor with SoftBank, which has an investment in Automation Anywhere.
Futurum analyst Shelly Kramer said the reason RPA companies like Automation Anywhere and competitors like UiPath and Blue Prism are finding success is because customers are seeing clear ROI.
"In a lot of industries, the automation of processes has been going on for a while, but it's just now gaining significant traction with the understanding of what RPA is and how it can help internal operations, cost savings and the whole customer-facing part of that," Kramer said. "Improved call center operations, quicker processing of insurance claims, loan applications, etc. -- these are the kind of outward-facing customer service experience [use cases] where RPA is having a big impact."
RPA market to transform nature of work?
Nayaki Nayyar, president of digital services management at BMC Software, another Automation Anywhere partner, said RPA is changing how customer service is done in a positive way.
"We see massive disruption with service management as a category among telcos and financial institutions," Nayyar said.
Shukla insisted these changes will give knowledge workers and others more opportunity to work on more challenging, higher-value tasks while RPA bots handle the more mundane work, like making sure a customer's change of address is processed.
"In the next 10 to 20 years, RPA is going to transform the nature of work," Shukla said. "Already, the error reduction rate at healthcare companies has been shown to be an amazing benefit, saving companies millions of dollars. But the biggest benefit in the long run is that RPA is going to improve the customer experience."
Teaming up with Microsoft
Another indication of Automation Anywhere's white-hot RPA market: The vendor recently entered into a deal with Microsoft that includes joint marketing and a multimillion-dollar investment designed to advance the adoption of RPA technology and accelerate customer migrations to Microsoft Azure.
As part of the collaboration, Automation Anywhere said its software bots used to automate complex business processes will be deeply integrated with Microsoft's Power Platform and accessible with a single click. The Automation Anywhere Bot Store will also feature new Microsoft-enabled bots and Digital Workers; these are in addition to more than 60 Microsoft-specific bots already on the platform. Digital Workers are downloadable, plug-and-play digital personas, linking curated software robots with transactional, cognitive and analytical abilities designed to emulate and connect with human workers.
Also, beginning this quarter, Automation Anywhere products will be available on Microsoft's Azure Marketplace and include an Express Install feature for fast installation and deployment. As a result of the deal, companies will be able to host Automation Anywhere's RPA platform on Azure or on premises in a private cloud.
"Automating software and business processes, as the [Automation Anywhere] partnership with Microsoft seems designed to do, could be a real differentiator for Microsoft and its Azure cloud services," said Pund-IT analyst Charles King. "We're seeing some of this from other companies -- notably, those with strong AI foundations, like IBM and Google, that are being used to accelerate automation initiatives."