Definition
digital process automation
What is digital process automation (DPA)?
Digital process automation (DPA) uses low-code development tools to automate processes that can span multiple applications. The approach focuses on automating, or partially automating, tasks involved in a variety of business practices that typically require some form of human interaction.
Because DPA can span many applications, it is used in enterprise digital transformation initiatives to streamline business processes and optimize so-called customer journeys. Business functions where DPA is used to automate and optimize workflows include sales, marketing, management, IT and production.
DPA is often described as the evolution of business process management (BPM) and, as such, organizations that have experience with BPM should be able to easily implement DPA.
The term DPA was coined by Forrester Research in 2017 to reflect the observation that businesses were transitioning away from traditional business process management software (BPMS) in order to speed up their digital transformation journeys. Traditional BPMS and business process automation (BPA) tools were sometimes perceived as cumbersome and complex, requiring expert coders, and less than optimal for integrating disparate applications.
Forrester has since differentiated the digital process automation field into DPA Deep and DPA Wide. DPA Deep tools represent the evolution of traditional BPMS tools into nimbler low-code development tools that are easier to provision in the cloud and integrate with other cloud and enterprise applications. DPA Wide tools represent much lighter tools that are less expensive to acquire and implement, are better suited for automating simple processes, and accessible by a wider audience of business users.
Common digital process automation goals include maintaining transparency across processes, featuring some form of notification and reminder abilities, as well as automating potential customer tasks.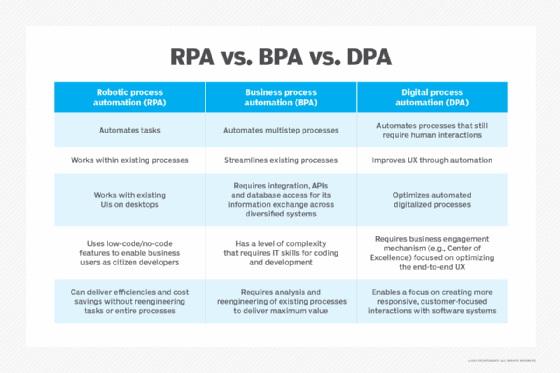 Benefits of digital process automation
Benefits of digital process automation include:
time savings
cost savings
efficiency gains
improved customer experience
Tasks are completed faster when automated. By automating as many previously manual or repetitive tasks as possible, employees are free to focus on other business aspects.
In addition, employees with continually updated workflow information don't have to spend as much time making sure their workflows are up to date or tracking down lost documents. Organizing and digitizing processes also allows an organization to quickly shift goals if needed.
When workflow elements are automated, employees have more time to make other aspects of their product better for the end user, improving the customer experience.
Digital process automation examples
DPA can be used to automate aspects of many common business processes:
Customer onboarding. DPA can connect the dots between various tasks that need to be reliably executed when onboarding customers. This can streamline the customer journey and streamline the customer experience. This could include things like automatically kicking off background checks, entering data across multiple applications, generating login credentials, setting up accounts and sending off a welcome email.
Procurement. DPA can help to automate many background processes such as copying data between ERP and ordering systems, entering data into tracking systems and automatically entering invoicing data into finance systems after an order has been placed.
Order fulfillment. DPA can help to automate various back-end processes associated with ordering and fulfilling new products, resulting in a more customer-centric approach to shipping. Automations could include estimating fulfillment and delivery times, calculating local taxes, generating a shipping manifest, tracking the status of an order and confirming receipt of a package by the customer.
Digital process automation vs. business process automation
Digital process automation, business process modeling, business process management and BPMS are types of business process automation (BPA) tools used for workflow automation. However, many experts have observed that the industry is gravitating away from using the terms BPM and BPA to characterize a specific approach to enterprise automation.
Digital process automation vs. robotic process automation
Digital process automation can also be easily confused with another term: robotic process automation (RPA).
RPA allows companies to create software robots or bots that mimic human interaction with software to automate high-volume, repeatable tasks. RPA can be used to automate queries and calculations, as well as maintain records and transactions.
Because RPA automates applications by emulating how humans use software, it is relatively easy to deploy on top of existing applications. It is also intuitive for business users to implement, because it works in the way they are used to interacting with apps.
In contrast, DPA requires implementing and integrating a low-code development platform, which can take some time to get started. Also, DPA applications need to be coded. However, the benefit of DPA is that these applications tend to be more scalable than RPA, because they integrate into other applications via APIs rather than the user interface.
Both RPA and DPA can be combined with artificial intelligence (AI) and machine learning (ML) tools to implement intelligent process automation (IPA) capabilities.
How to successfully implement DPA in 4 steps
Identify automation candidates. Managers or businesses users should start out by identifying a process they want to automate. This step could take advantage of process mining tools to automatically identify and prioritize automation opportunities.
Coordinate with IT. Management and finance teams should work with IT or their automation center of excellence (CoE) teams to evaluate whether the automation should be implemented using DPA, RPA or a dedicated cloud service.
Ensure governance. Security and privacy teams should work with the IT and management teams to vet the DPA tools and identifying any risks with particular automations.
Start small and scale. Teams should start with some simple processes that deliver short-term ROI to build confidence in the process and excitement about potential. Once these efforts have started to pan out, organization can begin planning a hyperautomation strategy to help scale the process of implementing more automations.
Digital process automation tools
One way to think about DPA tools is to use Forrester's schema of DPA Deep and DPA Wide.
DPA Deep tools tend to be better suited for building long-running processes. These often build on traditional business process modeling practices and case management capabilities and are ideal for industries like banking, insurance and healthcare with strong process requirements. Representative vendors include traditional BPMS and case management vendors such as Appian, Bizagi, Bonitasoft, Genpact, IBM, Kofax, OpenText and Pegasystems.
DPA Wide tools are better suited for rapid development of automated process platforms. These tools have strong process modeling and orchestration capabilities, low-code tools that are useable by business users and some IT governance capabilities. Leading DPA Wide vendors include companies such as AgilePoint, Axon Ivy, Creatio, JobRouter, K2, Newgen, Nintex and Ultimus.
DPA tools might combine low-code/no-code workflows with RPA, AI, machine learning and business rules engine capabilities for building out more sophisticated workflows. They can include features such as automation capabilities, notifications or application development tools.
This was last updated in
May 2021
Continue Reading About digital process automation
Dig Deeper on IT applications, infrastructure and operations