16 top business process management tools for 2023
BPM tools are evolving rapidly as vendors add intelligent automation tools, cloud-based functionality and user-friendly features. Read about products from 16 top BPMS providers.
Intelligent business process management software continues to make its mark on the automation landscape as the tool of choice for new and replacement business applications, continuous improvement automation changes, and business and digital transformation. While there are numerous new entrants in this class of automation tools, some of the major products have roots that are over 20 years old.
Introduction to iBPMS today
A review of iBPMS platforms shows that most claim to offer similar capabilities, but the vendor lists of functions that support these capabilities can be confusing, as vendors have different naming conventions. The same is true for the features in these functions, making it difficult for those who don't dig into the products to really understand what they are being told.
In addition, as important as a tool's capability is its usability. From experience, we know that if a selected iBPMS tool is difficult to use, it will not be adopted. This is a particularly important consideration if the company plans to involve citizen developers -- that is, non-technical people who are taught to use the iBPMS for business process mapping, rules definition, business process improvement and business redesign.
Industry-wide and internationally, the use of iBPMS continues to grow as companies have gotten serious about digital transformation and finding ways to deal with legacy applications and speed up application development. As companies modernize their applications, however, management of IT resources is a challenge due to staff turnover, retirement and other employment issues.
IBPMS tool capabilities have adjusted accordingly, in acknowledgement of shrinking staff numbers, knowledge issues, case management, workflow automation design and a need to support continuous improvement. The tools are, by necessity, becoming easier to use with much of the application development work automated with low-code/no-code application generation.
The rise of citizen developers
Gartner predicts that by 2026, developers outside formal IT departments will account for at least 80% of the user base for low code development tools, up from 60% in 2021.
Choosing the right BPMS tool, however, is not easy. Although there are several "top XX iBPMS products" lists available on the internet, there is surprisingly little overlap of products among these lists. Also, most of these lists do not contain the tried-and-true industry giants. The list presented in this article is unique, based on my experience working with iBPMS tools in a wide variety of industries. Before diving in, the following are some key observations:
A market restructuring is coming. We now have a crowded field of iBPMS products, which will shake out over time as some prove to be successful and others simply don't find their niche. The trick is to pick a vendor that will make the cut and evolve as new capabilities are introduced.
Understanding differences among tools is critical to obtaining business value. Although most of the main products discussed here can provide solid support for most needs, as noted, there are differences in the products and in critical areas, such as ease of use by citizen developers, the scope of capabilities in certain areas and limitations in key capabilities. These differences are important as they may determine how well the tool fits your needs and if it will be accepted by your teams. Based on my experience with process modeling and workflow automation in iBPMS tools, it is clear, for example, that business models (augmented with specifically defined rules and action symbols) are the core of these tools. But tools differ in how they build applications and tie into an organization's use and flow rules. For example, some tools are easier to use for business professionals, while others are presented in a more technical manner.
BPM is evolving, driven by new technology and business needs. As part of the hyperautomation market, the discipline of business process management (BPM) is also changing. The idea behind iBPMS is that traditional BPM software (BPMS) needs to evolve, gaining intelligence and incorporating modern hyperautomation technologies such as artificial intelligence to operate independently -- i.e., both with human participation and without it.
Measuring iBPMS performance is challenging -- and necessary. Some of the benefits of modern iBPMS tools are improved accuracy, increased agility, increased productivity and shorter development time, more reliability, and cost reduction. But, testing the performance of these tools before you buy is neither simple nor straightforward.
Performance measurement should be broad-based, comprised of users, citizen developers, IT developers, business managers and any other group using the tool. Any iBPMS tool quickly becomes a critical, foundational component of a company's digital architecture -- its use will be pervasive and invasive and you will live with it a long time. So, it pays to make a selection that works for business operations, performance management and IT.
Start by creating a short list of key capabilities. Features to look for include the following:
Cloud-based for access flexibility;
Low-code or no-code capability to reduce work;
simulation capability during the design phase and later during the product's use;
support for robotic process automation (RPA), AI and data management to optimize tool use;
flexible API development;
collaboration capabilities; and
advanced analytics.
In this review, I have focused on 16 major iBPMS vendors. They offer proven products with rich capability sets. For the most part these tools are stable -- with the caveat that new releases, capability changes or additions can cause user experience problems. But the vendors on this list have proven to correct issues quickly.
IBPMS platforms, in turn, are designed to work with a constellation of modern automation software, sometimes referred to as hyperautomation tools, which include technologies such as those listed in Figure 1.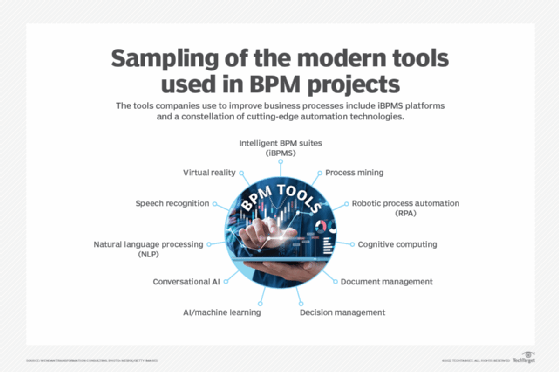 16 business process management tools
The following vendors, listed alphabetically, are not the only ones you might want to consider for your iBPMS project. But they all provide mature iBPMS tools that should be included in your vetting and selection process.
The list is not meant to be a comparative analysis or a definitive evaluation of any vendor or product. Use it as a starting point in your due diligence process.
1. Appian
One of the early vendors in this space, Appian is widely recognized as an industry leader. Its products continue to evolve and offer a rich set of capabilities built around its cloud-based, low-code application generation platform. The Appian tool set supports both technical developers and business experts (citizen developers) throughout the BPM process, from analyzing workflow automation needs in current operations and on through process mining, workflow design, construction and deployment.
Appian offers a comprehensive, easy-to-use set of integrated hyperautomation tools that includes iBPMS, RPA and AI components. The iBPMS is the core product and provides advanced process modeling and API capabilities. Visual models support performance analysis as well as process mining. The process modeler also generates low-code applications that can be augmented with Appian AI and RPA generated programs. Together, these products support flexible process redesign and help expedite the steps in the process models.
Appian Designer's intuitive design capabilities and versatile functionality lets you create, build, test and deploy portals. Appian Portals connects your external end users without the need for authentication, letting you quickly build secure websites that are connected to your apps using low-code capabilities.
With Portals now managed entirely within Appian Designer, a successful deployment of any object associated with a portal will automatically result in a published portal. This upgrade centralizes your work in one space in Designer and makes deployment intuitive and quicker for developers and their teams.
In 2022, Appian released several significant capabilities in the iBPMS suite, including Data Fabric, which gives users the ability to track information movement throughout multiple applications and databases. In addition, Data Fabric allows generated applications to be connected to third-party applications without the need for custom APIs or application migration. Intelligent document processing capabilities come with AI-assisted API integration along with process mining that uses predictive modeling to anticipate the impact of changes and support continuous optimization. The 2022 release of Portals also comes with enhanced customer-facing user interface capabilities.
Also scheduled for 2023 are increased document management capabilities along with enhancements to Appian Community, the vendor's user support program, and a continued focus on data management, intelligent performance management and predictive analytics.
2. Aurea Savvion
Savvion Business Manager is a comprehensive cloud-based, low-code iBPMS platform that supports the redesign, construction, automation and deployment of processes.
Savvion's Future of Commerce Cloud aims to help companies reduce operational complexity and give their customers a simple, friendly buying experience. Analytical tools that monitor customer activity are designed to help companies find and retain customers.
Savvion's model-based Business Process Management Studio allows companies to adapt operations, incorporating management's insight into business operations and problems. This includes an ability to change business rules and logic without involving IT. Applications can also be augmented with RPA capabilities. Taken together, the Savvion products enable companies to update their back office operations with modern applications while providing end-to-end capabilities for workflow, orchestration and monitoring.
The iBPMS platform's process discovery, process modeling and process redesign capabilities support a collaborative environment. Savvion's Future of Work Cloud facilitates connections between an organization's operations, people and customers to help companies build, integrate and manage next-generation IT infrastructure. All models are built through a visual drag-and-drop modeling approach that is part of the low-code capability that drives application generation. In addition, easy-to-use data handling and advanced real-time performance analytics provide insight into various improvement design versions.
Savvion's flexible rules generate and allow for alternative process scenario paths, triggering the right processing path for given situations. This is important because it supports continuous improvement changes as business operations evolve. Built-in performance monitoring allows for the 24x7 optimization and analysis of customer interactions at the level of detail needed to promote continuous improvement and the operational change to meet target goals.
3. Bizagi
Bizagi provides advanced process redesign and low-code automated application systems generation through three products: Bizagi Modeler, Bizagi Studio and Bizagi Automation. Together, these products form the Bizagi iBPMS platform. Bizagi also offers a cloud option for additional flexibility, enabling project teams to customize experiences for different customer groups and for different geographic locations.
The Bizagi Modeler is a reliable process modeling tool that enables project teams to describe and automate their business processes and procedures, creating complex models of workflow and workflow automation through a software interface that uses Business Process Modeling Notation (BPMN) symbols to define and generate low-code applications. Application interfaces, data use, performance monitoring and more are supported through the process modeler using specialized symbols. This lets process designers see what supporting information is available and access it with a click. The modeler also allows companies to document business processes in a centralized cloud repository that serves as a library for general access. The result is faster data access, expanded data manipulation and improved integration capabilities.
The Bizagi iBPMS platform is a suite of intuitive wizards that expedite and simplify use. This improves the speed of work, while promoting innovation as teams redefine business models and workflow. This capability allows these teams to take advantage of business operations resources (e.g., citizen developers) to define, model and evaluate current and future operating models. Through this capability, everybody involved can work closely, mitigating the traditional gap between the user, business operation designer and IT. The platform is also highly scalable, enabling teams to deal with BPM projects of all sizes and complexity. Also, more than 130 pre-built connectors and integration tools are available to help speed up the definition and development process. Advanced security features and complex process mining help ensure that the right people have access to the right information.
RPA is supported through partnerships with RPA vendor UIPath. AI and machine learning capabilities help users automate decision-making and find a path through processes.
4. IBM Blueworks Live
The Blueworks Live iBPMS platform is a cloud-based collection of workflow automation and continuous improvement products. These products include business process mapping through low-code generation and performance monitoring. The platform offers advanced support for all BPM functions, from process modeling to application generation and beyond, using simulation, RPA, AI and machine learning through a variety of IBM products. As with most cloud-based iBPMS tools, Blueworks Live supports international and local collaboration, allowing teams to be geographically distributed. This collaboration is supported by a number of social networking features enabling team interaction.
Blueworks Live also supports three unique views for data handling through its Discovery Map, Process Diagram and Documentation products. The Blueworks Live symbol-based drag-and-drop menus give process improvement and transformation teams the ability to identify, define and analyze workflow (using process mining), support operational performance, conduct process and activity redesign modeling, generate complex applications, and use simulation to find and eliminate workflow performance issues.
To expedite modeling, Blueworks offers 200 process map templates that teams can adopt or adapt. As the new business/application models are built, the iBPMS platform can apply AI and RPA concepts and tools to further improve the capabilities of the new design. Collaboration points can be added during the redesign process to help drive communication between all parties involved. When the new business model is finished, Blueworks can deliver the application through low-code generation capabilities.
IBM's RPA capability is provided through Automation Anywhere, one of the major standalone RPA vendors.
5. IGrafx
The iGrafx cloud-based platform, Process360 Live, provides flexible process modeling with comprehensive simulation capabilities, enabling companies to optimize new process designs and generate automated applications to improve or transform their business operations. The tool suite provides flexible drag-and-drop process modeling, process management and -- through process mining capabilities -- performance management. Both AI and RPA capabilities are provided through partnerships, resulting in enhanced design, construction and execution capabilities.
Process360 Live facilitates the collection of critical business activities for process definition, workflow automation analysis, business modeling, process mining and operational optimization.
These models can include RPA and AI supported business functions, allowing designers to use the best resource for the work. This helps process improvement teams create applications that fit the company's digital maturity and culture.
Using iGrafx's simulation capability, continuous process improvement teams can try out various workflow changes. In simulations, each business activity in the model behaves according to individualized execution rules. This allows the improvement team to test different operating scenarios for different improvement options. The simulation function can also examine the roles that staff play in the redesigned process and help identify the optimal skill and staffing mix.
Once the team and the sponsor are satisfied with the new operation design, iGrafx can generate the defined supporting applications. Low-code generation capabilities are provided through integrations with other iBPMS vendor offerings.
6. Kissflow
Kissflow's cloud-based, low-code iBPMS tool platform uses rapid application development with model-driven, rules-based application design and generation to help companies improve and reinvent operations. Companies can streamline and simplify their processes and workflows in Kissflow, run the design through the simulation capability, then generate a new system and, if appropriate, a new application.
Collaboration is supported throughout the design and development process, enabling process owners, business users and automation professionals to jointly redefine a business operation, then use simulation to find bottlenecks and iteratively optimize work. The no-code platform augments this by providing sample modeling dashboards and other design aids to create custom templates and forms. RPA software bots, in tandem with strong API tools, help teams build interfaces to other applications in the workstream quickly.
Over 400 pre-built templates and forms are used to jumpstart the business operation redesign. These templates support the use of citizen developers. The effectiveness of the redesigned processes can be tested using Kissflow process mining analytics, and the models are iterated until optimal.
7. Microsoft
Microsoft's Dynamics Lifecycle Services (LCS) business process modeler lets process improvement teams create and modify business models, design new business processes and modify them as the need arises.
As with most iBPMS tools, LCS products are designed to work together to provide a wide range of services. Using performance monitoring and reporting capabilities in Azure Data, the business process modeler also lets design teams compare the performance of different design options. Visual process and workflow models are created by dragging and dropping symbols that represent program code for certain actions, with the symbols placed in the order of the workflow. From these representations, the Microsoft modeler generates new low-code applications. Because this low-code approach requires less tool mastery and is less complex than traditional application programming, changes are produced faster with reduced need to manually write programming code -- and at a lower cost and reduced risk. This allows companies to use current business staff working as citizen developers to play a major role in the new business operation and workflow design.
Azure AI is a portfolio of AI products for iBPMS developers and data scientists that provide speech, language, machine learning models and more. These and other capabilities are provided through the Microsoft Intelligent Data Platform, enabling the design team to help protect data with security and privacy controls.
A key aspect of the Microsoft iBPMS capabilities is their ability to generate API interfaces with definitional input. As every application interfaces with a number of other applications, the ability to automate much of the API development is a timesaving and quality assurance feature. The creation of these interfaces as well as the automation of repetitive work that is guided by rules is built into Windows 11.
8. Newgen
Newgen describes its offering as a "unified digital transformation platform" that provides process modeling, process automation, content management and performance management.
Newgen's OmniDocs product group creates business models using drag-and-drop techniques. The models created through Newgen's visual process mapping can be used to generate applications and implement new workflow automations through Newgen's cloud-based, low-code platform. Newgen's cloud-based AI capability can be used to increase automation gains. Additional work reduction gains are delivered through RPA capabilities, which are provided through RPA vendor UiPath.
Newgen's BPMS capabilities give teams the ability to centrally manage business rules while streamlining workflow through dynamic case management capabilities. Business process improvement teams can use this product group to control document and case management, as well as workflow modeling and business redesign.
Newgen's OmniFlow iBPMS product helps track and monitor KPIs, SLAs, costs and productivity. Process Insights is a simulation and analytics tool that provides insights into the actual business operation. Process optimization and customer experience enhancement are provided through process analytics that support real time reporting and intelligent recommendation reporting.
9. Nintex K2
The Nintex K2 Automation platform provides low-code process automation capabilities to connect the people, data and systems that define how, when and where work will be done.
Cloud-based performance monitoring tools analyze performance information to help drive continuous process improvement. Nintex's pre-built process maps, workflow and RPA bot templates, and the use of flexible forms streamline the discovery and analysis phases of application definition and generation. In addition, the vendor has enhanced its multi-tenant cloud infrastructure, added application management capabilities and extended the capabilities of its data integration framework.
The K2 business design and construction services have also been augmented with RPA and AI application generation services. The latest release of Nintex K2 offers AI capabilities through integrations with Nintex clouds.
Nintex has also increased workflow and process orchestration capabilities to provide several governance and integration features, including additional Nintex Connectors, Nintex Xtensions and access to Nintex AssureSign.
With the Nintex workflow management solution, system administrators and client managers can check on the health of all K2 software servers and workflows to rapidly diagnose and plan interventions to resolve process-related issues. This improves oversight of critical workflows that must stay operational at all times.
10. Oracle Business Process Management Suite
The Oracle Business Process Management Suite is a collection of cloud-based products that provide a full range of flexible and continuous business improvement capabilities. These capabilities include process mapping using drag-and-drop symbol placement in a model to form a workflow that can be augmented with a wide variety of tools. The tool set covers, for example, business operations performance management, machine learning, AI, RPA, performance analytics, predictive analytics, simulation, role-based work assignment and decision management. Together, these capabilities form an advanced iBPMS platform that supports a collaborative business design and development environment. These capabilities, when considered together, provide what's known as actionable business architecture modeling, which includes inference-based rules engine capabilities, comprehensive business activity monitoring, BPM and adaptive case management and predictive modeling.
The Oracle BPM suite also provides a complete group of tools and capabilities for creating, executing and optimizing the activity, flow and automation in a process. This enables collaboration between the members of a BPM redesign team. The BPM suite also supports the use of a single design-time engine that simplifies compliance, among other benefits.
Oracle AI and Oracle APEX RPA suites are used in the process redesign phase to enhance or replace normal operation capabilities with low-code models and provide additional work reduction through simplification and automation. Oracle has stated that these APEX bots, for example, can eliminate 98% of hand coding.
Once the new business area's operational design is complete -- but before the design is converted to generate applications -- the Oracle simulation capability can test for flow bottlenecks, processing errors, data cadence and more. This process can be repeated several times until the work and its flow are considered optimal. At that time, following process owner approval, the result is translated through Oracle's low-code engine to generate the application programs, interfaces, data manipulation programs and more that make up a company's iBPMS application. The software can be run again through the simulation module to check for efficiency.
11. Pegasystems
Pegasystems' digital iBPMS platform is considered one of the best iBPMS tools for larger companies. It has a superior ability to scale, adjusting to support large numbers of users who can access applications concurrently. Analytics is also a strength, with a focus on process mining and reporting.
The Pegasystems product group contains multiple products that work together to provide advanced low-code application generation for complex business processes. One of the early entrants into the BPMS and iBPMS market, the Pega line of products have been battle-tested and work well under pressure. These products have generally been a little complex and difficult for businesspeople to use, but capable and reliable.
Highly scalable, the component products in this group drive collaborative process improvement and allow transformation teams to address innovation through comprehensive business modeling, rules definition, flexible screen design and workflow performance management. Applications are defined in process models and then used to drive low-code application generation, which can be augmented with RPA, AI and blockchain applications.
In addition, applications can be generated using RPA and intelligent automation. Pega Robot Studio gives business design teams the ability to automate commonly performed tasks. Data can also be synchronized across unrelated applications. Pega Robot Runtime executes those automations, either assisting users (attended) or by operating independently (unattended).
As one of the older entrants into the BPMS market, Pega has honed its security and efficiency components. But its real strength is in its rules engine-driven approach, which forces design teams and users to identify and reconsider each rule. Failure to find and consider a rule's relevance, value and necessity is often a problem with code generation, so this requirement helps build better software -- faster.
12. Red Hat
Red Hat is an IBM subsidiary that provides cloud-based iBPMS services through several open source, low-code products. These products include Red Hat JBoss BPM Suite, Red Hat Virtualization (RHV), an enterprise virtualization product, and Red Hat Process Automation Manager. The core of the Red Hat iBPM platform is this Process Automation Manager. It provides modeling, decision support and rules management, along with resource optimization for solving complex scheduling problems and supporting advanced decision-making.
Core process mapping capabilities drive process definition and workflow automation. Red Hat runs in a Linux enterprise operating environment and has largely become associated with that operating system. RPA capabilities are provided through a partnership with RPA vendor Blue Prism. AI support is provided through the Red Hat OpenShift product.
Red Hat's Process Automation Manager relies on partner company products to augment its core iBPMS capabilities. Red Hat has also been adding to its product line with acquisitions and internal development. An example is the Red Hat MIMIC Simulator that creates a virtual model office lab environment, with 50,000 devices providing an interactive hands-on environment to test for bottlenecks and stress on the application.
Through a combination of process modeling and rules definition, plus its use of different vendor products, Red Hat's iBPMS platform supports the creation of cloud-based applications for a wide range of companies in numerous countries.
13. SAP Signavio
Signavio was acquired by ERP vendor SAP in January 2021. Post-acquisition, SAP introduced advanced drag-and-drop process modeling, with process mining-driven performance monitoring to provide KPI reporting, benchmarking and user behavior as well as customer experience analysis. The tools in the product platform are cloud-based and local, providing process improvement team members a flexible environment for decision management.
Signavio's holistic approach to business process evolution strengthens SAP's ability to support its customers' digital transformation initiatives. Signavio's enhanced process mining capabilities and cloud-based, no-code application development support citizen developers.
The data obtained through these mining capabilities is used in the Signavio simulation product to support predictive modeling and decision-making. Process redesign and redevelopment is performed using a mobile application builder, which can be local or cloud based. Traditional low-code application generation is augmented by RPA capabilities, advanced analytics and reporting, providing sophisticated -- and simpler -- software that can predict problems or report them in a real-time mode. The monitoring capabilities of Signavio also recommend improvements that affect process effectiveness and efficiency. Of course, in this environment, collaboration is important. These capabilities give business users a view of every business process and help improvement teams recommend solutions that drive efficiency.
14. Tibco
The Tibco BPM enterprise product is a cloud-native, digital process automation platform that supports agile and scalable low-code, RPA and AI capabilities. Tibco's wizard-based approach to business design is aimed at both IT professionals and business users with rudimentary technical skills.
Comprehensive case management capability and visual case data modeling make it easy for users to formalize processes, improve operating procedures and manage employee performance. Process mining with simulation capabilities helps drive optimization.
The Tibco iBPMS platform's applications deployment offers horizontal scaling, load balancing and self-healing.
Interfaces between programs are built using APIs. Business improvement is supported using the Tibco Intelligent Work and Resource Management (iWRM) tool. The capabilities in this tool allow process managers to dynamically redesign work based on skill requirements for BPM activities, staff access privileges, locations, an employee's workload and the company's business rules. These work assignment capabilities remove work backloads, help adjust to staff absences and improve operational efficiency. The capabilities in this platform align business and digital transformation needs.
Tibco is also a leader in data science and AI. The company has stated that it is committed to "putting AI everywhere in our analytics tools, data fabric and integration tools." ModelOps, the Tibo AI product, provides the ability to interact with common AI model formats either through a cloud service or on premises.
To support a variety of data mining activity, Tibco Spotfire analytics offers a full-featured predictive operations dashboard, enabling actionable insights, predictive workloads and a range of what if forecasts.
Tibco ActiveMatrix BPM has been renamed Tibco BPM Enterprise with the release of the 5.0.0 version.
Tibco has announced the acquisition of RPA vendor Blue Prism.
15. Trisotech
Trisotech has participated in the various BPM standards committees, playing an active role in the evolution of BPM and its supporting tool platforms. This involvement has allowed Trisotech to be a leader in complying with industry rules, BPMN and other standards. Its products are compatible with other hyperautomation tools.
The tools in its Digital Enterprise Suite product are focused on collaboration-based process improvement and help BPM teams in all phases of the software development lifecycle. The suite is composed of five web-based components: discovery accelerator, business process modeler, the case management modeler, the decision modeler and the insight analyzer. A SaaS subscription gives users cloud-based access to Trisotech's tools. Through the Trisotech product suite, improvement teams can produce visual drag-and-drop models, do model analysis using simulation and use low-code application generation to create processes that are anchored in open standards.
Trisotech is a cloud-based iBPM vendor known for continuously updating its products and for innovation. The company has recently added AI/machine learning and RPA capabilities to augment its low-code/no-code workflow mapping and application development capability. Recognizing the shortage of skilled developers, Trisotech has focused on simplicity, making its products easy to use for citizen developers.
RPA is enabled by the Digital Automation Suite, which allows teams to orchestrate RPA bots from any RPA provider and integrate them with other hyperautomation technologies such as AI and machine learning. This allows Trisotech to create hybrid systems that integrate the capabilities of disparate environments.
16. Ultimus
Ultimus Digital Process Automation Suite focuses on low-code, cloud-based digital business automation. The vendor touts its human-centric approach as key to the usability of its tool suites. The technology suite supports model- and rules-based, low-code application generation for both complex business processes and straightforward workforce task automations. Machine learning capabilities are also offered to support intuitive application development.
The company has made RPA an important part of its strategy, with the release of its Flobots product for creating end-to-end process change by using hyperautomation. In addition, its use of blockchain provides a new approach to low-code application development. This approach translates documented operational requirements captured in tools like Microsoft Excel into production-ready custom software applications.
The Ultimus Advanced Task Service supports the performance and scalability of in-production business process applications. It is designed to create applications, including fully mobile-ready applications, quickly at low cost and with less effort than traditional low-cost iBPMS tools.
In 2022, Ultimus improved its iBPMS capabilities through changes to its process automation, low-code, performance and security services. In 2023, the vendor plans to expand its AI and natural language capabilities and support conversational capabilities.
About the author
Daniel Morris, managing principal at Wendan Transformation Consulting, has served as the North American practice lead for business transformation at Infosys, Capco, Tata and ZS Associates and has been an executive consultant at IBM Global Services. In these roles, he has worked on more than 100 projects in multiple industries, training people in-house, at client companies and at conferences. Morris has coauthored six books and over 100 articles on business transformation. A featured speaker at business transformation conferences, he has served on the boards of the Business Architects Guild, the Association of Business Process Management Professionals (ABPMP), the PEX Advisory Board and the Forrester BPM Council. Along this journey, Morris has written major parts of the ABPMP architect and senior leader certification tests, and the BAA Enterprise Architect certification test, earning the designation of ABPMP Fellow. Morris is currently releasing a new approach to digital and business transformation and building the digital enterprise, drawn from over 100 successful transformation projects. For additional information on any BPM-related topic, please contact Dan at 630-290-4858, by LinkedIn or email him at [email protected].