7 business process management challenges and how to fix them
On the road to a successful BPM initiative, missing C-level support, unclear goals, cultural change and poor testing environments are among the roadblocks that can be overcome.
To better understand and improve how their companies operate, enterprises implement business process management initiatives to streamline workflows, boost overall productivity, reduce compliance risks, eliminate waste, lower costs, enrich customer experiences, and increase agility, scalability and process efficiency.
A single business process can span many different roles, tasks and systems, all executed in different ways. Technology executives, business managers and leadership teams need to take a bird's-eye view of their organization and determine how and why business processes break down. Quick fixes may seem like an answer but could limit long-term business opportunities and ROI.
Implementing business process management (BPM) can take many forms, ranging from a deep analysis of operations to formal mapping of business processes to deploying a comprehensive set of tools and capabilities. An improved process can mean different things to different stakeholders, depending on compensation structures, status and business metrics. It's also essential to consider how incentives are aligned across departments, partners and customers.
To maximize the benefits of a BPM initiative, several BPM challenges must be addressed, including corporate culture, management style, testing capabilities, technology and market trends, and communication.
Business process management hindrances and fixes
1. Lack of executive buy-in and support
Business process management requires as much of a shift in corporate culture as in planned technology deployments. Employees may resist BPM initiatives if they believe it could cost them their job, employment status or opportunities for advancement. "When employees are resistant to change or are not clear on the benefits clearly conveyed early on, BPM projects will be met with resistance," reasoned Dana Daher, senior research analyst in the CIO practice at Info-Tech Research Group. She recommended that corporate executives promote BPM's qualitative and quantitative benefits to stakeholders.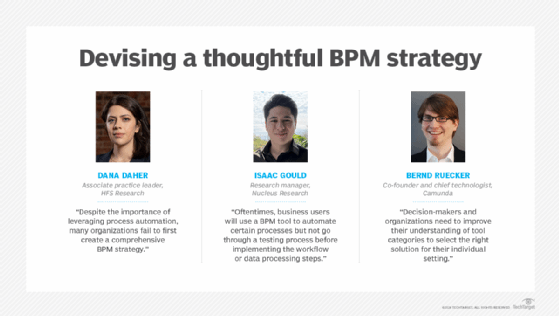 2. Unclear business goals and objectives
Businesses can sometimes approach BPM initiatives with mixed and conflicting goals. "Despite the importance of leveraging process automation," Daher explained, "many organizations fail to first create a comprehensive BPM strategy." BPM project teams, she noted, should clarify whether the objective is to continuously improve or reengineer processes. It's also best to include IT and business teams when creating a roadmap for launching and implementing business process improvement projects.
3. Inadequate testing infrastructures
A business process spans multiple people and departments, including IT, finance and security. "Oftentimes, business users will use a BPM tool to automate certain processes but not go through a testing process before implementing the workflow or data processing steps," observed Isaac Gould, research manager at Nucleus Research. Lack of performance testing can lead to process breakdowns, unforeseen errors, operational disruptions and new security risks. When planning implementation of a BPM system, businesses need to consider staging and sandbox environments, security controls, and available automated testing tools for measuring process performance. To eliminate vulnerabilities, include an IT developer or specialist in the test build process.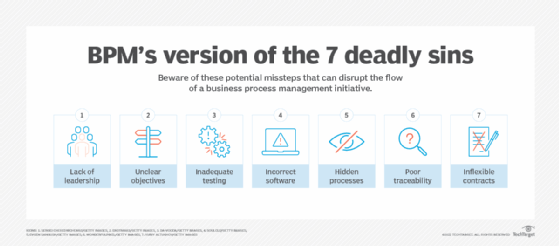 4. Confusion over the right tool for the right job
Whether implemented for point-specific applications or as part of larger enterprise technology platforms, different categories of BPM tools can map, mine, capture, implement, automate, analyze and monitor business processes. Many IT decision-makers don't see a difference among tool categories for business process automation, process orchestration, robotic processes, hyperautomation and BPM, said Bernd Ruecker, co-founder and chief technologist at open source workflow and decision automation platform provider Camunda. "Decision-makers and organizations," he suggested, "need to improve their understanding of tool categories to select the right solution for their individual setting."
5. Hidden processes vulnerable to breakdowns
Business processes are often built over time as users find better ways to solve minor problems. This gradual evolution results in hidden processes that haven't been clearly identified and can break down when people are unavailable, leave the company, move to other positions or other circumstances change. "The pandemic, which has driven business into distributed hybrid workplaces, has made finding, fixing and automating broken processes a necessity for many companies," said Nicolas Chabanoles, CTO of open source BPM and low-code development platform provider Bonitasoft. Transparency through clear communication about company objectives, he noted, enables his team to target specific processes for automation with full top-down involvement.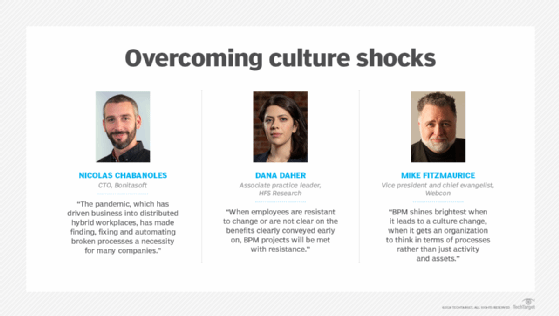 6. Poor process visibility and traceability
When business processes span many IT systems and groups of people, visibility and traceability problems typically ensue. These issues, Bonitasoft CEO and co-founder Miguel Valdes Faura explained, can make it difficult to determine when a process involves excessive multiple reciprocal exchanges, especially with external parties like suppliers, contractors and agents. To ensure suppliers are enrolled with up-to-date certifications, for example, critical documents need to be sent, reviewed, accepted and integrated into internal systems, creating communication chains that are difficult to trace. The best way to address visibility and traceability issues, Faura advised, is to design the business data model with the external parties in mind and include the approval mechanisms, parties, tasks and process escalations.
7. Inflexible third-party contracts and incentives
Businesses need to recognize how existing contractual arrangements and incentive structures might impede BPM initiatives. Companies that contract work one application at a time struggle with BPM, said Mike Fitzmaurice, vice president of North America and chief evangelist at BPM process automation platform provider Webcon. A budgetary model that's locked into a fixed-price quote and delivery schedule, for example, can preclude new opportunities to lower costs and increase process efficiency. "BPM shines brightest," Fitzmaurice advised, "when it leads to a culture change, when it gets an organization to think in terms of processes rather than just activity and assets."