10 digital transformation benefits for business
Businesses cite efficiency, resiliency, productivity, ROI and competitive advantage as critical reasons to digitally transform their operations in the wake of COVID-19 disruptions.
The events of 2020 showed the criticality of digital transformation.
Organizations that had fully embraced digital transformation benefits in preceding years were in position to make rapid adjustments, relying on their cloud architecture, modern security protocols, an agile company culture and their full range of business-enabling technologies to support vast new work-from-home environments, as well as newly virtualized business transactions and interactions. But companies, nonprofits and governmental entities lagging in their digital initiatives struggled to adjust to the year's rapidly changing economic and social environment.
"It woke up a lot of C-suite officers, alerting them to stop dragging their feet on their digital transformation efforts, because they saw that the companies that were more mature in their digital transformation suffered much less disruption and much less costly disruption in that environment," said Rick Pastore, senior research director and IT advisor at the consultancy The Hackett Group.
According to a mid-2020 Gartner survey, more than two-thirds of boards of directors accelerated their digital business initiatives in the wake of the COVID-19 disruption and about half foresee changing their organizations' business model as a result of the pandemic.
What is digital transformation and why is it important?
Digital transformation requires the infusion of internet-based tools and technologies into a company's processes, so that the organization can meet and actually anticipate the wants and needs of its stakeholders. "This is business transformation that's enabled by technology," said Sanjay Srivastava, chief digital officer at business transformation services firm Genpact.
Companies can work faster and in new ways to better compete in the marketplace. Cloud computing and mobile technologies supported by modern security software and best practices, for example, allow secure, reliable access to business applications anytime from anywhere. In addition, automation speeds up processes and reduces errors. It also shifts human workers' attention away from mundane repeatable tasks to higher-value actions that machines can't do, thereby helping to create a better workplace environment and improved employee and customer experiences. Artificial intelligence further transforms an organization by analyzing data sets to pinpoint problems such as fraudulent behavior and learning from that analysis to identify new opportunities that can increase revenue.
Nearly half of all organizations are already into their transformations, according to the October 2020 "Voice of the Enterprise: Digital Pulse, Coronavirus Flash Survey" by 451 Research. The report revealed that 49% of enterprise leaders are in the execution phase of digital transformation, 15% at the evaluation and development phase, and 36% who said they don't as yet have a strategy, which placed them in the "laggard" category.
The survey also confirmed digital transformation benefits, as 93% of respondents already engaged in transformation said that the digital technology investments they had made prior to the pandemic have provided them with the agility to respond to the COVID-19 crisis. Just 65% of the laggards agreed with that assessment.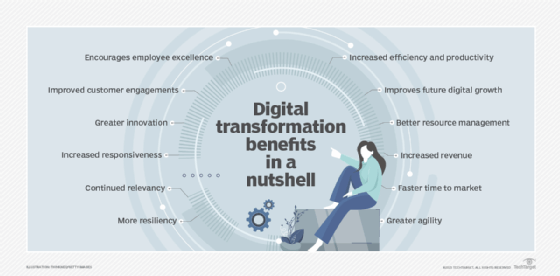 What are the benefits of digital transformation?
Organizations undergoing transformations often measure the success of their digital initiatives against various business metrics, just as they would measure the return on investment (ROI) for more conventional projects.
Although the expected ROI for digital transformation programs varies from one program to another and from one enterprise to another, experts said that there are a number of overarching digital transformation benefits -- all interrelated and interdependent.
1. Increased efficiency and productivity
Digital technologies deliver gains in efficiency and productivity by speeding up processes and streamlining operations. Robotic process automation, for example, can outperform humans by multifold factors. IBM showcased bots that completed tasks 20 times faster than humans, and they generally don't make errors like people do. Business intelligence software and data analytics tools can collect and analyze data at a speed and accuracy unmatched by humans. Workers then use that analysis to help them make decisions faster than they could without advanced technologies.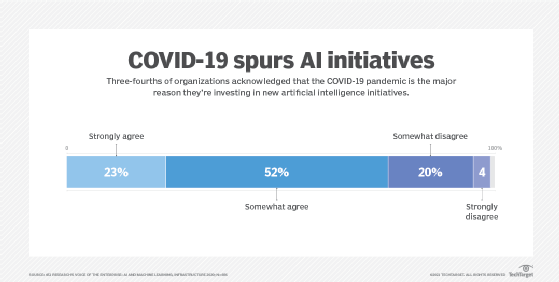 2. Better resource management
As companies transform, they're replacing legacy systems serving individual business units with modern IT architectures designed to consolidate processes and seamlessly enable the flow of data across all departments. Experts said this end-to-end digital technology approach has helped CIOs and other executives eliminate duplicate and superfluous technologies, as well as associated costs. Furthermore, on-demand computing resources and as-a-service platforms have helped organizations optimize their technology spending by providing as much computing capacity as needed in the moment versus paying for excess capacity just to handle rare peaks in usage.
3. More resiliency
Organizations that embrace digital technologies and build a digital culture that celebrates change are better able to quickly adapt to shifting market forces, even dramatic social and economic upheavals like those caused by COVID-19. Companies, nonprofits and other organizations can better weather normal business ups and downs, as well as larger and once-in-a-lifetime disruptions. Additionally, the pervasive use of digital technologies, particularly cloud computing, further supports organizational resiliency by delivering built-in redundancies and elasticity. While most executives recognized that digital transformation benefits helped them build a more resilient enterprise, many now place a higher value on these technologies after 2020, The Hackett Group's Pastore said. "Resiliency wasn't such a big deal before," he noted, "but now it is the biggest."
4. Greater agility
Digitally savvy enterprises "have the ability to not just react to change but to capitalize on it," Pastore said. Because of their greater reliance using cloud computing, for instance, digitally mature organizations can rapidly scale up or down based on changing needs. Meanwhile, modern software development methodologies, such as DevOps and Agile, tout better collaboration among teams and allow them to rapidly create and roll out new features and functions to satisfy market needs as quickly as they evolve. According to the Workday survey "Organizational Agility at Scale: The Key to Driving Digital Growth," twice as many executives at digitally mature organizations were significantly more confident in their ability to quickly reallocate resources to meet shifting needs than those whose companies are lagging in digital transformation.
5. Improved customer engagements
"Transformation shifts entirely what you know about your customers," said Andrew Binns, managing principal at Change Logic LLC. "And it shifts what kind of relationship you can form with customers. You can make them more intimate." Digital technologies allow businesses to collect, store and analyze customer data so they can learn more about each of their customers. Companies can use data analysis and AI to gain greater insights, allowing them to create and offer products and services tailored to each customer's unique preferences and needs.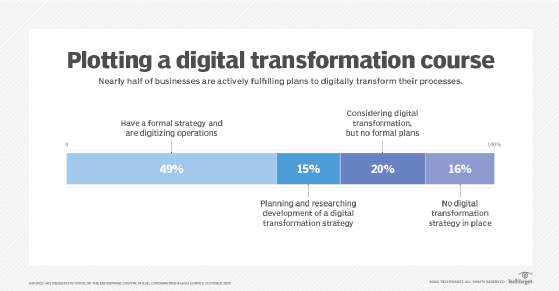 6. Increased responsiveness
Since digitally transformed organizations have better customer engagement initiatives, they're better able to anticipate evolving customer requirements and changing marketplace dynamics.
7. Greater innovation
Digitalization creates new opportunities for companies across all industries to develop products and services that they couldn't create previously. Tool companies now offer online services to match contractors with customers. Personal gym equipment now delivers virtual on-demand exercise instruction. Retailers offer customized curated fashions for rent. "Digital allows companies to better innovate and create new niches," Binns explained. "And it's not just Amazon and Google doing this, even though they get all the attention. Even legacy firms are creating new businesses that are beyond their core."
8. Faster time to market
One of the biggest digital transformation benefits is shortened product lifecycles, experts said. That's particularly important in industries where development costs are particularly high. Consider, for example, that it could cost "$1 million to 'tape out' a new semiconductor," Binns said. "That is a very high bar for products to pass before going into production. It also delays development of the products that use those components. If you can do all this in virtual, then the time to market will be cut to a fraction of what it is today. The economics of entire industries could get reshaped by this in the next 10 years."
9. Increased revenue
A report by the SAP Center for Business Insight and Oxford Economics found that 80% of executives at organizations with mature digital transformations said their efforts have resulted in increased profitability, and 85% said they've experienced increased market share. "Transformation," Genpact's Srivastava noted, "provides this new digital backbone to deliver this new business functionality that allows you to grow your business, your revenue going forward."
10. Continued relevancy
"Digital transformation," Srivastava added, "gives you the agility needed to adapt to changes in the environment to deliver value even in the long run and to stay relevant for the industry you're in."
Dig Deeper on Digital transformation