Building a digital transformation team: 9 essential roles
Who needs to be on a digital transformation team? Metrigy's Robin Gareiss lists the key positions of an effective digital transformation team and why they're important.
Assembling the right team is the most important component of an effective digital transformation strategy. Putting that team together is easier said than done. The digital leader must consider several factors about each person added to the team, including experience, education, skillsets, extent of influence and ability to work with others.
Getting started
Digital teams start with good leaders, typically C-level executives with the budget, influence and respect. In some data-driven companies, they have titles such as chief digital officer or chief strategy officer, and their only role is to digitally transform the company. In other companies, they have titles such as CIO, CTO or COO, and they have other responsibilities in addition to leading digital transformation.
The CEO usually appoints the person in charge of all digital transformation initiatives. The choice will be dictated by how the CEO views digital transformation and what it entails. For example, the CEO may view technology as the most critical element of all transformation projects, so the CIO gets the job. If the CEO views business process as the focus of digital transformation, the COO may be in charge.
Once the leader is in place, selecting a team with the right set of skills is crucial to digital transformation success. Finding team members with the specific skills and personalities needed is one of the biggest challenges in digital transformation projects. Here are some guidelines that will help.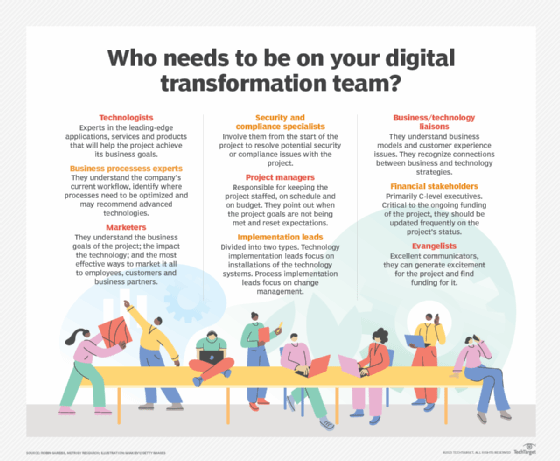 What roles does a digital transformation team need?
Successful digital transformation requires nine key positions. But that doesn't mean only nine people are on the team. On average, there are 12 to 20 people on each digital transformation project team. In most companies, multiple people work within each of these nine role descriptions.
1. Business-technology liaisons
Digital transformation projects start with the work of business-technology liaisons who understand business models, customer experience issues and technology strategy. They regularly interact with business unit leaders in areas such as sales, corporate marketing, product development or customer experience to identify problems or opportunities. If technology can be used to solve problems or capitalize on opportunities, the business-technology liaisons present the problems and suggested solutions to the technology leaders.
2. Technologists
Once the business issue in need of transformation is identified, the technologists get involved. As experts in the leading-edge applications, services and products, they select the right technology and providers as well as validate whether the digital transformation project will be a failure or success from a technical standpoint.
3. Business processes experts
One of the newer roles and responsibilities in the digital transformation process is the business processes expert. This role is in high demand and requires both business acumen and a deep understanding of the technological environment. Business processes experts should understand the company's current workflow and identify where processes need to be optimized to enable a digital-forward approach. They may recommend technologies like AI, machine learning and automation to catalyze workflows for the organization's new digital strategy.
4. Security and compliance specialists
Digital team leaders typically prefer to wait until the end of the project to solicit input from security and compliance specialists. Unfortunately, that approach puts the project at risk because input from these specialists may halt the project if the technology, architecture or applications violate security policies. Involve them from the start and work together to resolve any issues from a security or compliance perspective.
5. Evangelists
Evangelists have the influence and communications skills to generate excitement and find funding for the project. They may write a widely read internal blog or produce a weekly video that's well received by employees and customers. Those who control budgets expect the evangelists to give an honest assessment of the project.
6. Financial stakeholders
The financial stakeholders have the budget to fund the digital transformation projects and typically influence other budget holders to secure more funding if necessary. They don't need to be in every meeting, but they have enough digital experience to demand weekly, monthly or quarterly updates -- depending on the size of the project -- to ensure the project is progressing as expected. Ultimately, they want to monitor the business benefits of the project to document whether their budget was well spent and the projected ROI is realistic. In many cases, the ultimate financial stakeholders are C-level executives.
7. Project managers
The project or program managers now get to work developing detailed project plans. They're responsible for keeping the project staffed, on schedule and on budget. They set up meetings, develop schedules, raise early red flags if something is heading in the wrong direction and reset expectations.
8. Marketers
All too often, IT staffs implement new technology that improves customer experiences, but employees don't know why they should even use them. IT people are not marketing people, so don't overlook this important role. Marketers understand the business goal of the project, the impact of the technology and the most effective ways to market it all to employees, customers and business partners. By understanding those affected by the digital transformation initiative, they can market the transformation in such a way that excites customers and makes them eager to interact with the company.
9. Implementation leads
People in this role execute the digital transformation roadmap. They lead the implementation of technology and process change. The technology implementation leads focus on actual installations of the technology, while the process implementation leads focus on the change management that will result from the transformation. In both cases, there are additional people doing the implementations daily.
Beyond the 9 digital transformation roles
In addition to the specific team roles, Metrigy Research has found that many organizations have a digital transformation advisory board that can include an average of 11 people with an IT or technical background and nine people with a business background. The board typically meets monthly or quarterly to provide advice on transformation initiatives, identify key people to assist in the next project and ensure customers are benefiting from the changes.
Many transformation initiatives are customer-focused, heightened by economic concerns, hybrid workforces, and the need to gain a competitive advantage following COVID-19 disruptions to business operations and consumer lifestyles. The C-suite has become increasingly attentive to the power of the customer via social media and rankings. As a result, projects have focused on transforming the customer journey using advanced technologies, including the cloud, AI and machine learning.
Some companies have added a chief AI officer (CAIO), whose purpose is to unify AI strategy throughout the organization and look for opportunities to incorporate AI across business units. CAIOs are well positioned to determine how AI, machine learning and automation operating in distributed environments can improve operational efficiencies, employee workflows, research and development processes, customer interactions and business decision-making.
The introduction of generative AI into the mainstream can potentially play a leading role in digital transformation initiatives. That's why many companies are creating their own large language models to control, secure and exploit their proprietary information while using generative AI's extensive search, organizational and content creation capabilities. But that requires a strong business case, large investments, and significant time and testing. CAIOs can assess the AI landscape, determine the business benefits of generative AI and secure the necessary funding.
How to build a digital transformation team
Building a team requires a lot of effort to find the right people, get their supervisors to sign off and inject discipline into the organizational structure. Most companies don't have teams devoted solely to technology transformations. The digital transformation team members in these cases are typically working on transformation initiatives in addition to their day jobs. Consider the following best practices when assembling transformation teams:
Create a suggestion box. One way to find employees to serve on a transformation team is to have a physical or virtual suggestion box where employees can voice their opinion. Organizations can also use more sophisticated methods such as a technology innovation day so employees can showcase innovations they've created as skunkworks projects.
Identify candidates. Suggestion boxes or technology innovation days can identify good candidates. Alternatively, the advisory board, business unit leaders or evangelists can identify the best people to work on the project. It's imperative to know what's involved with the project at hand. If, for example, it's a customer journey initiative using machine learning, then select people working in the contact center and developers working on the AI platform.
Level-set expectations. If the digital transformation roles of team members aren't their full-time jobs, let the team know the time commitment, meeting schedule, responsibilities and any additional compensation. It's always good to point out that involvement in such high-profile projects is great for the resume and for promotion opportunities.
Get sign-off from supervisors. Everyone but the CEO has a supervisor, so pitching the project to them is as important as finding the right candidate. Some people prefer to go straight to the supervisors once a candidate is identified because they can get their sign-off before approaching the candidate. If the supervisor and the digital team leader can approach the candidates together, the chance of them enthusiastically signing on to the project increases greatly.