12 digital transformation tips and best practices
Successful digital transformation requires agility, speed, cost optimization, technical innovation and cultural change. C-suite commitment and employee buy-in are also critical.
Times have changed, and so must digital transformation.
The practice of digital transformation, around for more than a decade, must now function in a vastly changed world. The pace of change has only intensified in recent years, leaving business and technology leaders to navigate economic uncertainty, environmental change and unpredictable technological advances among other forces. The rapid evolution of AI, for example, has introduced a host of new technical, regulatory, legal and cultural issues for organizations.
As a result, the large-scale and sometimes poorly focused digital transformation initiatives of past years are giving way to a revised approach that accounts for current developments. Here are 12 digital transformation tips and best practices for an era of quickly shifting circumstances:
1. Promote a culture of adaptability with Agile methods
Agile methodologies first surfaced in software development, but they have become increasingly popular for managing digital transformation initiatives. Those approaches promote iterative, stepwise development, which helps organizations adjust on the fly to evolving technical requirements and business needs. The Scaled Agile Framework, which adjusts Agile components such as Scrum for enterprise use, can help business and technology leaders deal with rapidly changing conditions.
2. Downsize transformation initiatives
Like the systems integration "grand design" programs of the 1980s and business process reengineering efforts of the 1990s, which frequently collapsed under their own weight, digital transformation programs often become unwieldy, resource-intensive, difficult to manage and short on results.
Today, transformation practitioners are dividing initiatives into smaller projects with faster turnarounds and quicker time to value. Agile methods can help here, as they promote smaller initiatives rather than cumbersome, large-scale projects.
3. Cultivate compact leadership teams
Too many employees getting involved in the digital transformation process can slow down initiatives. Organizations can instead cultivate a smaller number of stakeholders who are close to customers and have an obvious stake in resolving a problem or exploiting a digital business opportunity.
The two-pizza rule, attributed to Amazon founder Jeff Bezos, offers some guidance: Keep the number of meeting attendees small enough that they could be fed with two large pizzas. Smaller teams can move faster -- a boon for the accelerated pace of transformation.
4. Focus on interoperability
A lack of interoperability can hinder transformation. This CIO challenge intensified during the COVID era, when businesses quickly purchased several cloud-based applications to conduct business digitally. Those SaaS purchases kept organizations functioning at the expense of data sharing and interaction among systems.
The resulting fragmentation hinders agility, creating digital silos and disconnected business functions. Measures such as application rationalization can tidy an organization's IT architecture and reduce technical debt. Organizations can also launch an integration program, which should ideally span multiple departments and business functions.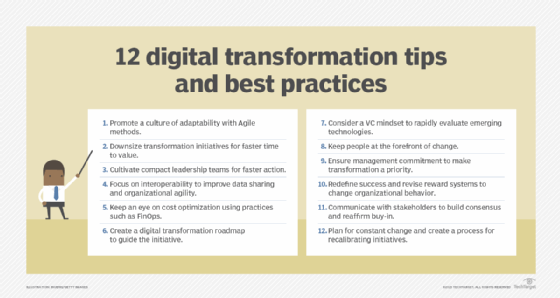 5. Keep an eye on costs
The need to rapidly digitalize during COVID-19 caused more than an excessive amount of cloud applications. Some organizations set aside cost considerations as they changed their business models. This tendency created problems when inflation rose, increasing the price of cloud services and other IT commodities. With cloud providing the foundation for most digital transformation efforts, business and technology leaders must keep cost and innovation in mind when employing that technology platform.
Many organizations turn to cloud cost optimization and practices such as FinOps, a cloud financial management discipline. Such efforts aim to help businesses assess their cloud spending and look for opportunities to reduce waste.
6. Create a digital transformation roadmap
Digital adoption involves numerous moving parts and obstacles to overcome, from cost to technical debt. Organizations should have a digital transformation roadmap to help them navigate those challenges. A roadmap articulates the transformation vision, establishes priorities, sets goals for each phase of an initiative and creates a timeline for achieving them.
7. Consider a VC mindset
The large-scale and sometimes poorly focused digital transformation initiatives of past years are giving way to a revised approach that accounts for current developments.
Digital transformation relies partly on harnessing technical innovation to support new business processes, boost efficiency or gain a competitive edge. But organizations face several emerging technologies and startup companies competing for attention. With a venture capital mindset, a CIO or CTO creates an idea pipeline, akin to a VC's deal pipeline. A company might partner with a VC firm, industry consultant or its own business development group to find promising technologies and early-stage companies. Business and technologies leaders then create a list of companies to consider for investment and proofs of concept.
The idea is to quickly sift through technology to capitalize on a new development before a competitor does. The VC mindset also challenges organizations to become more tolerant of risk. There will be wins and losses in an enterprise portfolio of emerging technologies, such as generative AI, edge and extended reality.
8. Keep people at the forefront of change
Staying aware of new developments is important, but businesses might mistakenly think digital transformation is only about technology. People must be prominent throughout the initiative. If employees revert to old ways of completing tasks, the desired transformation won't occur.
To avoid that, an organization should develop a workforce ready to handle new ways of working. Do employees have the right skillsets to succeed in a transformed environment? It's up to the CIO and other senior executives to ensure they do. Training, enablement and change management programs can help employees embrace transformation and productively use new technology.
9. Ensure management commitment
Employee involvement encourages a buy-in that supports lasting transformation. But top-level management commitment is also critical. Active C-suite involvement makes transformation an enterprise priority and encourages the organizational change that transformation demands. Management must also define the transformation vision and approve the digital transformation strategy to make an initiative as important as it needs to be for success.
10. Redefine success
Organizational change requires behavioral change. Accordingly, businesses should be prepared to revise reward systems and performance metrics as part of a digital business initiative. A company accustomed to rewarding incremental improvements will need to readjust its formula to encourage the pursuit of transformational goals. For example, a project team might be rewarded for driving a greater percentage of company revenue from innovative products.
11. Communicate with stakeholders
Another important success factor: keeping a business' stakeholders onboard throughout the digital transformation process. This requires regular and effective communication. Periodic business reviews or health checks to assess a transformation effort's progress build consensus and reaffirm buy-in.
Transformation leaders promote transparency and boost credibility when they honestly discuss the effects of change and assess whether an initiative is achieving the expected outcomes. In addition to meetings, transformation teams can also consider customer and user surveys to obtain feedback on the benefits and drawbacks of a transformation effort.
12. Plan for constant change
Team guiding programs should be prepared to reset transformation goals if or when business conditions dramatically change. The emergence of disruptive competitors or technologies are the types of events that could compel a digital initiative to change course. Businesses should consider putting a process in place for recalibrating project goals, timelines and outcomes -- addressing the unexpected with a coordinated response rather than a thoughtless reaction.