alphaspirit - stock.adobe.com
4 key ways partners sharpen digital transformation strategy
IT service providers employ methodologies, tools and platforms to keep initiatives on track. Their efforts aim to prevent projects from stalling before they deliver the goods.
Digital transformation projects often struggle to realize the promise of renewed business models, vastly improved efficiency and product innovation.
Indeed, cumbersome, slow-moving initiatives have compelled some enterprises to take a step back. Consulting firms and systems integrators, called on for advice in such matters, are reassessing conditions as well. The problems they've encountered include project scope and complexity, lack of focus, resistance to change and poor interoperability. Another issue: unpredictable market forces. Sudden changes can swamp a project before it has reached its objective.
Service providers pursue several approaches that aim to rescue stalled transformation efforts -- or keep them from bogging down in the first place. Here's an overview of the methodologies, tools and technical platforms currently employed for reinvigorating a digital transformation strategy.
1. Agile and other methods
Consultancies often ply Agile and related methodologies to manage digital transformation. Those approaches seek to guide projects that may need to evolve as business conditions change.
"A good methodology, enabled by an effective tool, is essential," said Sumeet Sabharwal, CEO at Netgain Technology, an MSP based in Minnetonka, Minn.
The company typically uses the Scaled Agile Framework (SAFe), an approach for scaling Agile methodologies such as Scrum across an enterprise. Netgain employs SAFe in conjunction with Azure Boards, a Microsoft Azure DevOps service that provides dashboards and reports for planning and tracking projects. Azure Boards supports Scrum and Kanban among other Agile components.
Movate, a technology consulting and customer experience company based in Plano, Texas, uses methodologies and frameworks including Agile, Lean Six Sigma and the Project Management Body of Knowledge (PMBOK), which provides project management guidelines. Those methodologies combine with Movate's focus on business, domain, culture and process aspects of transformation, noted Ajay Tyagi, executive vice president, digital, product and platform services at Movate.
If you don't have the right priorities and you're not aligned to the business drivers and objectives, it is one big lab experiment with many, many parts.

Ricardo MadanSenior vice president of global technology services at TEKsystems
Movate, for example, uses Agile methodologies such as Scrum, Kanban and Lean to manage digital transformation projects, Tyagi said. "These methodologies emphasize iterative and incremental development, which helps teams respond quickly to changing requirements and adapt to evolving business needs," he added.
Agile can facilitate digital transformation, encouraging smaller, more nimble initiatives as opposed to unwieldy megaprojects. Some IT leaders opt for Agile instead of digital transformation as the way to weather quickly changing business cycles.
But Agile adherence, when mismanaged, can inadvertently produce the bloated projects it intends to prevent. Without a disciplined approach, organizations may cram together a multitude of development wish lists within an Agile program increment.
"Massive backlogs are getting stuffed into these 10-week cycles," said Ricardo Madan, senior vice president of global technology services at TEKsystems, a business and technology solutions provider based in Hanover, Md.
Madan said SAFe-certified TEKsystems is an Agile-DevOps shop, but he warned against using that methodology without governance and clear priorities.
"If you don't have the right priorities and you're not aligned to the business drivers and objectives, it is one big lab experiment with many, many parts," he said. "It's Agile to nowhere."
Part of the Agile management challenge is getting too many business leaders involved in setting the agenda. Organizations can avoid Agile overload if they focus on a smaller group of stakeholders versus "uber democratization and a pantheon of voices," Madan said.
With that in mind, a business can create a short-list of voices. Madan said that group is usually assembled based on the following dimensions:
Whoever is closest to the customers or users.
Whoever is closest to the present problem or opportunity.
Whoever has previously demonstrated pragmatic problem-solving around related problems or opportunities.
Whoever operates with the most stewardly or ownership-oriented mindset.
2. Digital transformation tools: DevOps, FinOps, optimization
Consultants use an array of tools to support their transformation methods.
Movate, for instance, taps project management and collaboration tools such as Asana, Trello and Jira to plan, track and manage digital transformation projects more efficiently, Tyagi said. The tools' task management, team collaboration and progress tracking features help teams stay on top of project timelines and deliverables, he noted.
DevOps tools, including Jenkins, Git and Docker, help Movate's teams automate software development and deployment processes. And analytics and business intelligence (BI) tools such as Salesforce's Tableau, Microsoft's Power BI and Google Analytics, provide insights into digital transformation projects, Tyagi said.
Analytics and BI tools provide dashboards, reports and visualizations that let teams monitor and analyze project performance and user behavior among other metrics, he added.
IT service providers also tap tools and methodologies surrounding the growing discipline of more tightly managing infrastructure spending. Those approaches fall under the banner of optimization and FinOps, a method for corralling cloud spend.
At Ahead, a cloud and data engineering consulting firm based in Chicago, keeps organizations' top challenges in mind as an approach for managing evolving digital transformation initiatives. Those challenges include visibility into existing cloud spend, cost forecasting and cost optimization, according to Greg Stam, managing director of CIO Advisory at Ahead.
Visibility comes into play when organizations deploy a variety of workloads across multiple cloud platforms, with spending spread across leadership teams and applications. Ahead uses a "perspective approach," gathering insights and building reports to determine where customers can cut costs, Stam noted.
Cost forecasting and alerting, meanwhile, helps organizations understand where their spending is heading, a particularly critical consideration with a recession looming. Ahead provides weekly updates on month-to-date spend, along with budgets and alerts based on individual workloads, he said. The company also reviews a customer's cloud services to find optimization opportunities, he added. Those could include using savings plans from cloud providers such as AWS and Microsoft Azure or executing change orders to resize workloads onto appropriate cloud SKUs.
TEKsystems, for its part, is readying a set of services -- including FinOps -- and service catalogs to "help customers through this season of optimization," Madan said.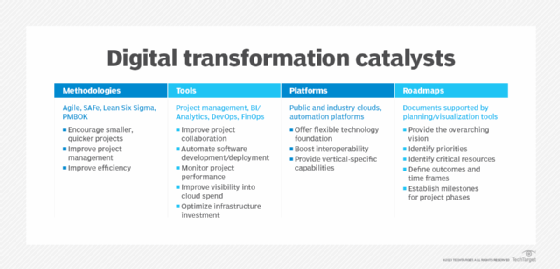 3. Platforms as the foundation for change
Technology platforms also play a role in managing complex and subject-to-change digital transformation efforts.
Cloud computing undergirds many, if not most, transformation projects, and IT service providers often back multiple platforms. Movate, for instance, supports AWS, Azure and Google Cloud Platform.
Tata Communications offers what it calls a digital fabric -- consisting of network, security, cloud and collaboration elements -- as the transformation bedrock, said C R Srinivasan, executive vice president, cloud and cybersecurity services and chief digital officer at Tata Communications. The company offers customers a mix of infrastructure platforms and managed services.
Sateesh Seetharamiah, CEO of EdgeVerve, a subsidiary of global systems integrator Infosys, offers another take on platforms, which he sees as a way to address interoperability challenges. Linkages among enterprise functions suffered during the COVID-era's rapid digitalization. Hastily assembled cloud offerings often exist in isolation.
EdgeVerve offers platforms, enabled through API plugins, that bridge in-house cloud silos and connect an enterprise with its external stakeholders, Seetharamiah said. Examples include TradeEdge, which orchestrates data connections among distributors and retailers, and AssistEdge, which integrates customer service processes within a contact center.
"We believe this is the way enterprises will evolve into the future," he said.
Industry cloud platforms, meanwhile, could help customers close the gap between cloud adoption and realizing business value, noted Nicholas Merizzi, principal, cloud strategy at Deloitte. Such clouds provide pre-built modules that cover perhaps 70% of a business's industry-specific requirements. This happens at the subsegment level. In banking, for example, customers can tap industry clouds specializing in wealth management, capital markets or commercial banking, Merizzi said.
A key advantage is speed, a quality sometimes lacking in digital transformation. Pre-assembled modules free customers from having to build their own cloud foundations, he noted. This approach accelerates business benefits for customers and lets them focus on differentiation.
"It allows you to go to market a lot faster," Merizzi said.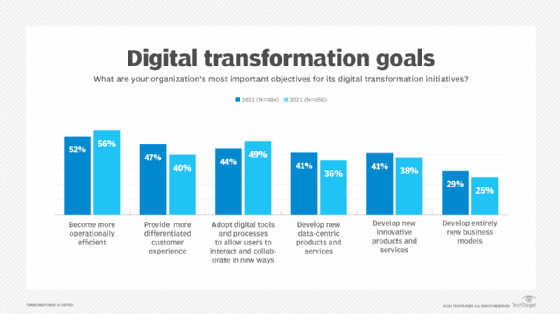 4. Digital transformation roadmaps
Digital transformation projects can get bogged down in cultural change obstacles, the complexity of legacy systems and cost overruns, Tyagi said. Movate offers a digital transformation roadmap as a "the basic foundation to execute the transformation agenda in a timely manner," Tyagi said. The roadmap identifies project priorities and communicates benefits to all parties involved in an enterprise's business functions.
Planning early and often is another way of putting it. At NetGain, the MSP's initial engagement with clients involves establishing an overarching strategy that articulates the vision for success and prioritizes specific initiatives as part of a transformation roadmap, Sabharwal said.
Components of that first engagement include a well-defined outcome, a time frame for realizing that goal and a roadmap with measurable targets set for each phase, he noted. Alignment between business and technology stakeholders, a capability and skills assessment and a framework for ongoing governance are also part of the package.
David Chou, director of cloud capabilities at Leidos, a technology, engineering, and science solutions and services provider based in Reston, Va., emphasized the importance of spending time upfront to develop an overall digital strategy. That strategy should consider the effects of the transformation journey on an organization's mission and end users.
"When they do that, people start to bring up areas of concern," Chou said. "They realize digital transformation is not just a technology thing. The most success we've seen is where customers support it more from an organizational and cultural aspect."