RPA software harnesses the potential of a digital workforce
RPA software cuts costs, boosts efficiency and frees employees from mind-numbing tasks. But governance challenges must be faced.
Robotic process automation -- technology that automates the repetitive, rules-based tasks traditionally handled by humans -- is finding a role in a range of industries and companies. Take, for example, Baker Hughes, a General Electric company in the price-sensitive oil and gas sector. The Houston-based company, which made its mark in the oil business more than a century ago as the developer of the two-cone drill bit, looks for any edge it can find to keep costs in check. Today, it is using RPA software to hedge its bets as it navigates the vagaries of the energy market.
When oil prices fall, energy companies from independent drillers to energy giants, such as Chevron and ExxonMobil, put the squeeze on their suppliers. To attract customers and increase market share, Baker Hughes must be able to respond to the price fluctuations.
"One way is by reducing cost -- customers are putting pressure on us around price," said Lia Johnson, director of data and analytics digital technology at Baker Hughes.
That said, the company doesn't want to undersell the value of its offerings. The challenge then becomes creating a spread between the company's costs and the price the market will bear. That's where RPA technology is finding a role at Baker Hughes. Johnson said the company's RPA initiative, which includes a center of excellence, "really helps to drive down cost and increase our margins."
Baker Hughes' RPA effort, launched in May 2018, is already getting results. The technology is projected to realize $400,000 annual savings in the company's tax department, while RPA, working alongside other forms of automation, will help generate a $2.5 million annual savings in an assembly, maintenance and operations group. [See "RPA at Baker Hughes."]
RPA at Baker Hughes
Baker Hughes got its RPA initiative underway in 2018, and the results are already promising.
An RPA deployment focusing on just one process involved in an audit is expected to generate $400,000 in annual savings in the company's tax department. Baker Hughes' assembly, maintenance and operations (AMO) group, meanwhile, has deployed RPA alongside other automation technologies to capture an estimated $2.5 million in annual savings. Automation has helped the AMO organization reduce the number of full-time equivalents needed to manually extract data to generate key performance indicators (KPIs) for maintenance activities. Those KPIs result in additional savings because they provide an early heads-up to engineers if a piece of equipment seems prone to maintenance issues.
Automation also contributes to Baker Hughes' top line, since it boosts the availability of equipment, Johnson said.
Baker Hughes has established a shared infrastructure platform for running its bots, which execute processes on virtual machines. The platform is designed to accommodate up to 1,000 bots, Johnson said, noting that it's still early days and the current bot population is less than 20. The bot infrastructure, however, will allow the company to scale RPA faster, she added.
Origins and increasing importance of RPA
The prospect for cost savings has encouraged organizations from a range of industries to explore and adopt RPA software. The technology is relatively young -- RPA entered the tech lexicon in 2012 -- but its roots go back to mainframe-era screen scraping. With screen scraping, a software tool would take legacy application data formatted to appear on an IBM 3270 -- or a similar old-style terminal -- and reformat the data for use on a client-server or web-based system. This approach provided an inexpensive and noninvasive way to link systems, since recoding applications or investing in heavy-duty systems integration was not required.
Present-day RPA also provides an unobtrusive approach to integrating systems. RPA software emulates the steps a human would take when interacting with an application's user interface to extract data. RPA can link disparate systems in situations where APIs don't exist and there's no time or budget to build a custom integration. The systems go about their business unmodified.
Now is the time for CIOs to have a real look again at RPA and reevaluate and understand it as an enterprise play and a permanent piece of an operational IT architecture.

Pat GearyChief evangelist, Blue Prism
Today's RPA is considered a technology evolved well beyond screen scraping in that it can handle more complex processes, adjust to changes in the underlying systems and scale beyond localized deployments. But the early years of -generation RPA tools consisted primarily of small-scale, department-level deployments, designed to test the software robot concept. Many of those projects operated outside the purview of the IT organization and CIO. That situation is changing, however, as organizations begin to scale RPA beyond the initial pilots.
Pat Geary, chief evangelist at RPA software vendor Blue Prism, said IT managers have been content with a cursory glance at RPA -- provided it didn't get in the way of their main IT programs. But now, Geary, who coined the term robotic process automation, encourages CIOs to take a closer look at RPA than they may have in the past.
"This is a major piece of technology, and it has to be bought and consumed and deployed in a very serious way," he said. "Now is the time for CIOs to have a real look again at RPA and reevaluate and understand it as an enterprise play and a permanent piece of an operational IT architecture."
RPA software, related technologies and uses
A bevy of RPA vendors now offers products that let organizations create and manage software bots. Blue Prism, Automation Anywhere Inc. and UiPath are sometimes referred to as the "big three." Challengers are vying for market share, offering twists on the technology to attract customers.
In the main, however, RPA products focus on automating repetitive, high-volume, rules-based processes. Software bots typically work best with processes that involve low variability. A task that frequently changes is difficult to standardize and automate.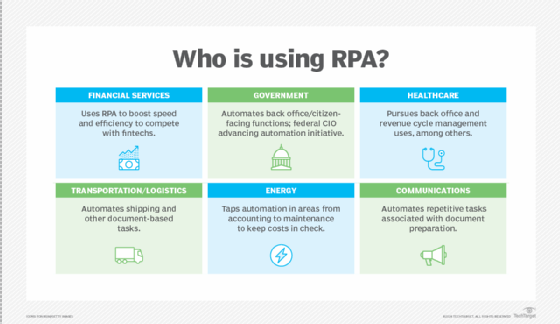 Ken O'Brien, CIO at R.R. Donnelley & Sons Co. (RRD), a Chicago-based marketing and business communications company, said when people hear the term robotics, they may believe RPA will solve all of their problems.
"The challenge on RPA … is coming to a common understanding of what RPA is and what RPA isn't," O'Brien said. "RPA is much more intended for something that is narrowly scoped -- a very repetitive process that is very well defined."
Processes that require people to make decisions and consider variables are "not necessarily ideal for an RPA implementation," O'Brien said.
At RRD, RPA has been used to automate the document preparation process, which calls for numerous repetitive data collection tasks. While that RPA use targets an in-house process, other examples involve RRD's external business process outsourcing customers. For those cases, RRD has deployed software bots to automate insurance claims processing and accounting functions.
Ron Schmelzer, managing partner at Cognilytica, a market research firm focusing on AI and automation, also emphasized the repetitive nature of RPA uses. "It would be just as accurate to call it repetitive process automation," he said.
Schmelzer said RPA is "robotic" in the sense that it performs repetitive tasks, but noted all software offerings share that same general orientation. Also, robotics doesn't, by itself, make automation intelligent, added Kathleen Walch, managing partner at Cognilytica. Walch and Schmelzer believe RPA is erroneously conflated with AI.
That said, Schmelzer believes RPA provides considerable value as an integration technology and in automating repetitive tasks humans would otherwise have to do.
Indeed, the ability to reduce the number of full-time equivalents (FTEs) required to accomplish a particular process was perhaps RPA's main appeal when the technology began to hit the market. For example, outsourcing vendors that had been cutting costs through moving offshore and labor arbitrage found they could further reduce expenses through RPA technology. A software robot was cheaper than an offshore employee.
RPA doesn't have to eliminate jobs, however. At RRD, each software bot on average takes on about half the work an FTE would accomplish. Employees who have had repetitive tasks removed from their jobs have been able to move to more knowledge-based work, O'Brien said.
Johnson said employees in recent months have begun to see RPA as a technology that "frees them up to do more strategic tasks." As a consequence, demand for RPA projects has increased at Baker Hughes, she added.
CIO takes RPA in stride
At RRD, RPA software follows other technology developments, including cloud, big data and analytics.
O'Brien said the arrival of software robots fits into a familiar pattern.
"The impact on me, to be honest, is not much different than what we would expect when we any type of technology," he said. "We have adopted … all these promising waves of technology that get people very excited, and certainly there is a lot of hype. As a CIO, your job is to basically help your senior management team and business partners assess [the technology] through the hype and get to the meat of the opportunity."
Emerging technologies have the potential to rearrange an organization's IT estate, but, to this point, RPA's effect on RRD's infrastructure has been light. O'Brien said making sure software robots are deployed with appropriate security has taken the greatest amount of effort. Bots involved in accounting, for example, must be "structured to protect the environment they are touching," he noted.
Security "hasn't been a big burden, but obviously it is something we need to pay attention to," said O'Brien, who helped shape RRD's RPA governance structure.
One difference between RPA and earlier waves of technology: The influence of software robots has been more visible to the organization than other shifts, such as big data and analytics. Employees can see "a much faster impact on the environment" with RPA, O'Brien said.
RPA technology "has much more of a quick-hit feel to it," he said.
Who's the bot boss?
RPA's nature has the potential to create tension within the organizations attempting to deploy the technology. Process owners, such as line of business (LOB) leaders, and IT managers stand on opposite sides of one of the fault lines. The processes RPA software aims to automate -- and the efficiency gains up for grabs -- typically fall squarely within the purview of the LOB organization. But the applications and data stores a given software bot may need to interact with remain the responsibility of the IT shop. In addition, technology managers have a security interest in RPA activity since software bots are assigned credentials to access various enterprise systems.
Signs of reconciliation are beginning to appear, however.
"A year ago, the business and the CIO were at odds," said Marc Mancher, who advises state and federal government agencies on RPA adoption as principal and leader of the federal analytics service at Deloitte. "This year, there's a business and IT partnership."
In some organizations, that partnership is taking place within an RPA center of excellence (CoE). Those centers may fall under IT or business sponsorship, but consist of both business and technology representatives. The CoE defines roles and responsibilities for the parties working on RPA, reducing the potential for conflict.
A CoE is generally charged with evaluating automation candidates and deciding which bots get built . Developer resources within the CoE or within a collaborating IT organization build the software robots. As RPA projects are completed, the CoE collects the lessons learned and shares them across the organization. The center can also house a library, or repository, of bots to promote reuse and reduce the potential for redundancy. Overall, the CoE creates a governance framework that sets companywide standards and facilitates cross-departmental collaboration.
Mancher said Deloitte in 2019 has built CoEs for different federal agencies, noting the importance of having RPA governance in place before software bots begin to scale.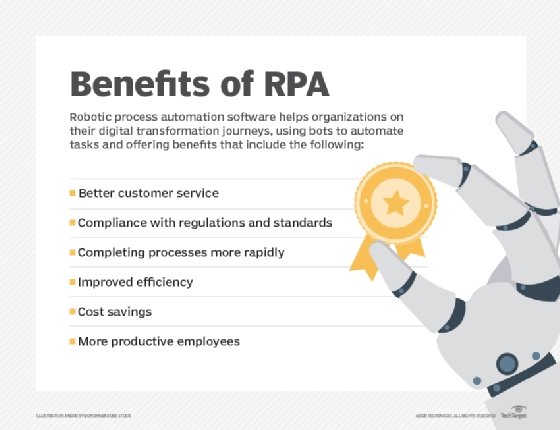 Sanjay Srivastava, chief digital officer at Genpact, a professional services firm, echoed that concern. "We strongly advise clients to actually think about governance up front," he noted.
Baker Hughes followed that approach. Johnson said the company evaluated RPA tools, selecting Automation Anywhere, Blue Prism and UiPath, and then conducted proofs of concept. Next, the organization took a step back to focus on proper governance -- making sure RPA technology would prove scalable and sustainable, Johnson noted.
Baker Hughes also established a CoE to share RPA best practices across the company.
"There's so much demand for RPA, if we don't have that nucleus that they can tap into for collaboration, we would end up having a lot of shadow RPA," Johnson said. "An automated solution is really only as good as the governance around it."
Balancing enterprise and individual needs
Tension also may exist between the enterprise's desire to manage RPA as it scales and a growing interest among employees to deploy local bots to make their work lives easier. The enterprise-class bots are sometimes referred to as unattended, or unassisted, RPA. Those bots typically focus on high-volume business processes with the goal of reducing the number of FTEs performing a given task. Attended bots, meanwhile, are essentially digital co-workers that toil alongside human workers, retrieving financial data, for instance, to help an employee compile a regularly recurring report.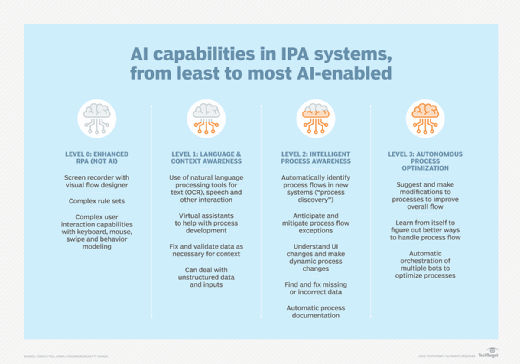 Param Kahlon, chief product officer at UiPath, said attended bots are developing beyond high-volume, low-variance RPA scenarios. He said the new crop of uses can spawn a multitude of bots. "You are not automating five or 10 processes, but hundreds," he said. "Many of those are built by the citizen population … versus a centrally managed CoE."
Kahlon believes CoEs will continue to focus on automation that targets high-volume processes. Bots automating those processes will be pushed from the CoE to users and run unattended. Citizen developers, for their part, will concentrate on attended RPA, automating processes that are unique to them and beyond the CoE's "bandwidth" to implement, he added.
"We think, in the near term, we will have both types of processes," Kahlon said.
Deloitte's Mancher said he envisions two classes of bots that will evolve over the next five to 10 years: enterprise bots that are highly controlled and desktop bots that quickly automate an employee's work.
The proliferation of desktop bots -- if ungoverned -- concerns Blue Prism's Geary. Without business oversight, organizations don't know where the bots exist, what processes they use and whether they are running or stopping unexpectedly. Instead, RPA software adopters should build high-quality, auditable, resilient bots that create business value rather than technical debt, he said.
There's room for compromise, however.
A centralized CoE approach, Geary added, can extend RPA development to "accredited business users" so they can build automations "at the speed the business needs." Blue Prism's "connected-RPA" approach aims to encourage employees' creativity while maintaining control, according to the company. The RPA vendor offers both customer and partner certification.
He said RPA may be democratized to the business unit, but business users have to obey the laws -- the governance principles advanced through the CoE.
"We don't want to democratize into anarchy," Geary said. "We want to democratize into a well-run society."
Mancher, meanwhile, sees a future in which the CoE governs how enterprise-class bots should be built, while controls embedded in tools authorized for desktop RPA keep local bots in check.
In addition, enterprise and desktop bots will be able to work cooperatively. Kahlon pointed to the emergence of "hybrid automation," in which an attended desktop bot can call an unattended enterprise bot to handle more complex business processes.
Kahlon also sees changes in store for the CoE. Centers that initially lay down the law as RPA gatekeepers very soon want to become organizations that facilitate RPA adoption, he noted. The initial focus on managing and controlling bot deployments eventually will give way to helping bot builders discover reusable components. Version 2.0 of the CoE will also seek to improve business-level reporting. According to Kahlon, RPA centers should not just report that a bot ran 100 times, but also consider its utility: "What did it accomplish? What business outcomes did the bot achieve?"
Future shock or bot-topia?
The arrival of software bots in the workplace can be a threatening prospect for employees worried about job loss. A report on automation and employment, issued during the early days of RPA, underscored those concerns: A 2013 Oxford Martin School study of computerization's effect on 702 occupations stated "about 47 percent of total US employment is at risk."
More recent studies, however, present a more nuanced picture. A 2017 McKinsey Global Institute report found while 60% of occupations have some activities that could be automated, less than 5% of occupations were at risk of being automated out of existence.
That said, organizations RPA software deployments would do well to set employee expectations before the robot rollout begins. RRD's O'Brien said RPA is not so much a technology change as it is a cultural shift.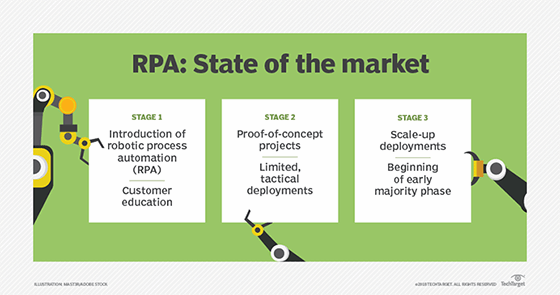 "I think one of the best things we have done was to prepare the company for the shift," O'Brien said. "We spent a good six months just establishing expectations … before we allowed the piece of code to be written."
To set those RPA expectations, RRD employed a mix of employee outreach efforts, including articles, websites and Google+ communities, he noted.
The situation is similar at Baker Hughes, where Johnson said adoption is picking up steam as employees become more comfortable with RPA. She said preparing employees for change helped, but she also credits people educating themselves on the value of software robots.
"I would love to say [adoption] is the result of how we framed the idea of automation, but I can't take full credit," Johnson said. "The industry is moving so quickly and positioning RPA as a viable solution. People are doing research on their own. We don't see as much resistance."
The RPA roadmap
Change management may prove an ongoing task for organizations adopting RPA. The technology continues to evolve, which means employees' RPA experiences will likely evolve as well.
One RPA direction is the bot as digital persona versus task automator. Earlier this year, Automation Anywhere launched a Digital Workers marketplace from which users can download digital accounts payable clerks, among other supplemental workforce bots.
Max Mancini, executive vice president of the Digital Workers ecosystem at Automation Anywhere, called the company's Digital Workers "human-centric" rather than task- or process-centric, as has been the case with conventional software bots. He said the Digital Workers model stretches the RPA category, adding cognitive and analytical skills to a bot's ability to take on repetitive tasks.
Those additional skill sets let Digital Workers detect patterns and make automatic adjustments, Mancini said. For instance, a digital accounts payable clerk can discern differences in invoice formats, so organizations don't have to retrain bots every time a vendor introduces a invoice format.
"We believe Digital Workers are the next step in the evolution of intelligent digital workforce," Mancini said.
Cognilytica's Schmelzer, however, has expressed skepticism regarding vendors' intelligent RPA claims. He said that to be fully intelligent, a bot would need to automatically and autonomously learn about the process it is executing, determine which steps are necessary and unnecessary and figure out a better way to handle the process flow.
The goal, Schmelzer said, is the autonomous business process. He emphasized that no vendor has achieved this level of cognitive intelligent process automation, but noted that vendors, from startups to established players, are moving toward higher levels of intelligence.
Process discovery is another step on the road to intelligence. Kryon Systems, an RPA software vendor, launched such an offering last summer. Kryon Process Discovery deploys discovery bots on customers' computers to determine how employees interact with applications. That data is then fed to Kryon's analytics engine that suggests which processes are the best candidates for automation. The process discovery tool also creates workflows, which can be exported to Kryon Studio for creating automated processes.
Richard French, chief revenue officer at Kryon, said the company's process discovery tool can automate up to 60% of a given process before the job goes to Kryon Studio, which continues the process-building task.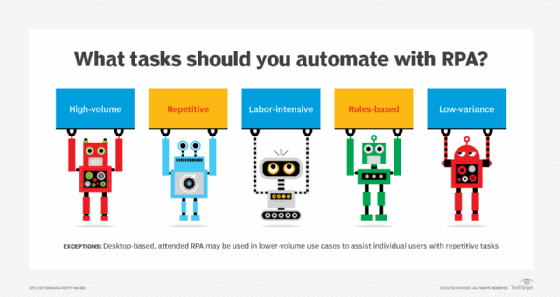 Kofax Inc., based in Irvine, Calif., has also rolled out a process discovery offering. The company's Automated Process Discovery capability was launched as part of version 10.4 of Kofax Robotic Process Automation. The tool loads agents on users' desktops or laptops and records the interactions between humans and applications. It crunches the data and pulls up the analysis for a robot designer or department head, noted Bryant Bell, senior director of product marketing at Kofax.
French believes this branch of RPA technology will evolve to the point where bots will spontaneously automate repetitive tasks. In this scenario, a bot on a user's workstation will observe the user's work activities, identify repetitive tasks and offer to develop an automated process. He said that development is perhaps 18 months to two years away.
Future bots will "create the RPA mechanism on the fly and do it for you," French said. "That is the direction."
Dig Deeper on Digital transformation