Hyperautomation: The most significant RPA trend of 2020
RPA's usefulness in automating low-level digital work tasks is undeniable, but its most important function may be serving as the gateway to enterprise hyperautomation.
Hyperautomation conjures up images of automation run amok. But the term, coined by Gartner, essentially asks enterprises to think strategically about how to capitalize on the automation tools that run their businesses.
The backdrop for this new trend in automation is a technology many enterprises have come to know well: robotic process automation (RPA). Identified in recent years as software's most rapidly growing category, RPA has remained on Gartner's top five inquiry list for the past four years.
RPA software has grown quickly because it allows business experts and front-line workers with minimal or even no coding skills to automate low-level digital work tasks. However, robotic process automation's rapid adoption and ability to streamline rote tasks notwithstanding, only about 13% of enterprises have executed a scalable RPA strategy. For more enterprises to scale RPA, enterprises will need to combine multiple automation and AI technologies that today are considered separately, which requires they get their heads around the concept of hyperautomation.
"Hyperautomation is not just RPA. It is six or seven different categories of technologies," said Frances Karamouzis, an analyst at Gartner focused on hyperautomation.
Indeed, one of RPA's greatest services, Karamouzis added, is that it opens users' eyes to the need for a broader automation strategy. "We call RPA a gateway technology. When people buy RPA and use it, it has created a gateway to look at AI, decision modeling, analytics and machine learning," she said.
Extending the breadth of automation
"Hyperautomation has an ambitious goal of applying automation to much more of the enterprise than in the past, applying new technologies to automate more decisions during a business process and resulting in less human engagement," said Rob Perry, former vice president of product marketing at ASG Technologies, a data management tools provider.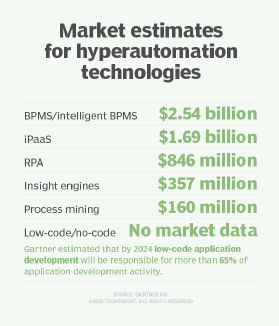 Hyperautomation moves automation up a level, adding more intelligence to automation and using a broader set of tools so that previously un-automatable tasks can be automated. Hyperautomation also assumes a broad automation layer across the organization, enabling automation to span organizational boundaries more easily, Perry said.
In addition to RPA, tools that will help enterprises deploy a broad automation strategy include: no-code/low-code application development, integration platform as a service (iPaaS), business process management systems (BPMS) and business rules engines. RPA is not the most efficient option among them for many types of automation, but it is often the easiest for business users to set up -- perhaps the biggest driver of its widespread adoption.
Intelligent automation: It takes a village
Forrester Research described something akin to hyperautomation in a market it calls intelligent automation, which encompasses 18 different technologies. The consultancy predicted that $132 billion of labor value could be released through intelligent automation in the U.S. alone.
Indeed, the popularity of RPA, launched in the marketplace by niche vendors, has large enterprise vendors scrambling to flesh out their automation tooling with RPA through acquisitions, partnerships and new development. SAP, for example, acquired Contextor SAS, a leading RPA vendor in Europe, in 2018. Microsoft rolled out its Power Automate RPA offering in 2019.
Meanwhile, the market's leading RPA vendors are starting to extend the breadth of automation by adding AI, analytics and process discovery capabilities to their tooling. The challenge, for vendors and their customers alike, is identifying the appropriate combinations of these different categories of automation and intelligence tools for each enterprise.
Hyperautomation: Using tools in combination
Coming up with an effective hyperautomation strategy will not be easy. In theory, BPMS is more capable of automating long, complex business processes than RPA, but adoption has remained flat because it takes a long time to implement and requires sustained collaboration among business experts and IT professionals to get started, Gartner's Karamouzis said. In contrast, RPA can start in any part of the organization.
"The ability to consume RPA in bite-sized chunks has meant that it took off like hot cakes," she said, adding that she expects RPA to surpass the total market for BPMS. Other technologies like iPaaS are more driven by technology people than by business experts.
When RPA is not driven by businesspeople, however, its capacity to create value becomes more obscure. "Now people are realizing that each one [of these automation tools] has its limitations, and the real strength is the ability to use them in combination," Karamouzis said.
P.R. Krishnan, executive vice president at Tata Consultancy Services Ltd., also subscribes to the view that RPA is both easy to adopt and insufficient for many types of automation. Scaling RPA will require highly curated combinations of different automation tools for each enterprise, he said. Call it hyperautomation or the automation of human decisions, Krishnan said that ultimately these combinations will give rise to "a new category of augmented decision engines" that use AI, process mining and better integration to understand and automate many aspects of decision-making throughout the enterprise.
RPA spurs AI integration
RPA works well for well-defined processes that follow a straightforward path of execution. But traditional RPA offerings have struggled with automating processes that involve understanding audio, engaging in conversation, recognizing images, reading documents and interpreting data from the internet of things. These capabilities involve capturing or ingesting higher-level data abstractions using AI technology.
All the major RPA platform vendors are creating AI integration platforms to fill in these gaps. Moreover, RPA's limitations have ironically proved to be a boon to expanding enterprise automation, some argue.
"The often undervalued, intangible benefit of organizations driving an RPA strategy is that they now have a vehicle for change to assess and expose process inefficiencies, even if those inefficiencies cannot be addressed directly by RPA," said Marshall Sied, co-founder at Ashling Partners, an intelligent automation consultancy. Enterprises are turning to multi-technology orchestration to handle a greater variety of challenges like capturing text from unstructured documents in contracts and leases, handling a bigger volume of exceptions and using prebuilt machine learning models to allow for processes to get smarter over time.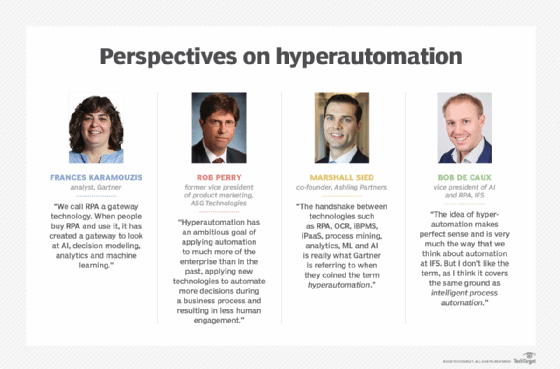 "The handshake between technologies such as RPA, [optical character recognition], [intelligent BPMS], iPaaS, process mining, analytics, [machine learning] and AI is really what Gartner is referring to when they coined the term hyperautomation," Sied said.
Indeed, a key idea of hyperautomation is building the plumbing to drop in AI modules for specific purposes. Tools for common processes like image recognition and document reading are becoming more commoditized and easier to inject into a business process via APIs. The commoditization leaves enterprises with more resources to refine their internal AI capabilities for competitive advantage, according to Bob De Caux, vice president for AI and RPA at IFS, an ERP software solutions provider
"Our customers would never want to be building their own speech recognition model. However, they would absolutely want to build a model that, for example, can predict future faults in their heavy assets in a way that an off-the-shelf model never could," he said.
Decision management evolves
In the same way that RPA has offset the limits of BPMS by making it easier for businesspeople to automate their workplace tasks, the new generation of decision orchestration engines that Tata's Krishnan and others say is coming will extend decision management beyond the boundaries of traditional business rules engines.
"The problem with rules engines has been that the decisions in those rules engines were prescriptive and predefined," Karamouzis explained. The new orchestration tools will use AI and analytics to make better decisions that take advantage of more sources and types of data.
Craig Le Clair, an analyst at Forrester Research, and author of Invisible Robots in the Quiet of the Night, agreed that more technology will be needed to scale RPA automation. Le Clair has argued that traditional RPA breaks down when a bot must make more than about five decisions, manipulate more than five apps, or make more than 500 clicks -- a limitation he's labelled the "rule of five."
"Enterprises are going to run out of those [discrete] tasks," he said. Another problem he sees today is that companies are building islands of automation that might span multiple BPMS, AI and chat environments but do not connect to produce end-to-end automation.
"The way to get around this limitation is with an event management or orchestration layer that sits between different processes," Le Clair said. He envisions using machine learning algorithms to help make decisions on whether to light up a digital worker to do a task or route it to a human.
It's not clear whether this orchestration tier will be built out by the major software vendors, RPA platforms, BPMS providers or no-code/low-code tool makers. But he said RPA vendors' have the experience in connecting processes that were never intended to work together -- and doing so with governance baked in. Other early contenders include IBM Watson and Wipro Holmes, Le Clair said.
Process discovery
Process discovery tools inventory a company's existing processes so the company can quickly identify candidates for automation. These tools can also help to identify compliance and governance issues.
Process discovery tooling was conceived at a time when the most valuable enterprise processes were tightly coupled to enterprise applications suites such as ERP systems. With the rise of the cloud and new software development practices, these processes are starting to span more systems. As a result, process discovery tools are improving in terms of their ability to interpret more complex process flows. RPA vendors are also starting to integrate process discovery capabilities into their offerings. Last year, UiPath announced the acquisition of the process mining vendor ProcessGold, and Automation Anywhere recently released Discovery Bot, which is touted as using AI and machine learning to discover and analyze user actions.
Automating process discovery is important because, quite often, the best candidates for automation are so simple that no one notices them, said John Cottongim, co-founder and COO of Roots Automation, an automation-as-a-service provider. Process mining tools can help surface and prioritize the automation of the low-hanging fruit.
Some experts believe more work will be required for process discovery tools to take off.
"While there is a very compelling case for automated process discovery, adoption has been a bit bumpy," said William McLaughlin, director and solutions lead at Genesys, a contact center solutions provider.
Several of the process discovery tools his team has tried lack flexibility, McLaughlin said. They worked well only when applied to the process they were designed for, or they required considerable human interaction. Making these process discovery tools more broadly applicable and incorporating more AI and rule engines to reduce the amount of manual labor, he believes, will help spur adoption.
In addition, process discovery tools need to be balanced against change management. Just because process discovery helps identify automation candidates faster does not mean the people who use a process can go faster as well, McLaughlin said. "Many of the changes that will be beneficial require training customers and employees to accept new and better processes, which can be time-consuming and derail the trajectory of a project."
Also, it's important to keep in mind that automating bad processes may create more work down the road. "Automation of a broken process only amplifies the errors and exceptions," Tata's Krishnan cautioned.
Automation pipelines need an Automation COE
Forrester has found that over half (51%) of all companies that have invested in RPA have fewer than 10 bots. So, while RPA adoption has been strong, most enterprises have not yet scaled RPA and therefore not fully capitalized on their investments, Forrester's Le Clair said.
"Those that have not scaled are not getting the ROI they were promised by analysts and vendors because they have not reached the point of momentum," he said.
Scaling RPA beyond one-off integrations requires CIOs to help their companies build a pipeline of automation overseen by a cross section of business and technical people.
"Overall, having one group focused on RPA is helpful in driving collaboration, sharing experiences and broadening the community to attract talent," Martin Fiore, U.S. East region tax managing partner at EY said, adding that having a mixture of business and technology expertise in the group is important.
Forrester likes to call these groups automation strike teams, while others call them an automation center of excellence. Automation COEs are often responsible for procuring licenses for RPA, task analytics and other automation tooling. These teams create an assembly line of automations. "In order to get your investment back, you have to be automating tens of projects in parallel," Le Clair said.
A COE also needs to help establish guardrails and policies, security, credential management and a lifecycle for the enterprise's digital workers that mirrors human capital management. "This is the next thing, and it is what will make the difference between successful and less successful businesses in terms of how you implement and use automation," Le Clair said.
How State Auto sold its RPA program to workers
State Automobile Mutual Insurance Co., an insurance company with $1.3 billion in revenues and 1,800 employees, kicked off an RPA proof of concept in fall 2016 under executive sponsorship from CIO and Chief Strategy Officer Greg Tacchetti.
Holly Uhl, operational excellence and robotics director at State Auto, said the biggest challenge was explaining how this new technology was designed to complement rather than replace people. "People were very concerned they may lose their job," she said.
The RPA COE team -- which includes people from IT infrastructure, business and enterprise architecture teams -- decided to focus on reducing expenses while keeping staffing flat. "We shared that message with our associates, and some associates were reluctant to believe it," Uhl said. After implementing a bot in each business area, the teams could see the benefit of RPA, and associates are no longer concerned about a bot replacing their roles. Associates now come to the RPA team to suggest bot processes.
After the COE showed how RPA alleviated manual tasks in customer service, finance, underwriting and claims areas, associates started believing a bot could streamline every process. But, as many companies are discovering, RPA was not the best solution for every automation projects, prompting a rethink. "We work with our business teams to apply the right technology tool to solve their business problem," Uhl said.
Automation culture: Must-dos
Sean Chou, co-founder and CEO of Catalytic, an enterprise automation platform, said his company has identified several must-dos when setting up a COE for its customers:
Having a change management program is key. Implementing automation at scale means employees will need to adapt and learn new processes, which is why it's critical to have a plan in place for training employees and managers on how to best use the COE.
Related to this, COEs are most effective if they have a dedicated owner and champion, such as a chief automation officer, who can oversee the entire implementation and adoption process. "We've seen COEs fail when there isn't a champion or when organizations don't have certified automation builders," Chou said.
Companies need to understand that hyperautomation is the future of work. A key part of this new automated future requires companies to think deeply about employee engagement in automation initiatives. "We have seen repeated success with automation efforts when employee engagement is fostered and there is a participatory culture," Krishnan said.

An example is the bot-a-thon -- a hackathon to build bots -- held by a clearing house client for new inductees of the transformation team, Krishnan said. The bot-a-thon included explanation of automation concepts, education on how to identify the sweet spots for automation and hands-on exercises. This helped create a team that could champion automation across the business. "Such exercise helps to build automation heroes, which is very critical to strategy," Krishnan said.
Automation should be understandable, auditable, bespoke to the customer when necessary and easy for human workers to understand even if they're not technical specialists, IFS's De Caux advised. "At IFS, we place a strong emphasis on the need for explainable AI, and I believe that should be expanded to 'explainable automation.'"
Hyperautomation creates new roles and responsibilities
Internally, many companies are creating new senior management roles to drive their new companywide automation projects. Jesse Tutt is an example: Tutt was recently promoted to program director, IT analytics COE, at Alberta Health Services (AHS), the health authority for the Canadian province of Alberta and the country's fifth largest company. The organization includes 106 acute care hospitals and supports 1,800 enterprise systems.
Tutt tracks the performance of the IT function and the health system's Connect Care (Epic) program with over 200 analytics dashboards. His team is also focused this year on developing AHS' automation capabilities, using AI and RPA. He sees all three tools -- analytics, AI and automation -- becoming intertwined as a single hyperautomation service.
"For simple automations, organizations should strive to enable citizen developers to automate their own processes. They know their processes best," Tutt said. "For complex automations, it is crucial to have both deeply technical staff and business resources work hand in hand."
He has found that process automation has a very high ROI, but it must be done right to ensure critical processes are not affected by downtime, software updates and process changes. To achieve the highest ROI, organizations should focus on tasks that are well documented, well known and repeatable. Organizational change management is also key, as is visible sponsorship.
Tutt said he is a big fan of hyperautomation, and that success depends on RPA teams having an array of abilities, including access to the data, AI skills to understand data, software skills to interact with APIs, analytics skills to prove value and see trends and automation skills to automate tasks.
"We are still in the beginning of our journey, but the challenge so far has been in developing automations fast enough to keep up with demand," Tutt said.
What's in a name: Hyperautomation vs. the alternatives
As companies barrel toward becoming digitally transformed enterprises, some experts wonder if the workplace needs yet another buzzword to fret about.
De Caux, for example, takes issue with the term hyperautomation -- although not the concept.
"The idea of hyperautomation makes perfect sense and is very much the way that we think about automation at IFS. But I don't like the term, as I think it covers the same ground as intelligent process automation," he said.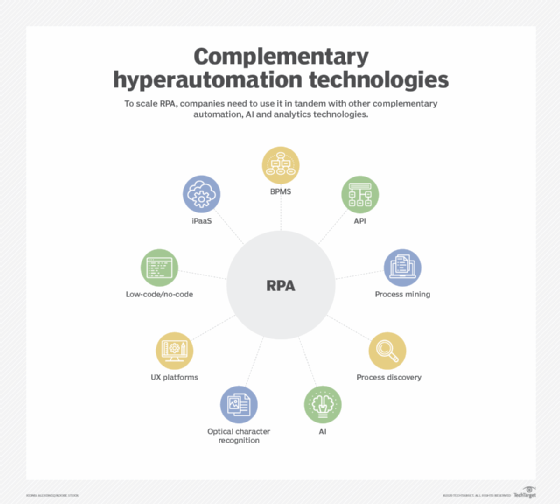 Meanwhile, the consultancy HFS Research Ltd., which coined the term RPA, likes to keep things simple with its trifecta of automation, AI and analytics. "The people we deal with are tired of the buzz terms," said Phil Fersht, CEO and chief analyst at HFS. The real watchword is transformation, he said, and automation, AI and analytics are the tools that help with transformation.
De Caux noted that he already feels challenged having to navigate the hype around RPA when working with enterprises. "There is a significant level of confusion arising from the way the terms RPA and automation regularly get conflated, which I see often," he said.
One prospective client, for example, recently asked to understand IFS' strategy around RPA, when what the client was actually interested in was how to firmly connect different systems (including a CRM and an IoT hub) with an ERP, so that data could flow easily between them for their business processes. That client is not an exception. De Caux said he often finds that when he explains what RPA actually is, the majority of his customers realize they are looking for APIs instead.
At the same time, he sees RPA vendors all moving in the direction of building out an orchestration tier that can sit above the different systems and manage the business processes end-to-end. "They can still only interact with the different systems in controlled ways according to which APIs are available," he said. Offering that orchestration tier makes a lot of sense for RPA vendors, he said. Until that happens, firms like his will work hand in glove with business users to make automation more intelligent.
"Our job is to find the right tools and effectively create the glue to bind the different technologies together, but we rely on domain experts to understand the business processes from end-to-end and make sure our solutions are fit for purpose," De Caux said.